Can the U.S. Military Afford to Run on Biofuels?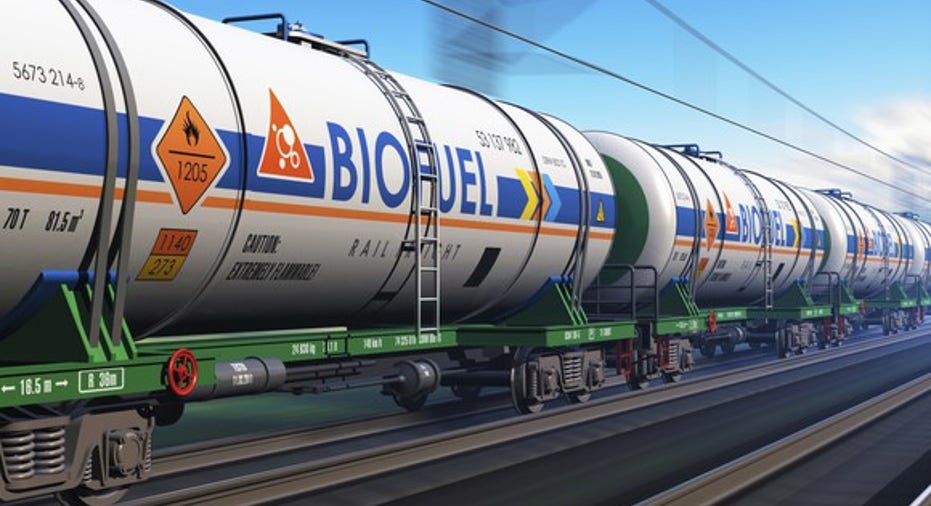 Biofuel is big business. But is it big enough to float the U.S. Navy?
Can a blue-water navy run on energy from green algae?
The Great Green Fleet
Five years ago, the U.S. Navy set out to find out, spending $12 million to purchase 450,000 gallons of biofuel fromTyson Foods and TerraVia, and attempting to use it to power an aircraft carrier strike group during squadron exercises near Hawaii.
Dubbed the "Great Green Fleet," the experiment was a success -- no engines clogged and no ships broke down -- but even so, at roughly $26 a gallon, the biofuel cost nearly eight timeswhat standard F-76 naval diesel fuel cost at the time. And that raised an important question: Can the U.S. military afford to "save the planet" while paying such high prices?
Luckily, it may not have to.
The Stennis carrier strike group at sea. Image source: U.S. Navy.
The Great Green Fleet, part deux
A couple of months back, the Navy began a larger test of its Great Green Fleet concept, dispatching the aircraft carrier USS John C. Stennis, along withthe cruiser Mobile Bay, the destroyers Chung-Hoon, Stockdale, and William P. Lawrence, and the fast combat support ship Rainier, to the other side of the world -- burning biofuels all the way. (The escorts, that is. Stennis herself is nuclear-powered.)
This latest version of the Great Green Fleet is burning a 90-10 mix of F-76 and biofuel -- specifically, beef tallow. Source-wise, the Navy has also switched its supplierfrom Tyson and TerraVia to privately held AltAir Fuels. And here's the most important difference: The price of this latest concoction of "dirty" and "clean" energy is a whole lot cheaper than what was experimented with in Hawaii five years ago.
Biofuel reaches price parity
Here's how the math works: In 2011, the Navy spent $26 for a gallon of algae-based biofuel and $4 for a gallon of F-76, and mixed the two to make two gallons of 50-50 blend averaging $15 per gallon. That was nearly four times the cost of using oil alone -- but according to Deputy Assistant Secretary of the Navy Tom Hicks, it was half what the Navy spent on a 2009 biofuels trial.
The beef tallow being used today, however, costs just $2.05 per gallon,making it cheaper than the $2.76 per gallon that the Defense Logistics Agency pays for F-76. A 90-10 diesel-tallow blend, therefore, should cost approximately $2.69 per gallon, saving the Navy $0.07 on every gallon of fuel it burns.
Yes, you read that right. Five years after naval use of biofuels became a thing, it's already reached price parity with oil.
Biofuel: A money-saver?
Now here's why that's important: Saving $0.07 a gallon on fuel in a small naval squadron over the course of a few months is a good start. But the U.S. Navy as a whole goes through about 1.3 billion gallons of fuelannually. Were the same fuel used by the Great Green Fleet used across the whole fleet, the savings would add up to $91 million annually.
And that's not all. Eventually, the Navy wants to get about half of its energy from renewable resources such as biofuel, solar power, and nuclear energy. (Today it gets about 17% from these sources combined, with biofuel's contribution still negligible.) As demand for biofuel ramps up, though, Secretary of the Navy Ray Mabus saysthat economies of scale will permit biofuel prices to fall even further.
Consider, too, the volatility of the oil market, where prices have ranged from as low as $31 to as high as $122 a barrelover the past five years. Yes, oil -- and F-76 naval fuel -- is historically cheap today, with oil costing just $45 a barrel. But it could just as easily cost three times as much a few years from now.
Come the day F-76 is selling for $6 a gallon, $2 biofuel is going to look like an even better bargain.
What it means to investors
For suppliers of biofuel to the Navy -- companies like Tyson, and TerraVia, if it ultimately decides to remain in the biofuels business-- that would be a day to look forward to. On the other hand, suppliers of traditional petrol may not be as enthusiastic about the prospect. In particular, both ExxonMobil and Valero Energy are key suppliersof fuel to the U.S. Navy. Both companies sell hundreds of millions of dollars worth of diesel to the Navy annually.
Granted, both ExxonMobiland Valero have biofuel initiatives of their own. Valero in particular did $3.4 billion in ethanol business last year, according to data from S&P Global Market Intelligence.But even so, that was less than 4% of its business, and by all accounts, ExxonMobil's exposure to the biofuels business is even more limited. Simply put, neither of these companies butters its bread with biofuels. The more the Navy shifts its fuel consumption to biofuels, the less happy these companies will be.
Luckily for them, the entire productive capacity of America's biofuels industry today (about 210 million gallons annually) won't come close to meeting the Navy's desire to substitute half its fuel consumption with biofuels. In the near term at least, the best the Navy can hope to obtain is perhaps a 90-10 blend.
But with price parity at hand, the future is clear: For the U.S. Navy, biofuels have become a viable alternative to traditional F-76 diesel fuel. And the biofuels revolution is here to stay.
The article Can the U.S. Military Afford to Run on Biofuels? originally appeared on Fool.com.
Rich Smithdoes not own shares of, nor is he short, any company named above. You can find him onMotley Fool CAPS, publicly pontificating under the handleTMFDitty, where he's currently ranked No. 291 out of more than 75,000 rated members.The Motley Fool owns shares of and recommends TerraVia. The Motley Fool owns shares of ExxonMobil. Try any of our Foolish newsletter services free for 30 days. We Fools may not all hold the same opinions, but we all believe that considering a diverse range of insights makes us better investors. The Motley Fool has a disclosure policy.
Copyright 1995 - 2016 The Motley Fool, LLC. All rights reserved. The Motley Fool has a disclosure policy.