Can the Naked Chicken Chalupa Save Taco Bell?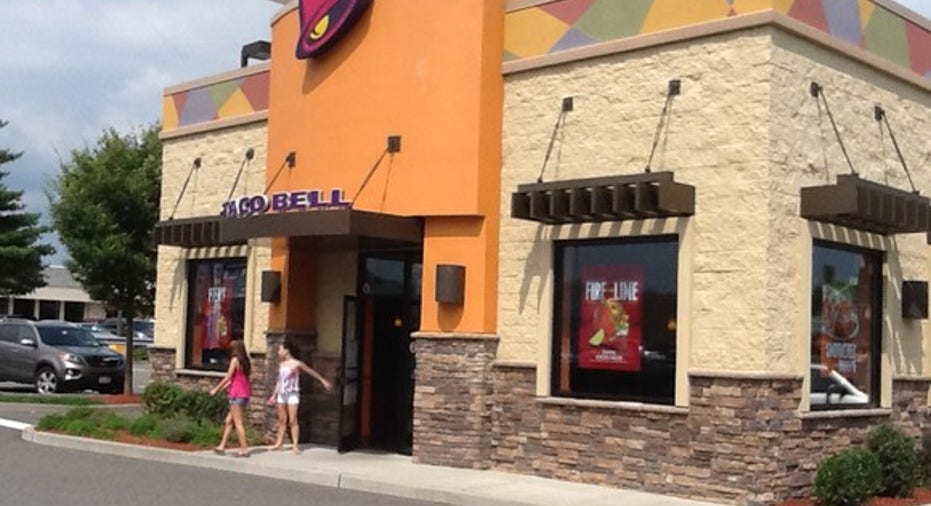 Image source: Taco Bell.
Yum! Brands(NYSE: YUM)is hoping to turn heads and woo the hungry again. The parent company of Taco Bell is introducing the Naked Chicken Chalupa later this month, replacing the fried flatbread shell of its signature chalupa with a foldable fried chicken breast patty.
Naked Chicken Chalupa has been kicked around in test markets for the past two years, but it's going to be offered nationwide on Jan. 26. The four-ounce fried chicken "shell" houses lettuce, tomato, cheese, and an avocado ranch sauce. There's no need for a meat protein because it's in the shell. The Naked Chicken Chalupa will sell for $2.99, and it will also be available in some of Taco Bell's combo meals.
Taco Bell is no stranger to shaking things up. It gave us the Quesalupa -- essentially a chalupa with a cheese-stuffed fried flatbread as its outer casing -- last year. Other "Frankenfood" concoctions at the chain include the Waffle Taco breakfast entree, the quesadilla-rolled burrito known as Quesarito, and its game-changing Doritos Locos Tacos.
Yum! Brands may never duplicate the success of the tacos served in Doritos-dusted hard shells. The fast food chain has sold more than a billion Doritos Locos Tacos. However, all that Naked Chicken Chalupa has to do is generate a temporary uptick in sales to be considered a success. Yum! Brands knows that Taco Bell will be back with something new sooner rather than later.
Naked and afraid
Taco Bell is holding up reasonably well. It's not growing as quickly as sister concept KFC these days for Yum! Brands, but it's moving in the right direction. Comps rose 3% in its latest quarter, and expansion pushed overall Taco Bell sales growth to 5%.
The 6,511-unit chain isn't broken, but this doesn't mean that it can afford to stop rattling the cage of innovative product rollouts. Things would get stale pretty quickly if Yum! Brands was merely coasting with its original tacos and burritos. Consumers expect Taco Bell to push the flavor-sealed envelope, and it won't be long before the chain pushes out some other bizarre menu offering once consumer tastes tire of fried chicken taco shells.
There's more riding on stateside Taco Bell locations now that Yum! Brands has spun off its Chinese operations. Income investors are also taking on more risk. Yum! Brands has a payout goal of 45% to 50% of its annual net income. If Taco Bell stumbles to the point where it impacts the bottom line it may also hurt its appeal with yield chasers. Investors are naturally hoping that it doesn't get to that point. A strong and positive market reaction to the Naked Chicken Chalupa can only help here. KFC was able to turn heads when it introduced a sandwich where fried chicken patties replaced the bun, and now it's time for its sister concept to follow suit.
Image source: The Motley Fool.
10 stocks we like better than Yum! Brands When investing geniuses David and Tom Gardner have a stock tip, it can pay to listen. After all, the newsletter they have run for over a decade, Motley Fool Stock Advisor, has tripled the market.*
David and Tom just revealed what they believe are the 10 best stocks for investors to buy right now... and Yum! Brands wasn't one of them! That's right -- they think these 10 stocks are even better buys.
Click here to learn about these picks!
*Stock Advisor returns as of January 4, 2017
Rick Munarriz has no position in any stocks mentioned. The Motley Fool has no position in any of the stocks mentioned. The Motley Fool has a disclosure policy.