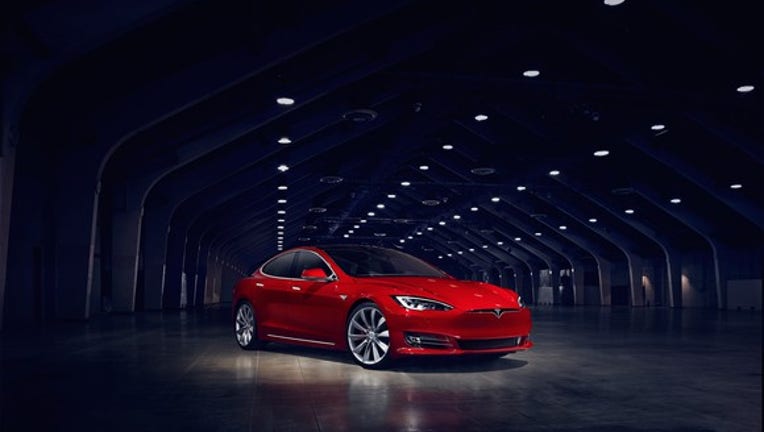 Refreshed Model S. Image source: Tesla.
It's been four years since Tesla Motors launched the Model S.
A couple of months ago, the electric-car maker refreshed the design of the vehicle, taking cues from the Model X. That included a similar new front fascia, different side rockers, and a redesigned rear diffuser. Bioweapon Defense Mode -- a HEPA filter for cabin air -- is also now available for the sedan, along with adaptive LED headlights. Overall, the refresh is considered a minor update. It wasn't a complete overhaul like most vehicles get between generations.
Could Tesla be extending the product cycle of its overall designs?
Lessons from Cupertino
Tesla sometimes gets compared to Apple . While there are some ways that Tesla has taken pages out of the Mac maker's strategic playbook, there are just as many ways that the two companies are quite different.
Within the smartphone market, most competing Android handsets have fairly short shelf lives. New models are introduced and quickly get discounted within a matter of months due to intense competition and commoditization within the same platform. Even flagships only last six to 12 months for most Android original equipment manufacturers. On the other hand, Apple is able to sell the same overall design for a full two years, with a mid-cycle "S" upgrade. This yields many benefits in terms of manufacturing efficiency, since Apple doesn't need to retool its infrastructure meaningfully as often. Furthermore, iPhone design cycles might be getting even longer.
Apple is able to pull off such long design cycles because iPhones are so differentiated from Android phones.
It's been done
Most car generations last four to five years before major redesigns that refresh the look and feel of the vehicle. It's interesting that Tesla's refresh is fairly minor and comes four years after introduction. You could even compare the refresh to Apple's S iterations, but sadly, Tesla Model SS just sounds weird and wrong.
Presumably, the new Model S design will remain in place for at least another three to four years.That would be a useful design cycle of seven to eight years, which is uncommon in the auto industry.
That's not to say it's unheard of. For instance, Fiat-Chrysler's third-generation Dodge Challenger was introduced in 2008 and only saw minor updates in 2015, seven years later. Challenger sales haven't suffered with age, either -- Dodge sold over 66,300 Challengers in the U.S. in 2015 (up 29%). That represented the seventh consecutive year of annual sales growth since the generation's introduction.
Some Aston Martin vehicles have also sported the same overall look for over a decade. In some cases, vehicles are able to keep the same look for extended periods of time if they have a niche or exotic place in the market. Tesla probably qualifies as both.
There are also volume considerations. Tesla is a low-volume manufacturer right now, which reduces the average consumer's exposure to its vehicles. It's harder for an aesthetic to get stale if you don't see it very often.
The upside
Considering how relatively young Tesla is, it's hard to call whether or not Tesla can pull this off. But Tesla has never adhered to common auto industry practices (such as model years, among others), so it could very well attempt to elongate its design cycles much in the way that Apple has done in smartphones.
Capital efficiency is far more important in the auto industry than the smartphone industry, so there are huge potential gains from not having to retool manufacturing infrastructure as often.
The article Can Tesla Motors Pull Off This Apple-Esque Move? originally appeared on Fool.com.
Evan Niu, CFA owns shares of Apple and Tesla Motors, andhas the following options: long January 2018 $180 calls on Tesla Motors. The Motley Fool owns shares of and recommends Apple and Tesla Motors. The Motley Fool has the following options: long January 2018 $90 calls on Apple and short January 2018 $95 calls on Apple. Try any of our Foolish newsletter services free for 30 days. We Fools may not all hold the same opinions, but we all believe that considering a diverse range of insights makes us better investors. The Motley Fool has a disclosure policy.
Copyright 1995 - 2016 The Motley Fool, LLC. All rights reserved. The Motley Fool has a disclosure policy.