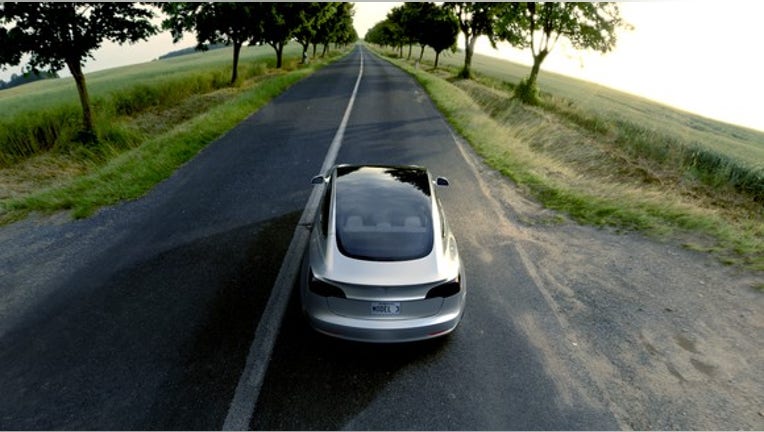 Tesla's (NASDAQ: TSLA) growth in vehicle deliveries continued soaring higher in 2016, essentially extending the company's streak of about 50% compound average annualized growth or higher to four years. But it took Tesla's late-2015 launched Model X SUV for the company to maintain this impressive growth rate. Model S sales in 2016 were up only a meager 1% last year.
With Model S growth quickly decelerating from 59% year over year growth in 2015, to just 1% growth in 2016, could Model S sales growth come to a halt -- or even worse -- begin declining in 2017?
Model S. Image source: author.
Demand is still looking up
Despite reporting just 1% growth in Model S sales in 2016, Tesla seems optimistic about demand for the 2012-launched sedan. In the company's most recent shareholder letter, Tesla pointed to rapidly growing demand for the vehicle in the U.S. as evidence of the vehicle's popularity with consumers.
And in the company's brief press release on its fourth-quarter deliveries, Tesla said fourth-quarter net orders for Model S and X were at an all-time high.
Further, Tesla has some good reasons to be optimistic about Model S going forward. While Model S was launched in 2012, Tesla has aggressively been rolling out major updates for the vehicle. Indeed, some of the most significant updates to Model S have found their way to the sedan very recently.
In August, Tesla launched a flagship P100D Model S with a zero-to-sixty time of 2.5 seconds when Ludicrous mode is enabled. And the time dropped to 2.4 seconds earlier this year after a software update.
In October, Tesla began including sensors for autonomous driving in every vehicle (the autonomous driving itself is slated to come later on via a software update). Along with this new hardware, Tesla began offering an enhanced version of its Autopilot.
In January, Tesla launched its highest-range Model S yet, capable of driving 335 miles on a single charge.
Of course, Tesla's relentless updates to Model S don't guarantee the model's sales will continue to increase, especially with the vehicle already outselling comparably priced luxury sedans. But recent new features to Model S, particularly standard self-driving hardware, are likely to mitigate the possibility of sales declines in 2017.
Could Model 3 orders cannibalize Model S sales?
But all of this overlooks one key concern about demand outlook for Model S in 2017. Investors may be concerned Tesla's cheaper Model 3, which is slated to launch later this year, could begin cannibalizing Model S sales. After all, Model 3's starting price is nearly half of Model S'.
Model 3. Image source: Tesla Motors.
Fortunately, there's already a precedent for how Model 3 announcements impact demand for Tesla's higher-cost models. Musk explained how the Model 3's unveiling, which generated about 400,000 deposit-backed reservations for the vehicle in the months following the product event, impacted Model S demand:
Therefore, it's possible that as hype grows ahead of the Model 3's launch, more overall interest for Tesla's entire vehicle lineup could mount. Obviously, investors shouldn't count on this. But at least Tesla's previous big Model 3 announcement's impact on Model S demand bodes well for how any upcoming announcements could affect Model S orders.
Investors may be able to find out more about what Tesla expects from its Model S this year when the company releases its fourth-quarter earnings today, after market close.
10 stocks we like better than TeslaWhen investing geniuses David and Tom Gardner have a stock tip, it can pay to listen. After all, the newsletter they have run for over a decade, Motley Fool Stock Advisor, has tripled the market.*
David and Tom just revealed what they believe are the 10 best stocks for investors to buy right now... and Tesla wasn't one of them! That's right -- they think these 10 stocks are even better buys.
Click here to learn about these picks!
*Stock Advisor returns as of February 6, 2017
Daniel Sparks owns shares of Tesla. The Motley Fool owns shares of and recommends Tesla. The Motley Fool has a disclosure policy.