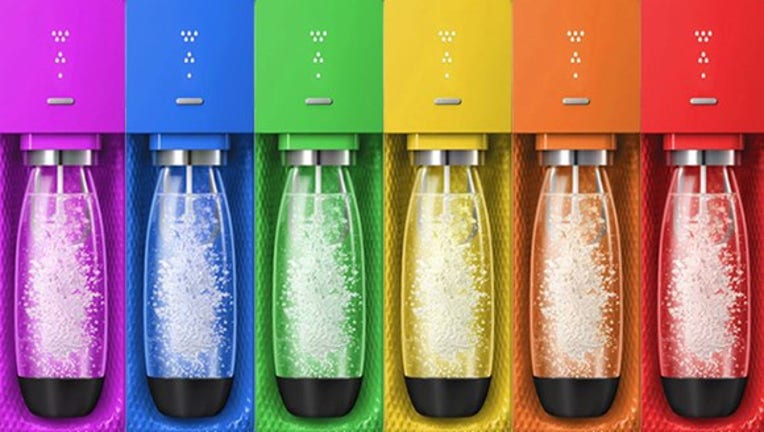 Image source: SodaStream.
One of this year's most unheralded comeback stories isSodaStream (NASDAQ: SODA). Shares of the company behind the namesake machine that turns flat water into sparkling beverages has more than doubled in 2016, up 108% so far this year. The platform's repositioning as a maker of carbonated water is resonating with consumers worldwide, and we got confirmation of that yet again last week, with SodaStream posting another period of blowout results.
SodaStream stock soared 36.25% last week. The shares moved higher in each of the week's five trading days, but the big pop came on Thursday, after the encouraging quarterly report was announced.Revenue increased 12.9% to $124.2 million, fueled by year-over-year growth of at least 9% in each of its four geographic regions.
We're not consuming sodas the way we used to, but the growing popularity of sparkling water finds SodaStream at the right place at the right time. It sold 788,000 starter systems during the period, 23% more than a year earlier and its best showing in nearly two years. Its once thriving business of selling soda syrups continues to fade. Unit volume dipped 19% on that front, but the high-margin CO2 refills required to keep fizzing up tap water rose 9% during the quarter.
Earnings more than tripled, clocking in at $0.69 a share. Analysts didn't see this coming. They were targeting a profit of just $0.23 a share on $117.7 million in revenue. It was probably easy to see this blowout coming. SodaStream has blown through Wall Street's earnings expectations by at least 40% in each of the past four quarters.
Let's get fizzy
SodaStream stock keeps climbing, hitting a new two-year high on Friday. It was dismissed by growth stock investors as a passing fad last year, but that's clearly not what's happening these days. SodaStream has now rattled off three consecutive quarters of double-digit revenue growth.
The stock may not seem cheap at 38 times trailing earnings, but momentum is on its side. The stock is trading at a more reasonable 25 times next year's projected profitability, but it's hard to take that seriously, given the way SodaStream has blown through analyst bottom-line targets with ease since late last year.
Trends can change, of course, something that earlier SodaStream investors learned all too well when the stock fell out of favor as the platform began to stumble as a maker of carbonated soft drinks. The beauty of SodaStream is that it's still relevant to folks who want to continue to crank out ginger ale or diet colas at home. However, the growing popularity of sparkling water -- a solution that's even more cost effective via SodaStream -- is what's really driving this rally.
Shares of SodaStream soared 18% during the week it posted better-than-expected second-quarter results three months ago, and now the stock's surge doubled this time around. Eventually, Mr. Market is going to catch up to the turnaround story, but for now the smart-money play has to be to take a chance on SodaStream ahead of its quarterly reports.
Forget the 2016 Election: 10 stocks we like better than SodaStream Donald Trump was just elected president, and volatility is up. But here's why you should ignore the election:
Investing geniuses Tom and David Gardner have spent a long time beating the market no matter who's in the White House. In fact, the newsletter they have run for over a decade, Motley Fool Stock Advisor, has tripled the market.*
David and Tom just revealed what they believe are the ten best stocks for investors to buy right now... and SodaStream wasn't one of them! That's right -- they think these 10 stocks are even better buys.
Click here to learn about these picks!
*Stock Advisor returns as of November 7, 2016
Rick Munarriz has no position in any stocks mentioned. The Motley Fool owns shares of SodaStream. Try any of our Foolish newsletter services free for 30 days. We Fools may not all hold the same opinions, but we all believe that considering a diverse range of insights makes us better investors. The Motley Fool has a disclosure policy.