Can Skechers Keep Going After Last Week's 19% Pop?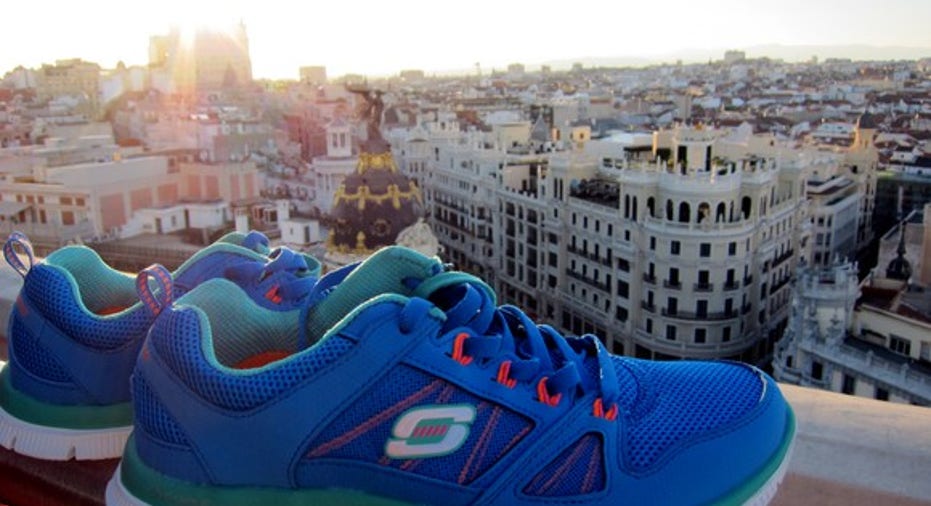 One of last week's biggest winners wasSkechers(NYSE: SKX), soaring 18.5% after posting stronger growth and heartier guidance than analysts were expecting. The footwear maker saw net sales climb 6% to $764.3 million during the fourth quarter. It's true that 6% growth doesn't sound very titillating, but Skechers' own guidance three months earlier was calling for flattish top-line growth with just $710 million to $735 million in net sales for the period.
The results weren't as kind on the bottom line. Earnings of $0.04 a share for the quarter fell woefully short of the $0.19 it earned a year earlier and the $0.09 Wall Street was forecasting. However, the market chose to emphasize the growth in net sales as the appropriate measuring stick to gauge the sluggish investment's success.
Skechers is still struggling with its domestic wholesale business, off by 12% over the past year. But that was more than offset by a 17% uptick in its international wholesale business. Things are also holding up well on the retail end, as brisk expansion and a 3.6% boost in comparable-store sales helped push net sales at its company-owned retail stores 14% higher.
Image source: Skechers.
Follow the money
Skechers had taken a beating before last week's bounce. The stock has surrendered 49% of its value since peaking two summers ago, even after last week's earnings-fueled surge.
The footwear maker was also rocked back in October after postingdisappointing third-quarter results. It fell short of its outlook at the time, calling into question its ability to put out conservative guidance before Thursday's redemptive forecasting recovery. However, the stock was already starting to claw its way back in the aftermath of its dreadful third quarter. The stock inched higher in each of the three past months, and a strong start to February will likely extend that streak to four months of stock gains.
It was easy to be worried ahead of Skechers' report. Under Armour (NYSE: UA) (NYSE: UAA) and Deckers Brands(NYSE: DECK) were smacked around a week earlier after posting problematic results, sending shockwaves through the footwear industry. It wasn't fair to lump Skechers into those particular debacles. Under Armour's weakness came from its flagship North American apparel business. Under Armour's footwear business soared 36% during the period, as apparel -- accounting for the lion's share of the company's revenue -- grew at a disappointing 7% clip.
Deckers Brands stumbled after falling short of its fiscal quarter's targets and hosing down its guidance. The weakness at Deckers centered around year-over-year declines for its UGG boots and Sanuk sandals, footwear categories that don't align with Skechers' sweet spot of walking and athletic footwear.
Skechers offered up mixed but ultimately encouraging guidance last week. It sees sales growth accelerating during the current quarter, growing between 7% and 10% for the first quarter. The $0.50- to $0.55-per-share profit it's now targeting is less than the $0.63 it earned during last year's freshman quarter, but Skechers did say its domestic wholesale business is finally starting to turn things around. It's going to be a long road back to the all-time highs it set during the summer of 2015, but unlike Under Armour and Deckers Brands, we're seeing Skechers finally taking steps in the right direction.
10 stocks we like better than SkechersWhen investing geniuses David and Tom Gardner have a stock tip, it can pay to listen. After all, the newsletter they have run for over a decade, Motley Fool Stock Advisor, has tripled the market.*
David and Tom just revealed what they believe are the 10 best stocks for investors to buy right now... and Skechers wasn't one of them! That's right -- they think these 10 stocks are even better buys.
Click here to learn about these picks!
*Stock Advisor returns as of February 6, 2017
Rick Munarriz has no position in any stocks mentioned. The Motley Fool owns shares of and recommends Skechers, Under Armour (A Shares), and Under Armour (C Shares). The Motley Fool recommends Deckers Outdoor. The Motley Fool has a disclosure policy.