Can Skechers Bounce Back From Last Week's 12% Drop?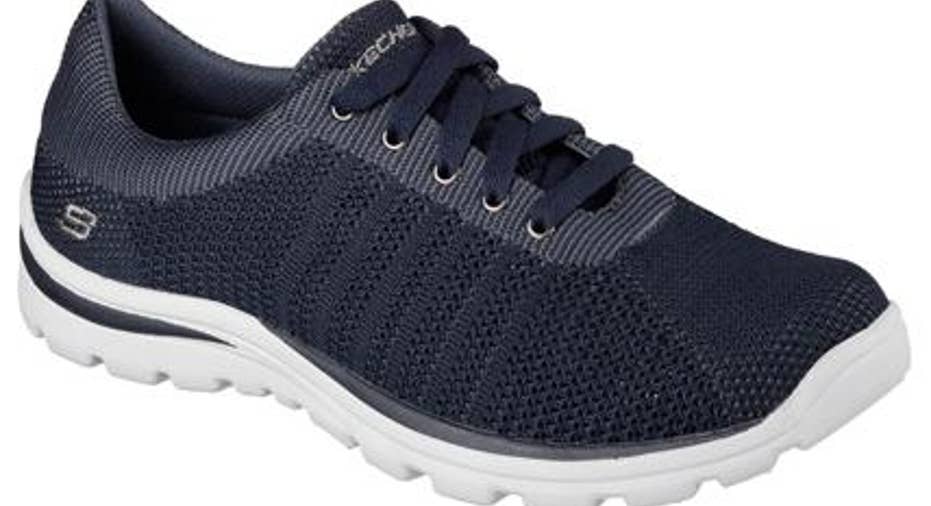 Image source: Skechers.
New endorsement deals and an analyst initiating bullish coverage weren't enough to saveSkechers last week. The stock surrendered 12% of its value last week, making it one of the market's bigger losers. It has now closed lower in six of the past seven trading days.
The week had gotten off to an encouraging start. It announced a deal with former Major Leaguer Ozzie Smith on Monday, teaming up with the Hall of Fame shortstop to promote its Relaxed Fit footwear. A day later it revealed a multi-year contract extension with golfer Matt Kuchar. The deal expands Kuchar's marketing relationship with Skechers GO GOLF shoes. It also opens up the possibility for developing new golf footwear.
Then on Thursday it was Macquarie initiating coverage on the country's leading maker of walking footwear. It pegged a price target of $45 on the shares.
None of this helped. The stock continued to slide through the endorsement deals and Macquarie's fresh outperform rating. It's an interesting situation. The stock kicks off this new trading week a 69% gain away from Macquarie's now seemingly ambitious price target. Is Macquarie right or Mr. Market? We'll find out soon. Skechers reports quarterly results later this month.
There have been a lot of moving parts at Skechers these days. It has missed Wall Street's profit targets in back-to-back quarters. It was on the losing end in legal fisticuffs with adidas back in February, though the preliminary injunction involved three styles of Skechers footwear that were already discontinued.
Skechers is still growing briskly, posting year-over-year growth of 27% during the holiday quarter. Gross margins are improving, and expansion is running at a heady pace. It expects to add at least 330 stores this year. It's not growing as quickly as it was a few quarters ago, but it's hard to scoff at that kind of growth. With the stock now trading more than half below last summer's all-time high -- it closed out the week 51% August's admittedly frothy peak -- it would have to take a pretty bad quarterly report later this week to justify the pessimism. Skechers has had its hiccups with buoyant effective tax rates and cascading foreign currencies relative to the U.S. dollar, but there's still a solid company beating beneath the skin of the market's recent noise.
Skechers swayed one analyst into a bullish position last week. Now it needs to work on Mr. Market, and unfortunately that's been a stingier customer to lace up these days.
The article Can Skechers Bounce Back From Last Week's 12% Drop? originally appeared on Fool.com.
Rick Munarriz has no position in any stocks mentioned. The Motley Fool owns shares of and recommends Skechers. Try any of our Foolish newsletter services free for 30 days. We Fools may not all hold the same opinions, but we all believe that considering a diverse range of insights makes us better investors. The Motley Fool has a disclosure policy.
Copyright 1995 - 2016 The Motley Fool, LLC. All rights reserved. The Motley Fool has a disclosure policy.