Can Select Comfort Keep Going After Last Week's 20% Pop?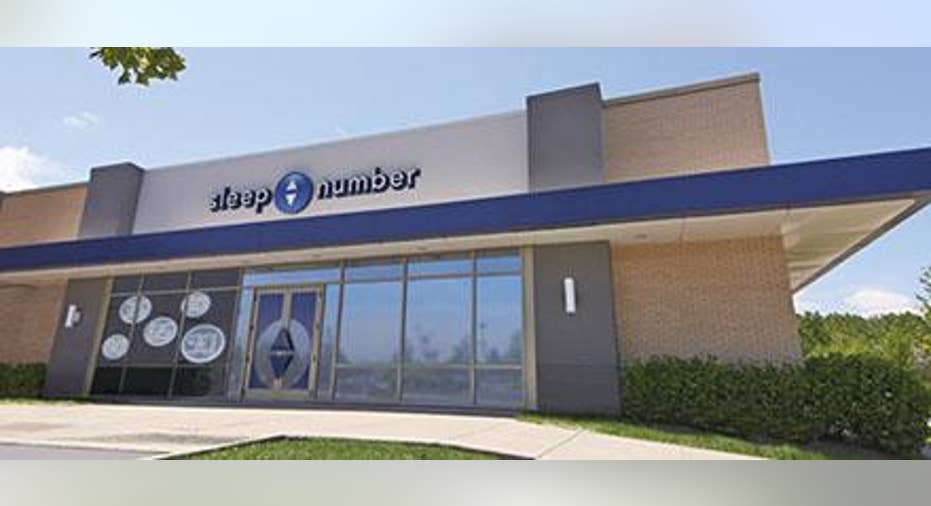 Image source: Select Comfort.
Investors in Select Comfort slept well last week. Shares of the company behind the air-chambered mattresses with patented Sleep Number technology soared 20% for the week, moving higher after posting better-than-expected quarterly results.
Net sales clocked in at $353 million, 1% ahead of the prior year's first quarter. That may not seem very impressive, and the news doesn't get any better when you dig deeper. Comps dipped 4%, but it did open several new stores. Gross margins narrowed since a year earlier, but there was sequential improvement. Earnings per share were cut in half to $0.27 a share, though -- to be fair -- that also included a $0.25 a share one-time hit from lost sales and inefficienciesrelated to a bumpy implementation of a new enterprise software platform. In short, even adjusted profitability is going the wrong way, and that's with an assist provided as aggressive share buybacks over the past year have improved the impact of earnings on a per-share basis.
However, performance is relative. It's OK to applaud a ho-hum financial report when the market was bracing for a disaster. Select Comfort stock took a 24% hit three months ago after postingbrutal quarterly resultsduring the holiday quarter. Net sales had fallen 33% with comps taking a 30% hit, and Select Comfort blamed most of the shortfall on the enterprise resource planning (ERP) rollout that continued to weigh on the first quarter's results. You would think that Select Comfort would know better, as its ERP change in 2008 also crushed results.
Last week's results were considerably more palatable, and unlike last time out when Select Comfort checked in with a much wider deficit than analysts were targeting, even its reported earnings this time around landed well ahead of the $0.27 a share that Wall Street pros were expecting.
It's easy to see why Select Comfort shareholders could have been scared ahead of last week's report. The stock has historically pulled up lame during the fourth quarter, suffering double-digit percentage declines in three of the past four holiday quarters. It has bounced back during the first quarter in all but one of the past four years.
Select Comfort is also offering up encouraging guidance. It's sticking to its earlier forecast, calling for earnings per share to come in between $1.25 and $1.45. It sees sales growth accelerating to the low teens during the latter half of the year, but that's not much of a feat when you consider the 33% plunge in sales during last year's holiday quarter.
The stock has rallied since its fourth-quarter meltdown, but it still trades at a reasonable 18 times the midpoint of this year's profit forecast. Back out the $0.30 a share hit in earnings that Select Comfort is modeling for the ERP migration and the multiple drops to a reasonable 15 times this year's profit guidance. With a likely rebound in growth and Select Comfort expecting to expand its store base by 10%, the prognosis is favorable. Bed bugs have a history of biting at Select Comfort, but for now, it seems as if the company is bent on biting back.
The article Can Select Comfort Keep Going After Last Week's 20% Pop? originally appeared on Fool.com.
Rick Munarriz has no position in any stocks mentioned. The Motley Fool has no position in any of the stocks mentioned. Try any of our Foolish newsletter services free for 30 days. We Fools may not all hold the same opinions, but we all believe that considering a diverse range of insights makes us better investors. The Motley Fool has a disclosure policy.
Copyright 1995 - 2016 The Motley Fool, LLC. All rights reserved. The Motley Fool has a disclosure policy.