Can Real Estate Save Macy's Inc Stock?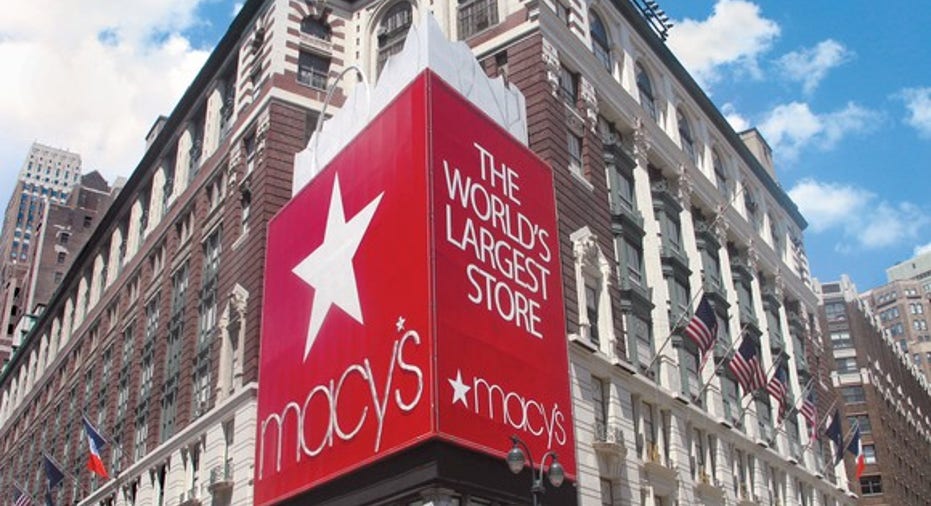 This wasn't supposed to happen toMacy's(NYSE: M).
Shares of the venerable department store chain have fallen by two thirds since hitting their peak nearly two years ago. Profits have steadily declined along with comparable sales. Following its earnings report last week, when adjusted earnings per share fell from $0.40 to $0.24 and comparable sales dropped 4.6%, the stock plunged 17%.
However, the venerable retailer's real estate portfolio, including its flagship store in New York's Herald Square, was supposed to act as a bottom to the stock. But even as Macy's has begun selling off some of its real estate, generating hundreds of millions of dollars, investors have mostly ignored the windfall as the chain's core business deteriorates andstores close.
Image source: Macy's.
The real estate case
Still, a number of investors and analysts have made the case for Macy's as a real estate play.
Around the time the stock peaked in 2015, activist investor Starboard Value took a stake in the department store chain, arguing that its property holdings were worth as much as $21 billion. Starboard pushed the company to unlock that value in a Real Estate Investment Trust, which would separate the real estate from the retail business,allowing investors to profit from the valuable rent roll.
Sears Holdingswent this route in 2015 when the company sold 235 stores toSeritage Growth Partners, a REIT it spun off. The move generated $2.7 billion but failed to stop the slide in Sears stock.
In a presentation, Starboard Value said Macy's real estate was "extremely valuable and these real estate assets are underappreciated by the market," as it outlined the case for converting Macy's into a joint venture that would unlock the real estate value.
Macy's, however, rejected that idea, saying in its earnings report in Nov. 2015 that "the board of directors has concluded that a REIT does not offer sufficient upside potential for value creation." It did allow for the option of revisiting the idea if circumstances change in the future.
In March, Starboard finally exited its stake after watching it dwindle and seeing Macy's management refuse to act.
Is there a floor to the stock?
If Macy's real estate offered value when the company was worth $22.5 billion back in 2015, then it certainly should now when the market value has shrunk to just $7 billion. In its presentation, Starboard said that the Herald Square location and its seven downtown locations and those in other major cities, including Chicago and San Francisco, were worth that much combined.
In other words, the value of Macy's property should eventually be able to prop up the stock, especially as the company now offers a dividend yield approaching 7%.
However, the department store may need to stabilize its core business before investors start to see value in its real estate again. As the demise of Sears shows, once those valuable assets are sold off, there is little left to hold up the stock.
Macy's is not in the same predicament, as it's still profitable, but those earnings may quickly evaporate. The company's guidance calls for adjusted earnings per share of $2.90 to $3.15, which doesn't include a $0.47 per share gain on the sale of its Union Square men's store in San Francisco. If Macy's can actually meet that forecast and stabilize its future profits, the stock would present evident value with its rich collection of property, juicy dividend, and a P/E of 7.5 times based on this year's guidance.
Still, after last week's earnings report, I'd be skeptical that Macy's and the rest of the department store sector can pull it off.
10 stocks we like better than Macy'sWhen investing geniuses David and Tom Gardner have a stock tip, it can pay to listen. After all, the newsletter they have run for over a decade, Motley Fool Stock Advisor, has tripled the market.*
David and Tom just revealed what they believe are the 10 best stocks for investors to buy right now... and Macy's wasn't one of them! That's right -- they think these 10 stocks are even better buys.
Click here to learn about these picks!
*Stock Advisor returns as of May 1, 2017
Jeremy Bowman has no position in any stocks mentioned. The Motley Fool has no position in any of the stocks mentioned. The Motley Fool has a disclosure policy.