Can Quick-Lube Garages Help Fuel Growth for Sirius XM Holdings Inc?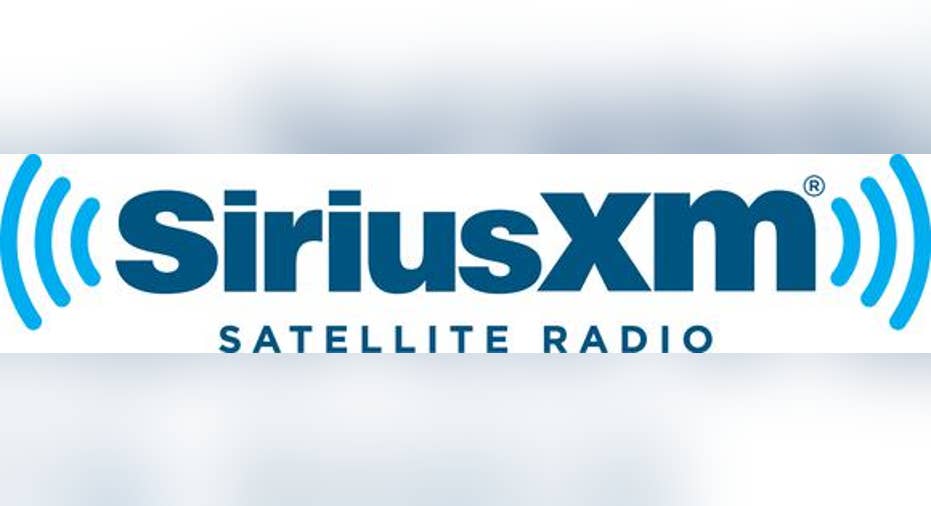 Source: SiriusXM.com.
Although Sirius XM has been successful in getting its technology installed into cars on the assembly line -- now boasting a 75% penetration rate in new cars -- its biggest growth area moving forward is in used automobiles.
To reach its potential in the used car market, however, Sirius will have to get more creative in its approaches to growing its subscribers. One way it's now trying to do that is by tracking down those car owners at the places where they have their oil changed and tires rotated.
Can Jiffy Lube really be a key to Sirius XM's growth moving forward? That remains to be seen, but for now, it looks like it will at least play a part.
New car sign-ups are easyBefore we get into how that will work, let's take a quick step back to look at the new and used markets and where Sirius stands today in each.
There are nearly 240 million cars and trucks on U.S. roads right now, and only about 17 million of those will have been purchased new this year. What's more, many of those new-car buyers may have already tried the satellite radio service and either subscribed or decided it wasn't for them.
But well over twice that many used cars will change hands this year, and many of those buyers will be sliding into the driver's seat of a vehicle that is their first that's equipped with Sirius XM technology. That makes the used market the real driver of growth moving forward.
But with that opportunity comes significant hurdles, and Sirius XM has its work cut out getting over them.
Getting a new-car buyer signed up for the service is easy. The technology is already installed in three of every four cars, and Sirius works with the manufacturers to get the buyers into free trials through their dealerships if they aren't already subscribers shifting their service to new wheels.
Used cars, not so muchThe used-car market, however, is fragmented. Sure, there are large growing used-car chains such as CarMax, which sold some 591,000 retail vehicles in fiscal 2015. But some two-thirds of the 42 million used vehicles that change owners in the U.S. each year are sold either at lots that aren't part of franchised dealerships, or by individuals, according to research from CNW Marketing Research, which looked at auto sales in 2013.
That makes reaching used buyers and getting them to activate free trials a much greater challenge. In order to do so, Sirius has a number of efforts under way.
The company has agreements with about 18,000 dealerships across the U.S. to offer buyers free three-month trials. These dealerships report back to Sirius with buyer information so it can follow up. That number has grown in each passing year, and was up nearly 1,000 dealerships -- about 6% -- from earlier this year.
Enter Jiffy LubeBut that 18,000-dealership figure remains well below half the dealerships in the United States. And while that leaves room for growth, many of those dealerships are too small for the economics to make sense. Sirius has to be careful as it chases new subscribers so that its efforts are not costing too much and eating into earnings. So far, Sirius has done a good job keeping its subscriber acquisition costs, or SACs, in check. Over the first nine months of 2015, acquisition costs were up 6.7% over the same stretch of 2014. But the revenue the company was earning from subscriptions grew faster, at 7.4%.
That's a healthy trend investors should welcome long-term.
But Sirius is going to have to continue thinking creatively; that's where Jiffy Lube comes in. CEO Jim Meyer recently noted how the company has signed up about 80 Jiffy Lubes for an experiment. Those service stations have been providing Sirius with information daily on the cars that come through for maintenance, including whether they have a satellite radio, and whether it was activated. Sirius is able to then match that information against its own subscribers and offer free trials to owners not already signed up.
More than one way to find a subscriberSirius has other efforts under way as well. It's been talking with the companies that finance loans for used cars and speaking with auto-insurance providers. The company has also been exploring options with the companies whose websites and apps serve as intermediaries in the sales of used vehicles.
"We're just trying a whole variety of things to make sure we get the data," Meyer told analysts at Goldman Sachs. "I am really comfortable we'll solve this. I am really comfortable."
So far, so good. But it remains early, and that SAC figure will be an important number to watch as efforts expand.
The article Can Quick-Lube Garages Help Fuel Growth for Sirius XM Holdings Inc? originally appeared on Fool.com.
John-Erik Koslosky has no position in any stocks mentioned. The Motley Fool owns shares of and recommends CarMax. Try any of our Foolish newsletter services free for 30 days. We Fools may not all hold the same opinions, but we all believe that considering a diverse range of insights makes us better investors. The Motley Fool has a disclosure policy.
Copyright 1995 - 2015 The Motley Fool, LLC. All rights reserved. The Motley Fool has a disclosure policy.