Can Pandora Catch Up to Apple Music and Spotify?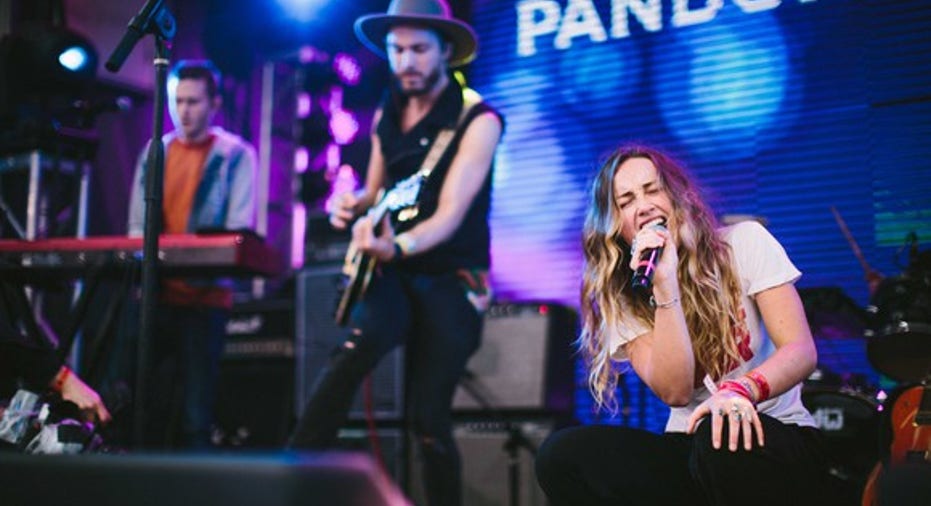 Pandora (NYSE: P)is finally throwing its hat into the premium on-demand streaming ring. Pandora will roll out Pandora Premium on Wednesday, giving music fans the ability to pick out the actual songs that they want to hear.
Pandora Premium is the right product, but it's also easy to wonder if the music discovery pioneer is too late to this niche. Spotify andApple (NASDAQ: AAPL) already seem to have the premium on-demand market carved out with more than 70 million paying subscribers between the two of them. Where does Pandora fit in?
The new service won't win anyone over on price. Pandora Premium is anchored to the same $9.99 a month price point of Spotify, with 50 million paid accounts, and Apple Music, which topped 20 million premium users late last year. A distinctive feature for Pandora Premium will be how it incorporates elements of its flagship service that's consumed largely as a free ad-supported service, but it may not be enough to sway its current users to pay up, since they're already seemingly getting what they want for free.
Image source: Pandora.
Around the dial
Pandora closed out the fourth quarter with 81 million active listeners, but they are mostly freeloaders. Just 4.39 million of those active listeners are paying for access to ad-free streams with less restrictive parameters in a platform called Pandora Plus. Pandora will give those subscribers six-month trials to Pandora Premium at no additional cost, a sweet deal since they're only paying half as much now. How many of those 4.39 million users will be willing to pay $9.99 a month come September? How will Pandora smoke out new subscribers? The answers aren't clear, and this could be why Pandora stock seems to be stuck in a rut outside of the pockets of time when buyout speculation starts to percolate.
Pandora has a problem with user growth. It had 81.1 million active listeners a year ago, so its audience base has stalled. Folks on the platform still spend a lot of time on Pandora, but it could be because they can't or won't pay Apple, Spotify, or other tech giants in this crowded field for on-demand streaming.
There's no denying that on-demand streaming is hot. Spotify is tacking on 10 million more subscribers worldwide every six months. Apple Music is up to 20 million users in less than two years, and it has the advantage of pushing subscriptions through its iOS devices.
How will Pandora Plus stand out? Existing Pandora users will be able to access all of the tracks that they have ever given a thumbs up to as its own playlist. There's also a feature where users can pick a song or two and have a playlist automatically populated based on Pandora's time-tested music-matching algorithms, but that's close to what they can already enjoy today.
Pandora is late, but it's desperate and hungry. Its chances of being anything more than a distant bronze medallist in on-demand streaming -- at best -- are slim, but at least it's now in the conversation of being trendy and relevant. We won't know until much later this year if folks on free trials are sticking around, but current investors should take some degree of comfort in knowing that expectations are low and the stock price reflects exactly that.
10 stocks we like better than Pandora MediaWhen investing geniuses David and Tom Gardner have a stock tip, it can pay to listen. After all, the newsletter they have run for over a decade, Motley Fool Stock Advisor, has tripled the market.*
David and Tom just revealed what they believe are the 10 best stocks for investors to buy right now... and Pandora Media wasn't one of them! That's right -- they think these 10 stocks are even better buys.
Click here to learn about these picks!
*Stock Advisor returns as of February 6, 2017
Rick Munarriz owns shares of Apple. The Motley Fool owns shares of and recommends Apple and Pandora Media. The Motley Fool has the following options: long January 2018 $90 calls on Apple and short January 2018 $95 calls on Apple. The Motley Fool has a disclosure policy.