Can NVIDIA Regain Its Mojo?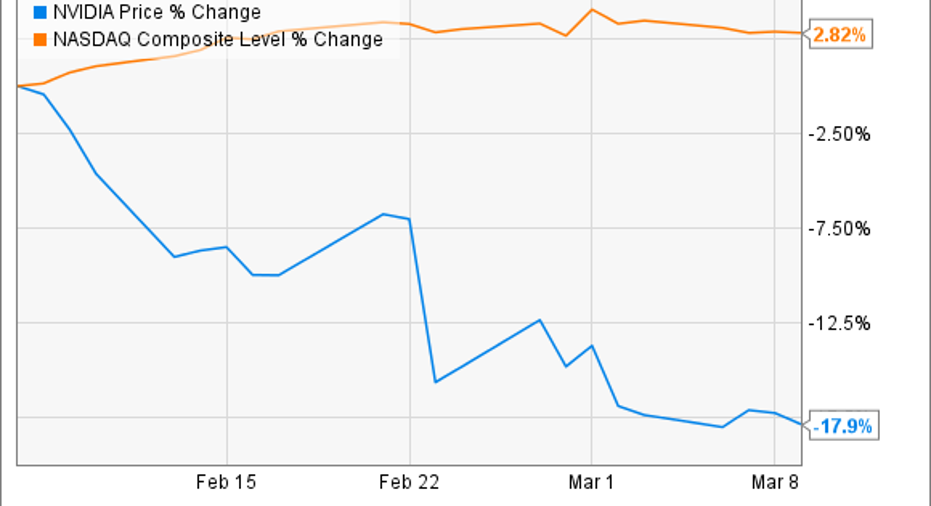 It seems somewhat disingenuous referring to a stock that has rallied roughly 530% over the last five years as having "lost its mojo."
However, the fact remains that shares of graphics chip leader NVIDIA (NASDAQ: NVDA) have indeed fallen roughly 18% from their 52-week high in early February.
So, how should investors think about this newfound bearishness in NVIDIA shares? Does the sell-off in its stock represent a paradigm shift in investor sentiment toward the company, or does it create an attractive potential entry point? Let's explore this topic in greater detail.
NVIDIA stock: What goes up must come down?
The only major news to break since NVIDIA's stock peaked -- which occurred on February 7th-- was the company's release of its full-year and fourth-quarter results for its fiscal year 2017, which took place on February 9th. As a quick point of clarification, NVIDIA runs its fiscal year one full year ahead of the calendar year, for some odd reason.
At any rate, NVIDIA actually released earnings that exceeded analyst estimates in terms of sales and profits.
If anything, it seems safe to say that some investors have been simply taking profits on their NVIDIA investments, a strategy that seems sensible for short-term investors concerned about NVDIIA's admittedly rich valuation. Moreover, while it enjoys many well-defined positives, there is one potential storm forming on the horizon that could sap some of the wind from NVIDIA's sails.
Long-time graphics laggard Advanced Micro Devices (NASDAQ: AMD) plans to launch its Vega chip series later this year, a move that some analysts believe could allow AMD to steal significant market GPU market share from NVIDIA. Though we don't know any of the specifics regarding AMD's Vega chips yet, the hope is that they will serve as a cheaper alternative to NVIDIA's GTX chip series, while not sacrificing much in the way of performance. If that proves to be the case, NVIDIA could be forced to lower the prices of corresponding chipsets. Of course, worrying about this is putting the cart before the horse to a certain extent, but it bears noting as something that could inhibit NVIDIA's growth. And given NVIDIA's sky-high valuation, that could be enough to compel investors sitting on large paper gains to sell.
Image source: NVIDIA.
NVIDIA long-term business outlook remains favorable
In as much as NVIDIA has indeed "lost its mojo," it's important to remember that NVIDIA's multiyear investment thesis appears as strong as ever. As we saw in its earnings release, the main drivers underpinning NVIDIA's growth today are high-end gaming, artificial intelligence (AI) software, and self-driving cars.
eSports still don't receive a lot of coverage from the mainstream media, but the craze's momentum is undeniable. eSport's global audience was estimated to reach 256 million viewers in 2016, according to one industry researcher. Large events regularly enjoy sponsorship from blue-chip brands like Coca-Cola, Nissan, and more, which has led to a dramatic increase in purse sizes for some of the genre's most popular events. This, in turn, has helped increase the awareness of the pastime to many casual fans, particularly in Asia, where the sport is most popular.The same researcher believes total revenue related to eSports will reach $1.1 billion by 2019, up from $463 million in 2016. The rush of money and interest into the sport should help continue to create demand for NVIDIA's best-of-breed graphics processing chips, which rose 44% last year.
Better still, major trends like AI software and driverless cars remain in their early stages. Last year, NVIDIA saw an unprecedented surge in demand for its GPUs to power an impressive host of applications. NVIDIA's GPUs are the chip of choice to power the various AI projects at tech giants such as Microsoft, Alphabet, Facebook, the National Cancer Institute, the U.S. Department of Energy, and many others. Turning to self-driving cars, NVIDIA has also partnered with an impressive arrayof major automakers, though this technology figures to more meaningfully contribute to its growth early next decade.
Not to belabor the point, but hopefully it's clear now that NVIDIA has far from lost its mojo. True, the company's stock prices has fallen from its recent all-time highs, but it easily remains in positive territory over the last 12 months, and for good reason. NVIDIA is one of the best-positioned companies to profit from several of the largest continuing trends in technology.
10 stocks we like better than NvidiaWhen investing geniuses David and Tom Gardner have a stock tip, it can pay to listen. After all, the newsletter they have run for over a decade, Motley Fool Stock Advisor, has tripled the market.*
David and Tom just revealed what they believe are the 10 best stocks for investors to buy right now...and Nvidia wasn't one of them! That's right -- they think these 10 stocks are even better buys.
Click here to learn about these picks!
*Stock Advisor returns as of February 6, 2017.
Suzanne Frey, an executive at Alphabet, is a member of The Motley Fool's board of directors. Teresa Kersten is an employee of LinkedIn and is a member of The Motley Fool's board of directors. LinkedIn is owned by Microsoft. Andrew Tonner has no position in any stocks mentioned. The Motley Fool owns shares of and recommends Alphabet (A and C shares), Facebook, and Nvidia. The Motley Fool has a disclosure policy.