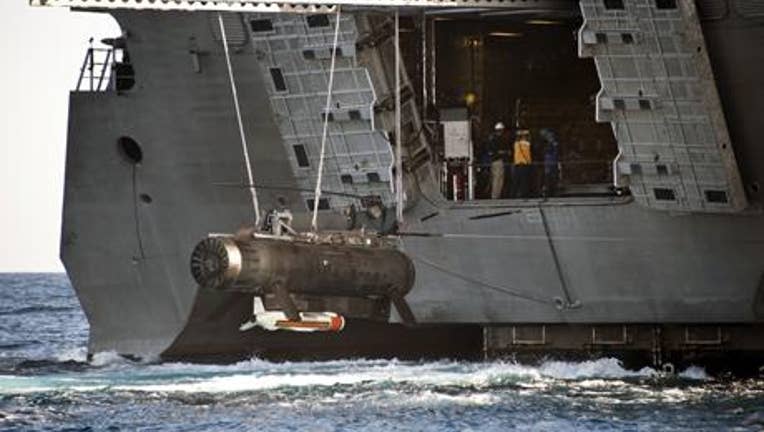 The U.S. Navy has a problem, and Lockheed Martin is a big part of it.
Lockheed Martin's Littoral Combat Ship Milwaukee (LCS 5). Probably the world's prettiest minesweeper... that still can't sweep mines. Image source: Lockheed Martin.
For years, Lockheed Martin and its peers -- first General Dynamics , then its shipbuilding partner Austal USA -- have been hard at work building a fleet of Littoral Combat Ships to perform (primarily) minesweeping missions for the Navy. Unfortunately, a key piece of the minesweeping mission is the development of a new fleet of small, robotic, mine-detecting submarines to scout out the boom-balls and guide their mother ship in to disarm them.
And not to put too fine a point on it, but they can't -- find the mines, that is, or relay the mines' location back to the mother ship. Not with any reliability, at least. In fact, according to an assessment by the Navy's own Directorate of Operational Test and Evaluation, recent tests of Lockheed's fleet of Remote Multi-Mission Vehicles saw the drones break down 14 times over 300 hours of testing, and miss their target of 75 hours' operation between failures by a factor of three.
These dogs don't huntThe Navy's bleak assessment of the drones' performance: The "total number of failures and periodicity of failures fall short of the design requirement for the system," a Navy spokesperson told CNN, rendering the drones, according to the Pentagon, "not ... operationally effective."
Put plainly: They don't work.
ABANDON DRONE! LOCKHEED MARTIN'S RMMV IS SINKING. IMAGE SOURCE: U.S. NAVY VIALOCKHEED MARTIN.
A problem in search of a solutionSo what's the solution to this problem? Last week, we told you about one possible solution: Irked by Lockheed's inability to get its RMMVs working right, the Navy is putting the drone contract up for a recompete, in which one final round of upgrades to RMMV will go head to head with competing minesweeping drones from General Dynamics and from Textronas well.
Final results from the recompete aren't due out before 2019, however. In the meantime, the Navy is moving ahead with other options. And this time, it could be Northrop Grumman that saves the day.
Eyes in the sky, looking downAs announced in the Pentagon's daily digestof contracts awarded to military suppliers last week, Northrop Grumman will receive $20.1 million in additional funding for the new Airborne Laser Mine Detection System (ALMDS).
The Pentagon calls ALMDS "a revolutionary, high area coverage rate" system for detecting anti-ship mines in the water. Like Lockheed's RMMS, ALMDS is designed to work off a Littoral Combat Ship, and specifically, from a Sikorsky MH-60S Seahawk helicopter carried on deck. But unlike current-generation mine detection gear, ALMDS doesn't involve any equipment that must be dipped into the sea to scan for mines. Everything is done from the air, where ALMDS uses a laser beam to probe the waters a ship plans to traverse, aiming to quickly and accurately "detect, classify, and localize floating and near-surface moored mines."
This quick, on-the-move scanning ability, says Northrop, "will allow naval forces to maneuver in mined waters without an operational pause."
What it means to investorsNorthrop's ALMDS looks like the right tool for the minesweeping job -- and it's arriving at just the right time, when the Navy is looking for new solutions to solve its Littoral Combat Ship problem. While ALMDS has not yet been put into operation, it sounds like a solution that can be deployed rather quickly for testing -- certainly faster than the 2019 time frame for choosing a replacement for Lockheed Martin's faulty robo-sub.
As for the size of the market, well, it could be small, or it could be big, or it could be huge, depending on how the system is deployed. Current Navy plans call for the construction of only 32 Littoral Combat Ships tasked with minesweeping. Figure one Seahawk deployed per LCS, and that's a pretty small market for ALMDS. That said, the Navy has nearly 500 Seahawks deployed across the entire fleet, and nearly 100 more on order. So even if ALMDS costs only a few million dollars per unit (it may cost more), the fleetwide opportunity for sales could be quite a bit bigger than meets the eye. And when you add in the potential for sales to foreign militaries (mines being a global problem,after all), it's not hard to see how ALMDS could turn into a real moneymaker for Northrop Grumman.
If it does, they'll have Lockheed Martin, and its 15 years of failure to make RMMS work right, to thank for it.
ALMDS-equipped Seahawk on the hunt for ship-killing mines. Image source: Northrop Grumman.
The article Can Northrop Grumman Solve the Littoral Combat Ship Problem? originally appeared on Fool.com.
Rich Smithdoes not own shares of, nor is he short, any company named above. You can find him onMotley Fool CAPS, publicly pontificating under the handleTMFDitty, where he's currently ranked No. 270 out of more than 75,000 rated members. Follow him onFacebookfor the latest in defense news.The Motley Fool has no position in any of the stocks mentioned. Try any of our Foolish newsletter servicesfree for 30 days. We Fools may not all hold the same opinions, but we all believe thatconsidering a diverse range of insightsmakes us better investors. The Motley Fool has adisclosure policy.
Copyright 1995 - 2016 The Motley Fool, LLC. All rights reserved. The Motley Fool has a disclosure policy.