Can Macau Survive a Las Vegas-Like Makeover?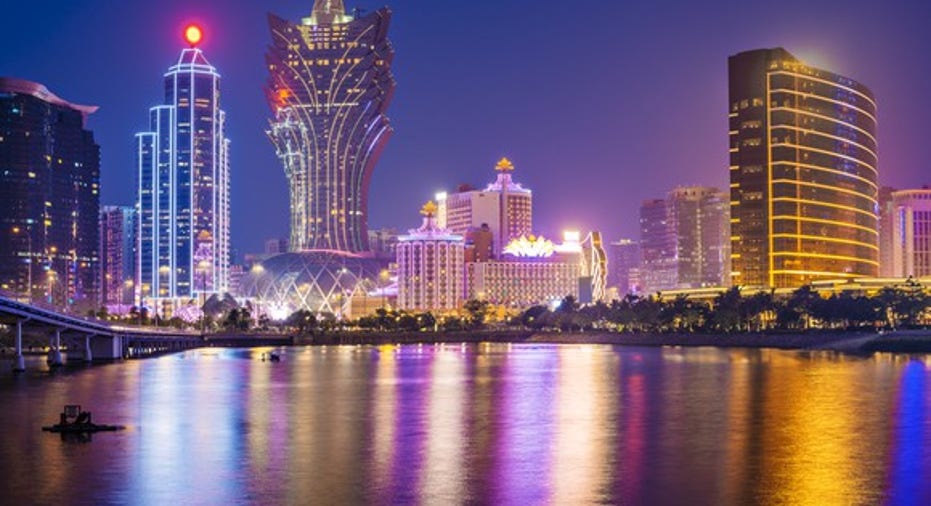 Macau's skyline already looks like a theme park attraction, but the opening of a number of new family-friendly venues will complete the transformation. Image source: Getty Images.
At its height in 2011, nearly three-quarters of Macau's gaming revenues came from VIP junkets, but as the island oasis has stumbled in recent years, that percentage has shrunk to just 54%. Obviously, junkets by high rollers are still important to Macau, the only place in China where Chinese nationals are allowed to gamble in traditional casino games, but their influence has measurably declined.
There are several reasons behind the change, most notably the crackdown on corruption by Beijing, which substantially increased scrutiny of junket operators, as well as the government's stated desire to have more family-oriented entertainment developed to create a "world tourism and leisure center."
A theme park adventureA few of the casino operators on the island have embraced this ideal. Galaxy Entertainment opened two resorts on the Cotai Strip last year that are geared more toward tourists, and Melco Crown Entertainment opened its Hollywood-themed Studio City last October with no VIP tables at all.Later this year, bothLas Vegas Sands and Wynn Resorts will be opening more family-oriented venues in the Parisian and Wynn Palace, respectively.
Because mass-market entertainment is more profitable than junkets, it would seem catering to the tourist crowd is a good bet in these lean times. Still, investors might still question whether Macau can survive such a makeover. Though there's room to grow, early steps are off to a halting start.
In Las Vegas, almost two-thirds of a casino's revenues come from forms of entertainment other than gambling. In Macau, it's just 10%.
Melco Crown's Studio City opened in October 2015, aimed at attracting more than just gamblers to "a leisure and entertainment destination that has no equal in Macau." Since its debut, however, Studio City has been a disappointment. With 250 gaming tables and 802 gaming machines, the family fun center generated total net revenues of just $179 million in the first quarter. Mass market table games' drop hit $547 million, with the hold percentage being 22.8%; gaming machine handle was $410 million, with a win rate of 3.6%;and total non-gaming revenue was just $58.2 million.
Eating its youngIt seems whatever gains were made at Studio City were offset by declines at some of Melco Crown's other properties, like City of Dreams, suggesting the new venue was simply cannibalizing revenues rather than expanding the market. Altira Macau, for example, saw revenues fall 27% to $108 million, and City of Dreams was down 16% to $679 million, both primarily as a result of sharply lower mass-market table game drop.
While it was thought that not having any VIP tables at Studio City would preserve the profits generated elsewhere, that doesn't seem to be panning out, and Melco Crown Entertainment is now reportedly considering adding junket facilities to Studio City.
Melco had originally applied for 400 gaming tables, but the government only gave it 250, so there didn't seem to be much sense in carving out a section of those tables for less profitable junkets. But now, apparently it feels the need to prop up the business with high rollers.
Gaming revenues in Macau have fallen every month for two straight years, and though the decline in May may have been less severe than in previous months (it was down 10% from May 2015), there's no let-up in sight. And with all of the new venues set to open, supply may soon exceed demand.
Penny ante stakesIt's believed that Las Vegas Sands' Parisian, the Wynn Palace, and MGM Resorts' new MGM Cotai, which will open in the fourth quarter, or possibly the first quarter of 2017, will each win 250 new gaming tables, just as Studio City and Galaxy Entertainment's casinos received. That will be an 8% increase in the number of venues and a 12% jump in the number of tables in play at the end of the first quarter, even though visitor rates are falling and the amount they're spending while in Macau is on the decline.
According to the IFT Tourism Research Center, its fourth-quarter survey of visitors to the island found 52% of those who admitted gambling during their trip to Macau spent less than $125 gambling while there, a significant increase from the 38% who said they spent less than that in last year's second quarter. More tables, more slots, and more rooms to fill, but more people who are spending less suggest it's not just the VIP high rollers cutting back, but average tourists as well.
There's a completely different culture in China than in the U.S., and it may be unrealistic to think Macau can transform itself into Las Vegas. Because this is a top-down directive rather than an organic, grass-roots movement by the casino themselves, there's a high probability of failure in changing Macau's focus from gambling to trying to turn the tiny island into a theme park.
The article Can Macau Survive a Las Vegas-Like Makeover? originally appeared on Fool.com.
Rich Duprey has no position in any stocks mentioned. The Motley Fool has no position in any of the stocks mentioned. Try any of our Foolish newsletter services free for 30 days. We Fools may not all hold the same opinions, but we all believe that considering a diverse range of insights makes us better investors. The Motley Fool has a disclosure policy.
Copyright 1995 - 2016 The Motley Fool, LLC. All rights reserved. The Motley Fool has a disclosure policy.