Can Lumber Liquidators Stock Keep Going After Last Week's 16% Pop?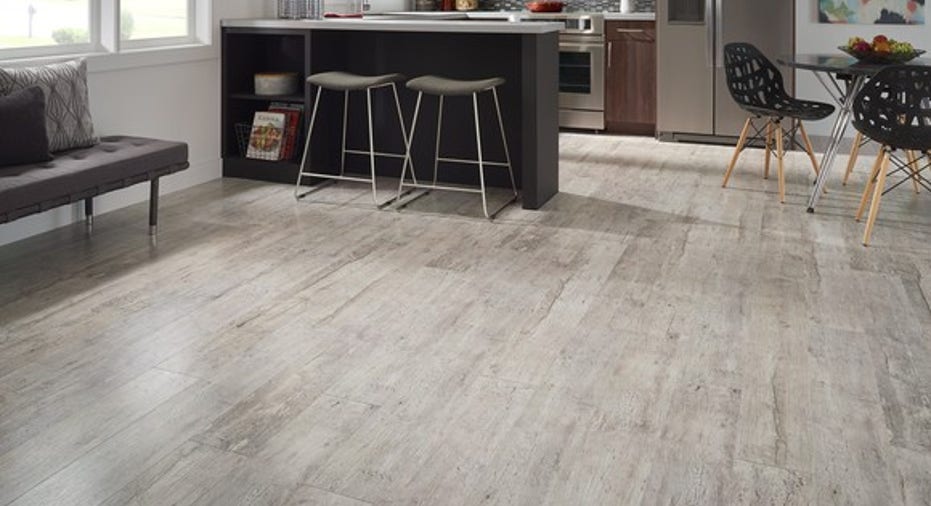 At least one Wall Street pro sees a turnaround gaining traction atLumber Liquidators(NYSE: LL), an outlook that helped send shares of the hardwood retailer 15.7% higher last week. Brian Nagel at Oppenheimer upgraded Lumber Liquidators last week, taking his rating from "perform" to "outperform." Nagel's price target of $34 suggests 17% more in upside, even after Friday's 11% surge on the upgrade news.
Nagel thinks the retailer's new management team has the right approach to executing a sustainable recovery after the company rattled off three straight quarters of positive comps. He sees healthy demand for hardwood flooring, just as Lumber Liquidators is improving its merchandise offerings and execution.
Click Ceramic Plank from Lumber Liquidators. Image source: Lumber Liquidators.
It's the wood that makes it good
Lumber Liquidators has been one of this year's biggest comeback stories, soaring 85% so far in 2017. The stock has nearly tripled since bottoming out 15 months ago.
But things aren't perfect at Lumber Liquidators despite the reversal in comps and rapidly ascending shares, as the chain has clocked in with nine consecutive quarterly deficits. However, Nagel thinks the improvements at Lumber Liquidators can result in earnings per share of $2.15 to $2.50 as store expansion, improving margin, and stock buybacks kick in.
It's easy for longtime investors to be fearful: Lumber Liquidators stock hit a two-year high on Friday, but the stock is still trading 75% below its all-time peak set in late 2013. The company took a big hit in early 2015 after hitting an all-time high when a scorching 60 Minutes report accused it of sourcing laminates from China containing high levels of formaldehyde.
Investors also shouldn't be surprised if there's a pause in the stock's monster rally. Earlier this month, Wedbush analyst Seth Basham upgraded the stock from "neutral" to "outperform," also encouraged by the the improvement in same-store sales and underlying margins, but his move to jack up his firm's price target on the shares from $22 to $27 seems obsolete now that Lumber Liquidators has barreled through Basham's price goal.
On the other hand, there are some tailwinds working in the chain's favor. Lumber Liquidators has spruced up its product line, including last month's introduction of itsClick Ceramic Plank line -- waterproof and wood-like planks made of ceramic that click together -- that's available only exclusively through the retailer. In addition, the economy and the housing markets are holding up, making plans to spruce up flooring feasible.
The string of positive comps may not seem so impressive since they're coming off deeply depressed levels, but at least these are steps in the right direction. Lumber Liquidators is going to have to earn these recent gains, but the fundamentals are getting better with every passing quarter.
10 stocks we like better than Lumber LiquidatorsWhen investing geniuses David and Tom Gardner have a stock tip, it can pay to listen. After all, the newsletter they have run for over a decade, Motley Fool Stock Advisor, has tripled the market.*
David and Tom just revealed what they believe are the 10 best stocks for investors to buy right now... and Lumber Liquidators wasn't one of them! That's right -- they think these 10 stocks are even better buys.
Click here to learn about these picks!
*Stock Advisor returns as of May 1, 2017
Rick Munarriz has no position in any stocks mentioned. The Motley Fool recommends Lumber Liquidators. The Motley Fool has a disclosure policy.