Can Lumber Liquidators Bounce Back After Last Week's 16% Drop?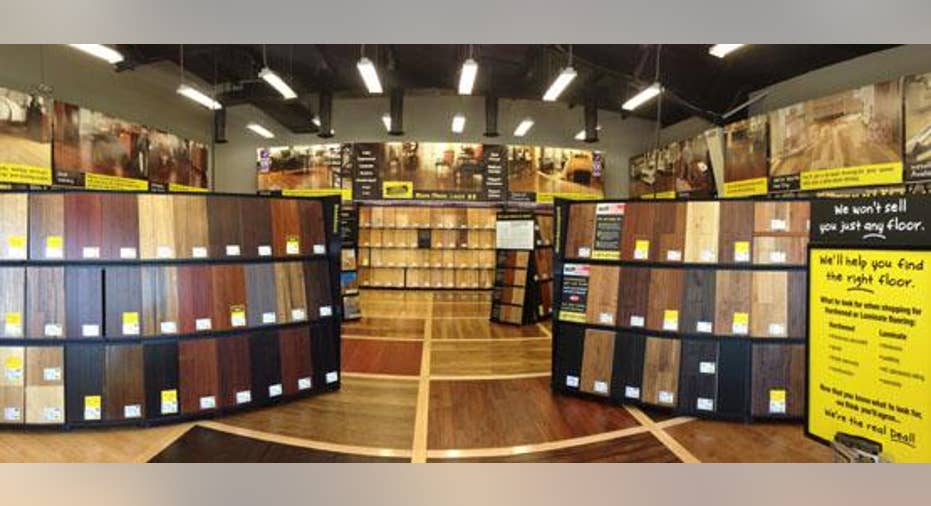 Source: Lumber Liquidators.
We're now a year removed from the scandal that rocked the integrity ofLumber Liquidators, but customers still aren't coming back to the retailer of hardwood flooring. Lumber Liquidators stock took a 16% hit last week after posting another round of unflattering financial results.
The chain of more than 370 stores specializing in discounted flooring products saw its net sales clock in at $233.5 million, 10.2% below where it was a year earlier. It gets worse when you work your way down to the store level, because those sales include the incremental sales by stores that have opened over the past year. Comparable-store sales took a 13.9% hit during the quarter as a sharp decrease in traffic was made worse by folks spending slightly less on the average sale.
This is the fourth consecutive quarter of year-over-year declines in net sales for Lumber Liquidators. It's also the third quarter in a row that it's been a double-digit percentage slide. Unfortunately it's also the fifth quarter in a row of negative comps, and that's perhaps the real problem with the market's dissatisfaction with Lumber Liquidators' report.
The scorching 60 Minutes piece that took the flooring retailer to task for high levels of formaldehyde in all 30 of its China-sources laminates aired on March 1, 2015. It put a grinding halt to the positive sales trend that Lumber Liquidators had going on at the time. Comps plummeted 17.8% in March of last year, resulting in comparable-store sales declining by 6.2% for the period. With that kind of sandbagging going on this should have made this year's first quarter an easy one to bounce up from, but that didn't happen.
Folks continue to stay away, and Lumber Liquidators posted a widening loss for the quarter. That's another losing streak for the out-of-favor retailer, as it's now posted a quarterly deficit for five consecutive quarters.
Walking the plank
It's easy to see Lumber Liquidators shares slipping in this scenario. The stock avoided going into the single digits earlier this year, hitting as low as $10.01 in February. It's getting close to testing that floor again. We haven't seen Lumber Liquidators trading below $10 since early 2009 when it was a much smaller company.
It's not pretty. A big price that Lumber Liquidators and its investors have had to pay with the chain's reputation getting smeared is that it can't mark up its product the way it used to. Gross margin peaked at 41.1% in 2013. It has slumped to 28.2% over the past four quarters.
No one expects a turnaround to materialize overnight when your reputation comes under fire, but things should have stabilized here. It's now been a year since Lumber Liquidators stopped selling Chinese laminate flooring at its stores. The CEO, CFO, and CMO all fell on their swords, bowing out of the retailer.
Armed with new leadership and with Lumber Liquidators making headway on getting past many of last year's legal and regulatory setbacks we're now waist deep in the retailer's most important quarter. It should be easy to bounce back from last year's second quarter when comps plunged 10%. Lumber Liquidators isn't offering a lot of insight into how the current period may play out, but how well it fares three months from now when it reports again will decide whether Lumber Liquidators stock finally falls into the single digits for the first time in seven years or begins taking the first step of what should be a long way back.
The article Can Lumber Liquidators Bounce Back After Last Week's 16% Drop? originally appeared on Fool.com.
Rick Munarriz has no position in any stocks mentioned. The Motley Fool recommends Lumber Liquidators. Try any of our Foolish newsletter services free for 30 days. We Fools may not all hold the same opinions, but we all believe that considering a diverse range of insights makes us better investors. The Motley Fool has a disclosure policy.
Copyright 1995 - 2016 The Motley Fool, LLC. All rights reserved. The Motley Fool has a disclosure policy.