Can Lockheed Martin Crack Open This $200 Billion Market?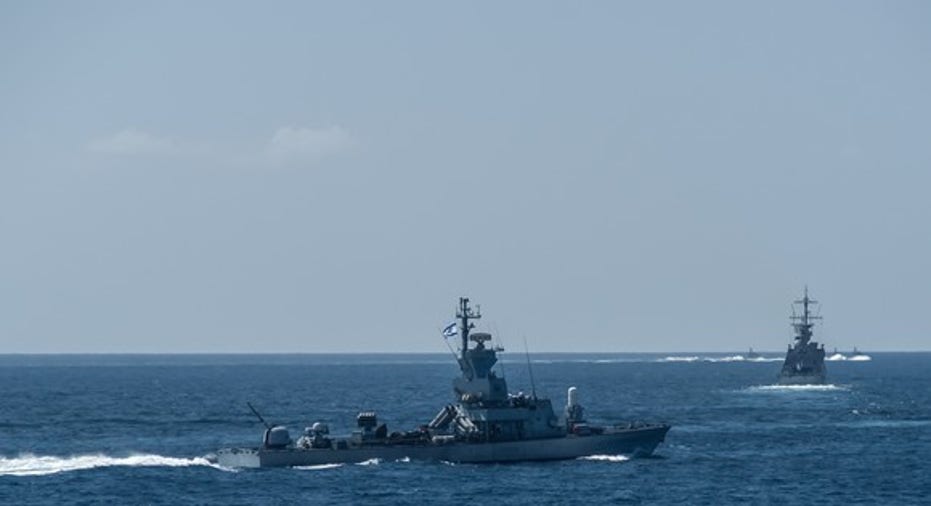 Between 1989 and 1995, Huntington Ingallsbuilt three Sa'ar-class corvettes for the Israeli navy -- but none for the U.S. Navy.
Over the next 20 years, militaries in Southeast Asia and the Pacific plan to spend some $200 billion on improving their navies. (They might even spend more -- Australia just dropped $50 billion on a fleet of new submarines from France, all in one shot.) But here's the thing:
To date, U.S. defense contractors have almost totally ignored this market. While American defense contractors have done a fine job selling missiles and fighter jets, high-tech electronic equipment, and drones to Southeast Asia, the one thing we've been largely unable to offer is precisely the one thing that navies in this region need:
Data source:SIPRI.
Small budgets, small warships
Within the region, you see, China spends more on its military than the next eight largest countries combined. These countries, and ones that spend even less, might want robust militaries so as to better stand up to China. But no matter how lofty their ambitions, they have limited ability to pay for large warships.
As a result, one of the hottest markets for military hardware in the region is expected to be the construction and sale of small warships -- and at long last, Lockheed Martin is making a move to cash in on this demand.
Introducing the Lockheed Martin MCS
It's been decades since American shipbuilder Huntington Ingalls , for example, last builta corvette-sized military vessel. But last week, one of Huntington's newer rivals in the military shipbuilding business, Lockheed Martin, announced it has teamed up with South Korean shipbuilder Daewoo Shipbuilding & Marine Engineering (DSME) to design and build a new class of corvette-sized Multi-mission Combat Ships (MCS). Smaller than a frigate, but larger than a patrol boat,the new MCS class will be, says Lockheed:
"highly maneuverable," with a "shallow draft" enabling operation in coastal waters
probably 280 to 390 feet in length
equipped to handle "simultaneous ... anti-air, mine countermeasures, anti-surface, anti-submarine, and electronic warfare tasks" -- hence "multi-mission."
Mirroring the design of Lockheed's Freedom-class Littoral Combat Ship, the new MCS will also feature a large flight deck aft, for landing helicopters and small drones. But being smaller than an LCS, the MCS will presumably also be more affordable. Indeed, it must be. With the GAO currently estimatingthe cost of Littoral Combat Ships at $666 million (plus an additional $105 million for optional equipment), a full-fledged LCS would be beyond the budget of many buyers in the region.
Simply put, a corvette must cost less.
Will it play in Peoria?
Low cost wouldn't necessarily mean low profit for Lockheed Martin, though.
Huntington Ingalls may not be interested in building smaller warships anymore, but Lockheed Martin's mission systems and training division already is building them. Specifically, it builds the U.S. Navy's Littoral Combat Ship. Lockheed's second-largest division by revenue, MS&T is dead last in profitability among Lockheed's several divisions. Last year, its operating profit margin was a mere 7.9% of revenue, according to data from S&P Global Market Intelligence. That's less than two-thirds as profitable as the 12% profit margin Lockheed earns as a whole.
But what if Lockheed Martin can crack open the $10 billion-a-year Asian naval business and begin selling corvettes to China's neighbors? This single market is worth nearly as much as all of the revenue Lockheed Martin gets from its MS&T division in a year. And Asia's naval buying boom is expected to last for at least 20 years. Breaking into this important market could both significantly grow Lockheed's revenues and, by adding scale to the business, allow it to earn higher profit margins as well.
And that's not all. Here in the U.S., our Navy's battle fleet features just four main warship types, of which $1.5 billion destroyers make up nearly 40% of the activefleet. I (and not just I) have argued that this structure is inflexible, expensive, and doesn't allow the Navy to buy enough ships to cover all of the places the Navy needs to be present in around the world.
Assuming it can be built at an affordable price, though, Lockheed Martin's MCS may offer a solution to the Navy's problem of building too expensive and too few ships. Built in volume, and with development costs spread out among the U.S. and multiple foreign buyers, an MCS-class corvette could prove to be an attractive ship design for the U.S. Navy as well.
It's been a long timesince the U.S. Navy had corvettes in its inventory. For Lockheed Martin and for the U.S. Navy, maybe their time has finally come.
Lockheed Martin's MCS will come in a variety of sizes -- but just one basic shape. Image source: Lockheed Martin.
The article Can Lockheed Martin Crack Open This $200 Billion Market? originally appeared on Fool.com.
Rich Smithdoes not own shares of, nor is he short, any company named above. You can find him onMotley Fool CAPS, publicly pontificating under the handleTMFDitty, where he's currently ranked No. 291 out of more than 75,000 rated members.The Motley Fool has no position in any of the stocks mentioned. Try any of our Foolish newsletter services free for 30 days. We Fools may not all hold the same opinions, but we all believe that considering a diverse range of insights makes us better investors. The Motley Fool has a disclosure policy.
Copyright 1995 - 2016 The Motley Fool, LLC. All rights reserved. The Motley Fool has a disclosure policy.