Can It Get Any Harder for Boston Beer to Sell Beer?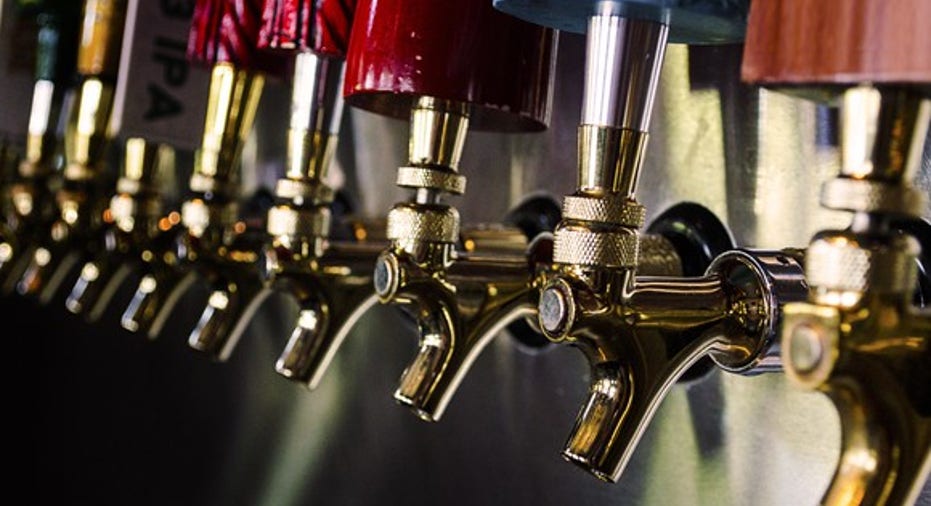 Boston Beer (NYSE: SAM) is running out of rabbits to pull out of its hat. Over the years, as sales of its flagship Samuel Adams brand slipped, the brewer has been able to turn to new offerings to shore up the weakness. Especially with its Twisted Tea and Angry Orchard hard cider, the brewer has managed to capture the tastes drinkers were looking for at any particular time. Its seasonal beers have also consistently proved to be mainstays of sales growth strength.
Boston Beer CEO Jim Koch hasn't had much to smile about lately, as sales of his flagship Samuel Adams beer continue to fall. Image source: Boston Beer.
Lately, though, that hasn't been going so well. Beginning in 2015, but really picking up steam this year, sales of Boston Beer seasonal brews have only served to drag down performance as increased competition -- primarily in packaged-goods stores, where beer drinkers are presented with an abundance of craft beer options -- affected the amount of shelf space they're given, hurting sales.
'Tis the season
The Samuel Adams seasonal beers are brewed specifically for limited periods of time and include Cold Snap, Summer Ale, Octoberfest, and Winter Lager. Now, as Boston Beer prepares to add a fifth seasonal brew to its lineup, new numbers from the market researchers at IRI indicate it may have tapped out their effectiveness. Through the end of November, Samuel Adams seasonal brands fell by 649,000 cases this year, a better than 18% decline from a year ago.
In fact, the company's beers seem to be suffering all across the board. In addition to the big hit its seasonal beers took, IRI found Samuel Adams Rebel IPA was down almost 16% and the Samuel Adams brand itself was off 12.6%. It was only the brewer's seasonal variety pack that hadn't fallen by double-digit rate, but it still dropped 6.2% for the period.
Not surprising, really, when you consider the brewer's depletions, or sales from distributors to retailers (a reliable industry proxy for consumer demand) have fallen 6% over the first nine months of the year.
Yet some craft beers actually seemed to be doing quite well. IRI says Lagunitas IPA was up almost 18% through November while Goose Island IPA nearly doubled to 416,000 cases. It should be pointed out that both of those beers wouldn't make the Brewer's Association list of craft beers, since the former is half-owned by Heineken and the latter by Anheuser-Busch InBev.
Image source: Getty Images.
A tsunami of choice
Despite those gains, there's little doubt craft-beer growth is slowing, even if it continues to outpace the overall beer market. The IRI data showed the number of cases for the top 10 craft beers have dropped 3.6% year to date, while the industry trade group is looking for single-digit growth, a big change of pace from the double-digit annual growth it's experienced for years.
The problem seems to be the industry -- and by extension, Boston Beer -- is a victim of its own success. The number of U.S. breweries in operation is close to 5,000, most of which are microbrewers, meaning there's a never-ending procession of new beers hitting the market. When internet memes poke fun at the coming of everything pumpkin spice as soon as the calendar flips over to October, you know it's not going to be easy to push beer simply by slapping a seasonal label on it.
Perhaps even worse for Boston Beer is that where many microbrewers may come and go, it has survived (and thrived) for three decades now. The Boston Globe quotes one small craft rival as saying: "My dad was drinking Sam Adams when I was a kid. For a lot of people who are drinking craft beer right now, it was their dad's beer."
Image source: Getty Images.
That's a death knell these days for a beer, but couple that with "beer promiscuity," or the lack of loyalty to any particular brand, but rather drinkers always being on the prowl for the new flavor, and you have a prescription for decline.
Going stale
Boston Beer is trying to change how people think about its beer by designing new packaging for its beers. While the Samuel Adams brand may have gotten the biggest makeover, the brewer promised that both its Rebel brand and the seasonals would also get a big facelift by the end of the year.
Packaging, though, isn't Boston Beer's problem, and until there's a big industry shakeout, whether it means getting bought by a bigger brewer (or starts making acquisitions itself) or going private, investors will suffer as the craft-beer icon muddles its way through an overly saturated market.
10 stocks we like better than Boston Beer When investing geniuses David and Tom Gardner have a stock tip, it can pay to listen. After all, the newsletter they have run for over a decade, Motley Fool Stock Advisor, has tripled the market.*
David and Tom just revealed what they believe are the 10 best stocks for investors to buy right now... and Boston Beer wasn't one of them! That's right -- they think these 10 stocks are even better buys.
Click here to learn about these picks!
*Stock Advisor returns as of Nov. 7, 2016
Rich Duprey has no position in any stocks mentioned. The Motley Fool owns shares of and recommends Anheuser-Busch InBev NV and Boston Beer. The Motley Fool has a disclosure policy.