Can I Invest in Trump's Companies?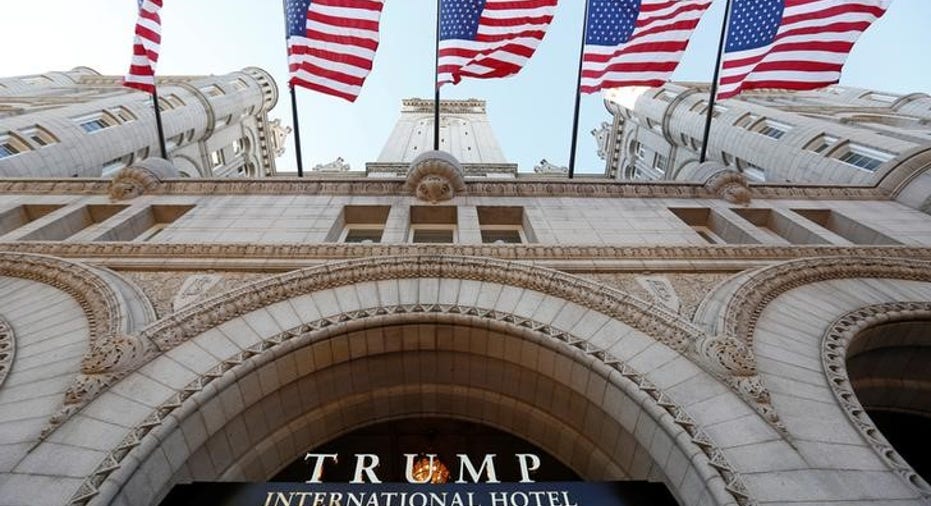 Q. Is there a way to capitalize on all of Donald Trump's businesses? I expect he will make policies more favorable for his companies. I want in! — I want in!
A. President-elect Trump is expected to have a huge impact on the economy.
Before we discuss his businesses, let's look at the big picture.
In general, investors should expect volatility in the markets.
"While he has Republican majorities in the Senate and House to support him, there is enough disagreement even within Republican ranks that sweeping policy change may not be easy," Gerry Papetti, a certified financial planner and certified public accountant with U.S. Financial Services in Fairfield, New Jersey, said.
In addition to immigration and trade reform, we should expect some form of legislation centered on corporate and individual income tax cuts coupled with increases in infrastructure and defense spending, Papetti said.
Deficits and debt may also take center stage, which has implications for inflation, interest rates and bonds, he said. Based upon current economic data, the U.S economy is fundamentally sound, according to Papetti.
"Unemployment is below 5%, real estate prices have recovered for the most part and have posted year-over-year gains," he said. "Energy costs remain low and interest rates, even with the recent Federal Reserve action to increase short-term rates, are still low for borrowers."
He said a pro-growth agenda, combined with lower regulation, should be supportive of the economy and the stock market longer term.
As far as trying to capitalize on Trump's businesses, most of his direct investments are in private companies.
Without the release of his tax returns or a new disclosure, it is difficult to know what public companies he may have direct investments in, Papetti said.
Trump also claimed that he sold all of his publicly traded stock investments in June 2016, news reports said, but this is difficult to verify because Trump's last financial disclosure came in May 2016 — a month before he claims he sold all of his stocks.
Papetti said Trump's May disclosure listed individual stock holdings totaling $10 million, which is a relatively small percent of his overall wealth. Trump also reported in this disclosure that he had more than $80 million in hedge fund investments, and Trump's transition team did not respond to inquiries about whether he also sold these holdings in June.
Despite all of that, Papetti said there are opportunities to invest in certain sectors of the stock market that could benefit from Trump's expected policies. Here are six of those sectors:
Energy: In addition to oil, MLPs (Master Limited Partnerships), nuclear energy and related uranium investments and mining stocks.
Transportation: These stocks benefit from lower oil prices as well as overall growth in the U.S. economy, Papetti said.
Treasury Inflation Protected Securities (TIPS): These would benefit from what Trump policies could do to fuel inflation.
Financials: Although there's been a strong rally since the election, decreases in regulation could lead to increased profits and growth, particularly in the regional bank sector, Papetti said.
Small-Cap Stocks: These would have less exposure to a possible protectionist agenda leading to more restrictive trade, Papetti said.
High-Yield Bonds: These will perform better in a rising interest rate environment.
So while you can't necessarily buy into Trump's hotels, steaks, water or whatever, you can position your portfolio to benefit from the policies the market is expecting from the new president.
This article originally appeared on Credit.com.
Karin Price Mueller is an award-winning writer and money expert. She's the founder of NJMoneyHelp.com, a new website that offers smart and objective advice on everything money. She also writes the Bamboozled consumer affairs column for The Star-Ledger. Mueller has won several national and local journalism awards, including nods from the Society of Business Editors and Writers (SABEW), the New Jersey Press Association (NJPA) and the Financial Planning Association. More by Karin Price Mueller.