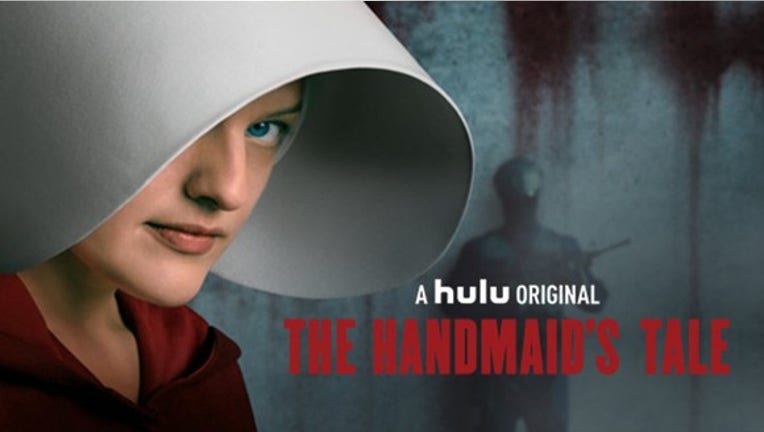 After months of hype, The Handmaid's Tale is now available on Hulu. The highly anticipated adaptation of Margaret Atwood's dystopian novel began streaming exclusively on Hulu last week, but binge viewing of the entire series will have to wait. Just the first three episodes were released last week. Each of the seven remaining installments will roll out on subsequent Wednesdays.
Spreading out a 10-episode series across two months of weekly installments may seem far removed from the practice thatNetflix (NASDAQ: NFLX)has championed, making an entire season available on the same day. However, Hulu is paying homage to the way traditional television works -- and it might not be such a bad approach.
Image source: Hulu.
Netflix and chill and wait
Netflix's 13 Reasons Why is all the rage these days. The controversial series has been taken to task by some as glamorizing teen suicide, but there's no denying its popularity. The show blew up in April, but what would happen if it hadn't released all 13 episodes at the same time? What if the series had been pushed out in weekly installments, culminating in late June?
The internet would be hanging on every weekly installment. Everyone would be on the same episode, a big deal in an era where spoiler alerts and social media platforms rule. More importantly for Netflix shareholder purposes, an event that will be forgotten soon -- no one will be talking about 13 Reasons Why in a few weeks -- would keep percolating well into the summer.
Netflix topped 100 million streaming subscribers last month, and the service lives and dies by monthly renewals. The ability to milk a hit series across several months is important, but we know that Netflix doesn't see things that way. It's coined the "binge viewing" term, and it doesn't care if someone goes through a show's entire season over a holiday weekend.
Netflix will argue that it knows what it's doing. Critics have taken its model to task in the past, pointing out that Netflix should offer pay-per-view rentals like AmazonPrime. There was a time when it was knocked for not offering other media through its disc-based platform, but obviously it's hard to argue with success. Netflix has done one thing right, and no other premium service is anywhere close to Netflix's 100 million streaming subscribers.
It's also fair to say that what used to be a trickle of original content on Netflix these days is now a deluge. Netflix won't need to milk the new season of House of Cards later this month for long. The pipeline is strong. It may want to experiment with different delivery timelines, knowing that binge viewing will always have a chance to come into play once all of the episodes have been released. However, you don't fix what isn't broken. Until any platform begins gaining ground on Netflix, it's hard to tell it that Hulu has cracked the code.
10 stocks we like better than NetflixWhen investing geniuses David and Tom Gardner have a stock tip, it can pay to listen. After all, the newsletter they have run for over a decade, Motley Fool Stock Advisor, has tripled the market.*
David and Tom just revealed what they believe are the 10 best stocks for investors to buy right now... and Netflix wasn't one of them! That's right -- they think these 10 stocks are even better buys.
Click here to learn about these picks!
*Stock Advisor returns as of May 1, 2017
Rick Munarriz owns shares of Netflix. The Motley Fool owns shares of and recommends Amazon and Netflix. The Motley Fool has a disclosure policy.