Can Hasbro Stock Keep Going After Last Week's 18% Pop?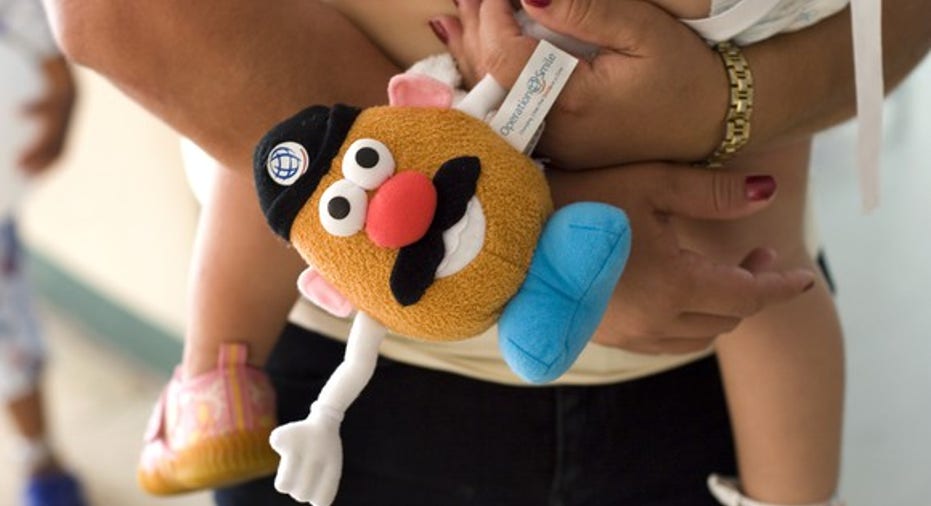 One of last week's biggest winners was Hasbro (NASDAQ: HAS), soaring 18.2% after posting better-than-expected quarterly results and increasing its dividend. The toy maker's net revenue climbed 11% to $1.63 billion, up 12% on a constant-currency basis. Double-digit growth in its games and girls categories were more than enough to offset weakness in its boys and preschool segments.
Adjusted earnings clocked in at $1.64 a share, well ahead of the $1.39 it posted a year earlier and the $1.27 analysts were expecting. The beat isn't a surprise. Hasbro wound up beating Wall Street's profit targets in each and every quarter during fiscal 2016.
Hasbro also boosted its quarterly payouts by 12%. Shareholders will now receive $0.57 a share every three months. The stock's yield now stands at 2.3%, and it's not the only way Hasbro is returning money to its investors. The toy giant invested $151.3 million in buying back 1.89 million shares for all of last year. That was nearly enough to offset the number of new shares issued through 2016, but Hasbro's share count had fallen for 10 consecutive years before last year.
Image source: Hasbro.
Toys in the basement
Hasbro's strong showing came as a refreshing surprise to investors who saw rival Mattel(NASDAQ: MAT)crumble a week earlier, after serving up problematic financial results. Hasbro's longtime rival posted an 8% decline in net sales that translated into a 6% slide on a constant-currency basis.
Mattel experienced weakness across most of its toy lines outside of Hot Wheels and American Girls. The iconic Barbie line resumed its downtrend. Mattel's adjusted earnings also fell well short of analyst expectations. Unlike Hasbro, with its ability to consistently top Wall Street projections, Mattel wound up missing analyst profit targets in three of the four past quarters.
Mattel's CEO warned of "industrywide challenges," and the market assumed that Hasbro would also feel the pinch. At least one Wall Street pro -- Monness, Crespi, Hardt, & Co. -- downgraded Hasbro following Mattel's tough quarter.MKM Partners analyst Eric Handler didn't downgrade Hasbro following the report, but he did lower his rating on Mattel, pointing to the rough retail environment for toy makers in general.
Hasbro has held up better than Mattel in recent years. Mattel's net sales have declined for three straight years, unlike Hasbro, with its top line moving higher every year. There is now speculation that Hasbro and Mattel may merge, something that Dealreporter and Piper Jaffray alluded to last week.
We won't have to wait long for Hasbro to speak again. It is hosting an investor update at Toy Fair on Friday morning. It earned its gains last week -- now we'll see if it can keep the good news coming.
10 stocks we like better than HasbroWhen investing geniuses David and Tom Gardner have a stock tip, it can pay to listen. After all, the newsletter they have run for over a decade, Motley Fool Stock Advisor, has tripled the market.*
David and Tom just revealed what they believe are the 10 best stocks for investors to buy right now... and Hasbro wasn't one of them! That's right -- they think these 10 stocks are even better buys.
Click here to learn about these picks!
*Stock Advisor returns as of February 6, 2017
Rick Munarriz has no position in any stocks mentioned. The Motley Fool owns shares of and recommends Hasbro. The Motley Fool has a disclosure policy.