Can Gilead Sciences Rebound in the Second Half of 2016?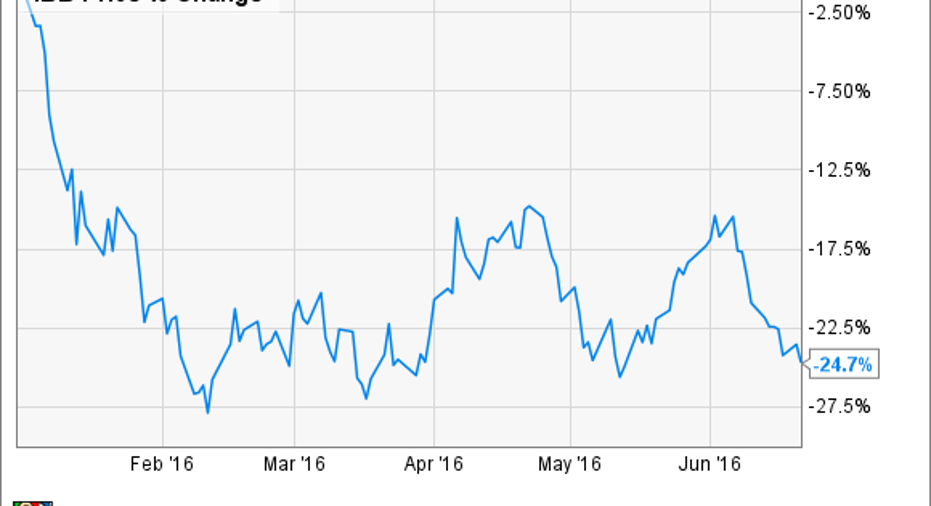 Image source: Getty Images.
What: Shares of the blue-chip biotechGilead Sciences have now fallen by close to 20% in 2016, according to data fromS&P Global Market Intelligence.
Gilead's hefty decline was triggered by weaker-than-expected sales of its megablockbuster hepatitis C drug Harvoni in the first quarter of the year, combined with the approval and subsequent launch of Merck's competing therapy, Zepatier. Although Zepatier probably won't turn out to be a major competitive threat to Gilead's hep C franchise, payers may use the drug's lower wholesale price to negotiate larger discounts, or additional rebates, with Gilead. If so, Gilead's top line could take a substantial hit over the next 12-months.
So what:As a top dog among biotech stocks, Gilead has a disproportionate influence on market sentiment toward the sector as a whole. Gilead's rough year has clearly played a major role in the 24% drop in the iShares Nasdaq Biotechnology ETF in 2016:
Not only is Gilead the IBB's fourth-largest holding, but its slowing growth trajectory seems to be casting a long shadow on the state of biotech right now. The long and short of it is that the innovation boom that gave rise to breakthrough drugs like Harvoni has arguably moved into the "copycat" stage of its evolution, where big pharma and biotech put their collective weight behind drugs known to produce viable product candidates, rather than pursuing riskier experimental compounds with higher upside potential. In short, biotech's period of hyper-growth is finally starting to show signs of slowing down, which is reflected in Gilead's flattening top line.
Now what: Gilead, like most of its large-cap biotech peers, is looking for the next big thing that will break its slump. Unfortunately, there aren't any compelling novel drug classes to jump into at the moment. After all, nearly every form of cancer immunotherapy has attracted significant interest from the biopharma elite, and riskier lines of research like stem cells and gene therapy appear to be best-suited for orphan disease markets.
So, while Gilead does have ample cash on hand to pursue a major acquisition, there aren't a whole lot of targets available that would dovetail nicely with the biotech's core strengths, as well as its operational history as a leader in infectious diseases. As such, investors may simply have to wait for the biotech's various clinical programs to bear fruit before expecting a fundamentals-driven rebound to take shape.
The article Can Gilead Sciences Rebound in the Second Half of 2016? originally appeared on Fool.com.
George Budwell owns shares of iShares NASDAQ Biotechnology Index. The Motley Fool owns shares of and recommends Gilead Sciences. Try any of our Foolish newsletter services free for 30 days. We Fools may not all hold the same opinions, but we all believe that considering a diverse range of insights makes us better investors. The Motley Fool has a disclosure policy.
Copyright 1995 - 2016 The Motley Fool, LLC. All rights reserved. The Motley Fool has a disclosure policy.