Can General Motors Compete in Driverless Cars?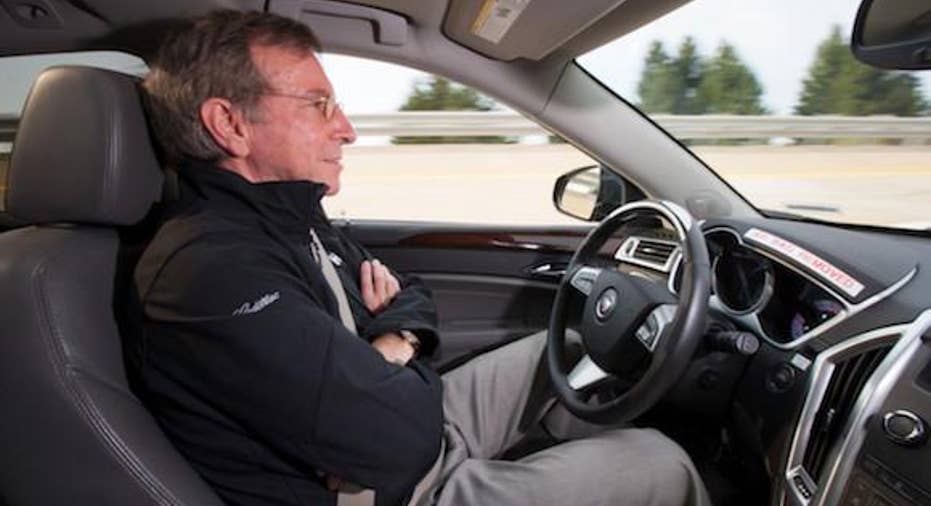 GM's Jeremy Salinger lets Super Cruise take the wheel. Source: GM.
Let's be clear about one thing: General Motors is ahead of many carmakers in the driverless car space. Nearly every automaker has an autonomous driving game plan, but GM's has tried to take an aggressive approach.Navigant Research recently put GM in the leadership category for driverless cars, along with rivals Ford, BMW, Audi, and Daimler.
The trouble is, the automakers aren't just competing against themselves.
Alphabet's Google is clearly a leader in driverless car technology and strategy. The tech giant has already logged over 1 million self-driving miles, has been testing autonomous cars since 2009, and has created its own driverless car prototype that's currently cruising down California and Texas roads.General Motors is, well, still trying to get its semi-autonomous driving system, Super Cruise, up and running. The automaker announced back in January that it's delaying the release of Super Cruise until 2017 (previously set for this year).
But why compare two very different companies? Detroit is not Silicon Valley, after all. Because whether GM likes it or not, Googleis effectively forcing the automotive industry further into the self-driving space -- and it's still unclear whether it will be able to keep up.
GM in the passenger seatAt an event toward the end of last year, GM made it clear that it intends to not just compete, but lead, in the self-driving space.
"No one has solved all the technical challenges or claimed outright leadership. We see this as a tremendous opportunity to lead," GM's product development chief, Mark Reuss, said.
The company announced at the event that it would roll out a fleet of self-driving Chevrolet Volts (the company's gas-electric hybrid sedan) on its own campus this year, moving its employees around the grounds as it undergoes massive renovations.
GM's also talked about launching driverless cars for a luxury apartment condo in New York City and its own car-sharing service.
GM's CEO Mary Barra has thrown around words like "disruptor" when referring to the the company's position in the autonomous car space. But the problem is that even with all the company's current driverless car tech plans, and the upcoming release of its semi-autonomous Super Cruise feature, GM still doesn't come close to Google's pursuits.
Image source: Google.
Yes, there is a clear leaderDespite what GM wants to believe, there is a clear leader in the self-driving space. Google has more than six years of autonomous car research experience, has a total of 48 autonomous cars, and has spent an estimated $60 million on its autonomous efforts so far.
While GM talks about carting its employees around the backroads of its campus, Google's actually out on the main roads of California, Nevada, Washington, and Texas smacking into municipal buses (you can't win 'em all). The point is that Google has real-world experience in self-driving autos. And the company is so confident in its technology that it wants to remove gas petals and steering wheels from future autonomous cars.
Along for the rideGM's nowhere near out of the self-driving car race. In fact, the company's reps sat alongside Google when talking to the U.S. government about expanding self-driving car laws.
But I don't think the automaker has any particular advantage in the space. GM may believe that building its own autos gives it the upper hand in the space, but that argument begins to break down when you look Tesla .
Not only did Tesla jump into the automotive market just a few years ago (and now has the best-selling luxury sedan in the U.S.), but it's also aggressively pursuing its own self-driving technologies. The electric-car maker has proven a new, unknown, tech company can step into the automotive market and make electric cars even better better (and a heck of a lot more fashionable) than the automakers ever did. And the same could be true of driverless autos as well.
Google has its sights set on driverless cars, and while I think it could take longer to reach a self-driving utopiathat some believe is right around the corner, the company is making autonomous cars a reality more than any other company. GM may be a leader among the carmakers, but I think it's clear that automakers are no longer in control of where their industry is headed.
The article Can General Motors Compete in Driverless Cars? originally appeared on Fool.com.
Suzanne Frey, an executive at Alphabet, is a member of The Motley Fool's board of directors. Chris Neiger has no position in any stocks mentioned. The Motley Fool owns shares of and recommends Alphabet (A shares), Alphabet (C shares), Ford, and Tesla Motors. The Motley Fool recommends BMW and General Motors. Try any of our Foolish newsletter services free for 30 days. We Fools may not all hold the same opinions, but we all believe that considering a diverse range of insights makes us better investors. The Motley Fool has a disclosure policy.
Copyright 1995 - 2016 The Motley Fool, LLC. All rights reserved. The Motley Fool has a disclosure policy.