Can Francesca's Keep Going After Last Week's 36% Pop?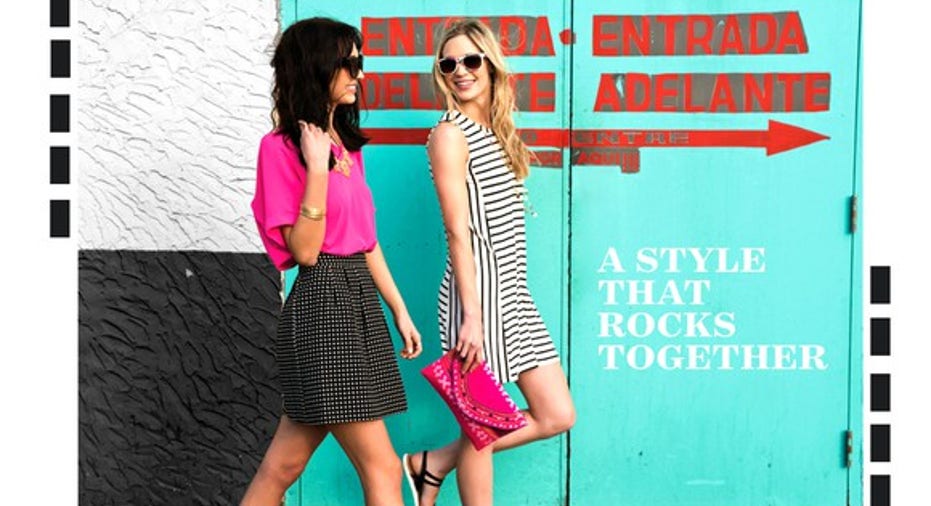 Image source: Francesca's.
One of last week's biggest winners was Francesca's Holdings (NASDAQ: FRAN), moving 35.6% higher after posting better-than-expected financial results and once again jacking up its guidance. Some apparel retailers are struggling these days, but that's certainly not the case for the parent company of the fast-growing Francesca boutique chain.
Net sales rose 15% to $119.5 million in its fiscal third quarter. Brisk expansion has always played a key role in Francesca's top-line growth, and that's the case again with the retailer opening 50 net new boutiques over the past year. There are now 669 boutiques in Francesca's empire. However, roughly half of the store operator's growth is the handiwork of a 7% spike in comparable-store sales.
The news gets even better as we work our way down the income statement. Francesca's gross profit widened as it was able to increase its merchandise markups. With occupancy and administrative costs in check, Francesca's operating profit also widened during the quarter. Earnings soared 63% to $0.26 a share. Three months ago the retailer was only targeting a net profit of $0.16 to $0.19 a share. Francesca's is pointing out that a chunk of the beat --$0.03 a share -- is related to a shift in the timing of marketing and point-of-sale implementation expenses that are being carried over to the fourth quarter.
Analysts were holding out for just $116.1 million in net sales, and naturally they were following Francesca's own guidance in projecting net income of only $0.18 a share. It was a blowout on both ends of the income statement, but it's not a shock. Francesca's has topped Wall Street's profit forecasts every single quarter over the past year.
Fast fashion
They say you never get a second chance to make a first impression, and new CEO Steven Lawrence is off to a good start. He took the helm in October. We can't credit him with the strong report since he joined midway through the reporting period, but he clearly didn't fumble the handoff.
Lawrence -- who previously served as merchandising chief at Stage Stores (NYSE: SSI) -- is unlikely to tweak the formula that's been generally working for Francesca's Holdings over the years. The chain runs small-box boutiques, carrying limited inventory on a wide variety of styles. The limited stock of any particular clothing item instills a sense of urgency in prospective shoppers. If they don't buy what they like when they see it, there's no saying it will still be there in a few weeks.
Francesca's Holdings is boosting its guidance, something it also did three months ago. It now sees net sales of $484 million to $489 million for the entire fiscal year. Three months ago it went from targeting $460 million to $480 million in revenue for the year to between $473 million and $480 million.
The retailer's profit goals have also been on the rise. Francesca's outlook was $0.86 to $0.96 per share in the summer. That rose to a range of $0.96 to $1.03 a share three months ago and was upgraded last week to between $1.03 and $1.07 a share. Things are moving in the right direction for Francesca's in recent months, and that's just the kind of momentum a retailer likes to be brandishing as we head into the critical holiday shopping season.
10 stocks we like better than Francesca's Holdings When investing geniuses David and Tom Gardner have a stock tip, it can pay to listen. After all, the newsletter they have run for over a decade, Motley Fool Stock Advisor, has tripled the market.*
David and Tom just revealed what they believe are the 10 best stocks for investors to buy right now... and Francesca's Holdings wasn't one of them! That's right -- they think these 10 stocks are even better buys.
Click here to learn about these picks!
*Stock Advisor returns as of Nov. 7, 2016
Rick Munarriz has no position in any stocks mentioned. The Motley Fool has no position in any of the stocks mentioned. Try any of our Foolish newsletter services free for 30 days. We Fools may not all hold the same opinions, but we all believe that considering a diverse range of insights makes us better investors. The Motley Fool has a disclosure policy.