Can Fitbit Keep Running After Last Week's 19% Pop?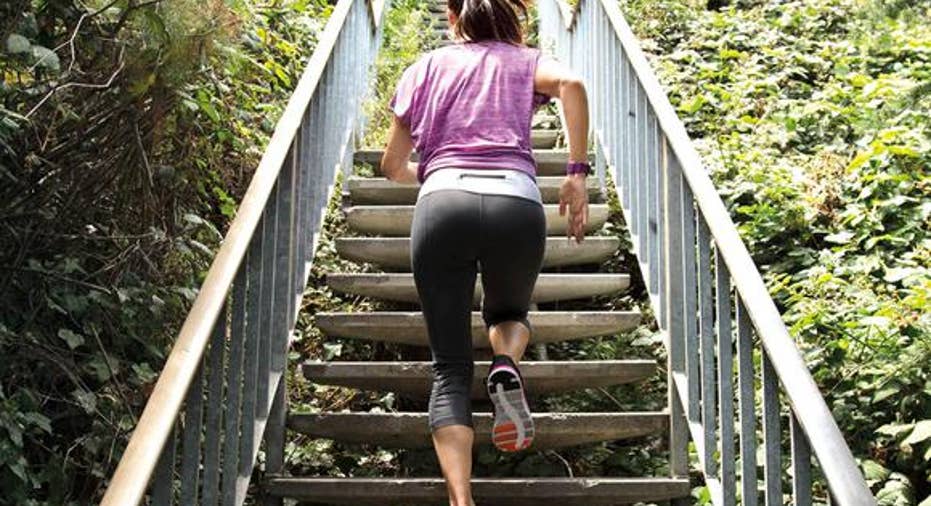 Image source: Fitbit.
Fitbithas a long way to go to make it back to where it was when the year began, but it's not afraid to break a sweat to get there. Shares of Fitbit soared 18% last week, moving higher after a wave of welcome analyst updates.
The first break that shareholders got happened on Monday, when Morgan Stanley issued an encouraging report. Retail channel checks showed healthy demand for its Blaze smartwatch and Alta fitness bracelet. It also notes that retailers are already starting to reorder Blaze devices, suggesting that they're not collecting dust on retailer shelves. Fitbit had announced late last month that it had shipped more than a million Blaze fitness watches during the product's first-quarter debut. They're selling, and that's a pretty big deal, since tech bloggers were critical when Blaze was unveiled back in January.
Pacific Crest chimed in on Tuesday, sticking to its neutral sector weight rating. However, it did point out that Fitbit's new products are selling well. Pacfic Crest has concerns about product differentiation and how Fitbit will expand its user base, but it does offer up that the stock appears to be attractively priced.
A day later it was Citigroup painting a rosy portrait. Citigroup already had a bullish rating on the stock and an ambitious $30 price target -- it wasn't going to touch those calls -- but it did suggest that there is a big opportunity internationally with global expansion this year.
Thursday was quiet, but Piper Jaffray got in on the fun, boosting its price target from $14 to $16 on Friday. The update included some encouraging comments about a survey it conducted, showing that Fitbit was the top brand among teens looking to purchase fitness trackers. However, it's obviously significant that Piper Jaffray set its price target at $16 when the stock was already trading slightly above that mark by Thursday's market close.
It didn't matter. The stock rose in each of the four trading days last week, when analysts put out updated notes on Fitbit.
Fitbit still has plenty to prove. The stock has shed 42% of its value in 2016, even with last week's pop. Fitbit stock has shed two-thirds of its value since peaking last summer. This year's hit came during the first two months, as the stock has moved higher in March and April. The concern earlier this year came when Fitbit's guidance following a blowout holiday quarter called for decelerating growth and contracting margins as it rolls out new products and develops a digital health strategy.
Fitbit products are still selling briskly, and analyst forecasts for 32% growth this year and a 20% pop next year may prove conservative if Morgan Stanely's retail checks and Piper Jaffray's teen survey hold up. The stock is now fetching just 15 times this year's earnings estimates and 12 times next year's target. Fitbit's getting a lot of respect on Wall Street these days, but it's really long overdue.
The article Can Fitbit Keep Running After Last Week's 19% Pop? originally appeared on Fool.com.
Rick Munarriz has no position in any stocks mentioned. The Motley Fool has no position in any of the stocks mentioned. Try any of our Foolish newsletter services free for 30 days. We Fools may not all hold the same opinions, but we all believe that considering a diverse range of insights makes us better investors. The Motley Fool has a disclosure policy.
Copyright 1995 - 2016 The Motley Fool, LLC. All rights reserved. The Motley Fool has a disclosure policy.