Can Ferrari's New CEO Satisfy Investors?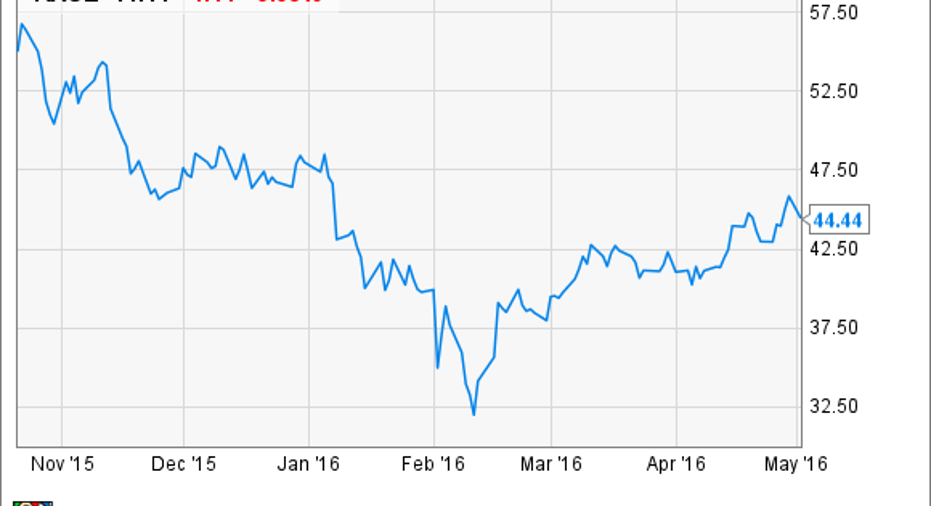 New Ferrari CEO Sergio Marchionne, left, with Ferrari racing chief Maurizio Arrivabene. Marchionne's challenge will be to drive growth at Ferrari while maintaining the brand's exclusivity. Image source: Ferrari.
Ferrari has a new CEO -- and his name is a familiar one.
The Italian supercar maker announced on Monday that Ferrari Chairman Sergio Marchionne will succeed CEO Amedeo Felisa, effective immediately. Felisa is retiring after 26 years with the company.
Marchionne, of course, is also the CEO of Fiat Chrysler Automobiles , which owned 90% of Ferrari until it was spun off in an initial public offering orchestrated by Marchionne last year.
But Ferrari's stock has struggled since that IPO. Can Marchionne deliver the growth that the company's new investors seek?
What Ferrari said:
Marchionne had this to say:
What it means for Ferrari: It means that Marchionne is now in position to execute his aggressive vision for the Ferrari brand, one that he hopes will supply at least some of the growth that Ferrari's new investors seek.
Ferrari is in something of an awkward position as a public company. While its investors naturally seek growth, Ferrari limits its own sales and production in order to preserve exclusivity. That strategy works: Ferrari's profit margins are consistently very strong (at least by automaking standards), and global demand for the iconic Italian sports cars remains high. But it means that Ferrari can't just boost sales to drive the bottom-line growth that investors seek.
As Ferrari's new investors have come to terms with that reality, the stock has struggled. Ferrari shares fell over 10% after the company said on Feb. 2 that its shipments would likely grow just 3.3% in 2016. They have recovered somewhat since, but Ferrari shares still trade well below the company's IPO price.
How will Marchionne give shareholders some growth while preserving Ferrari's exclusivity? First, he plans to gradually increase Ferrari's production from the 7,664 cars it shipped in 2015 to about 9,000 in 2019. Second, he will seek to apply Ferrari's brand more broadly to luxury goods beyond cars (or put another way, to aggressively expand Ferrari's merchandising to luxury categories beyond cars).
Will Marchionne be able to generate real growth at Ferrari?How much growth will all of this generate? It's hard to say. Like a lot of other automakers, Ferrari is to a large extent looking to China for growth, and China's new-car market has been sluggish for the last year. But Marchionne's plan looks to preserve what's important -- the exclusivity of Ferrari's cars -- while expanding the brand. If he can accomplish that without diluting the Ferrari brand, investors may have reason for optimism.
The article Can Ferrari's New CEO Satisfy Investors? originally appeared on Fool.com.
John Rosevear has no position in any stocks mentioned. The Motley Fool has no position in any of the stocks mentioned. Try any of our Foolish newsletter services free for 30 days. We Fools may not all hold the same opinions, but we all believe that considering a diverse range of insights makes us better investors. The Motley Fool has a disclosure policy.
Copyright 1995 - 2016 The Motley Fool, LLC. All rights reserved. The Motley Fool has a disclosure policy.