Can Etsy Stock Keep Going After Last Week's 11% Pop?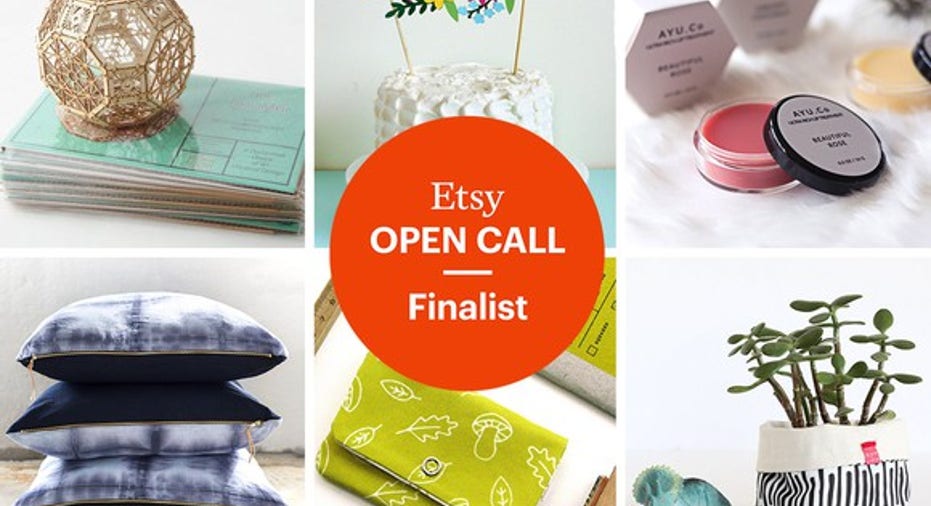 Image source: Etsy.
It was a good start to 2017 for Etsy (NASDAQ: ETSY) investors. Shares of the arts and crafts marketplace soared 11% last week, moving higher following a bullish analyst upgrade and renewed takeover chatter.
Loop Capital's Blake Harper is raising his rating on Etsy stock from hold to buy, encouraged by the dot-com speedster's ability to hold off Amazon.com (NASDAQ: AMZN) in its specialty marketplace. It's been 15 months since the leading online retailer launched Handmade by Amazon, attempting to woo the crafty artisans that sell their wares through Etsy.
Harper points out that there are now 650,000 product listings on Amazon's platform for handmade products, a far cry from the 43 million items currently available through Etsy. This is shaping up to be one of the rare moments when Amazon fails to disrupt a retailing category. The analyst's conversations with Etsy sellers finds them sticking with the dedicated marketplace. Amazon's terms, with the e-tailing giant taking a 15% cut of product sales, are no match for Etsy charging just $0.20 for each product listing and a 3.5% cut of sales.
Amazon hasn't been vanquished, of course. If Jeff Bezos wants to become more relevant in this niche, it wouldn't be a shock to see Amazon slash rates or promote Handmade by Amazon more aggressively. However, for now Etsy has done an impressive job of fending off the $378 billion gorilla in the room.
Back to the beginning
Loop Capital's Harper is also bumping his price target from $14 up to $16. That's a notable number, since it was the price at which Etsy went public two years ago. Etsy was a hot debutante 21 months ago, going public at $16 and nearly doubling to $30 on its first day of trading.
The bullish buzz didn't last. Concerns began to percolate on counterfeit items being sold through Etsy, and it didn't help that it posted a widening deficit in its first quarter as a public company. The stock went on to lose more than all of its opening day gains, and now in the low teens it is considered a broken IPO.
Etsy's fundamentals are improving. Revenue is still growing at a double-digit percentage clip, and it finally did post a quarterly profit in the first quarter of last year. It has rattled off an operating profit for four consecutive quarters, and gross margin has been widening for three straight years.
Wall Street clearly still fears the threat of Amazon's presence, and it has grown impatient in waiting for more robust profitability. However, as the niche leader, it's not a surprise that buyout chatter comes into play every now and then. TheFly.com was reporting on Friday morning that the stock was moving higher on takeover speculation.
Harper's bullish nod doesn't need a buyout to pan out. He sees Etsy making some smart artificial intelligence investments that are beefing up its platform. The moves are helping improve search rankings for Etsy sellers with more descriptive labels. Conversions for visitors on the site should also improve after the recent acquisition of a search and recommendations engine. The stock already started to bounce back in 2016 after getting pounded in its rookie year, and now it's building on that in 2017. The buyout chatter will come and go, but as long as growth and a march to consistent profitability continue, Etsy will keep clawing its way back to reclaim its IPO price.
10 stocks we like better than Etsy When investing geniuses David and Tom Gardner have a stock tip, it can pay to listen. After all, the newsletter they have run for over a decade, Motley Fool Stock Advisor, has tripled the market.*
David and Tom just revealed what they believe are the 10 best stocks for investors to buy right now... and Etsy wasn't one of them! That's right -- they think these 10 stocks are even better buys.
Click here to learn about these picks!
*Stock Advisor returns as of January 4, 2017
Rick Munarriz has no position in any stocks mentioned. The Motley Fool owns shares of and recommends Amazon.com and Etsy. The Motley Fool has a disclosure policy.