Can Envestnet Make Up for Lost Time?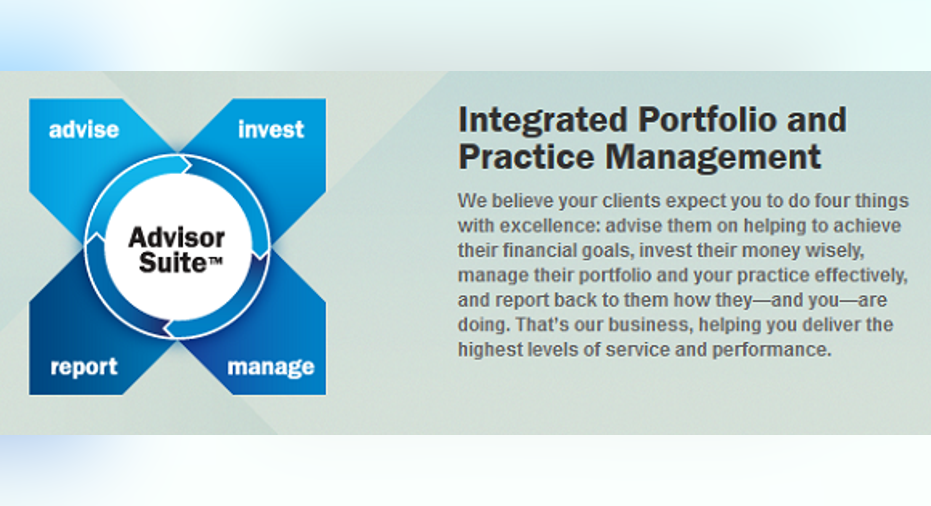 Image source: Envestnet.
An old proverb claims that those who live by the sword die by the sword, and for Envestnet , making money from a rising stock market can lead to losing money when the market falls. Recently, Envestnet stock came under pressure when the stock market suffered its first major correction in years, and coming into its May 5 first-quarter financial report, Envestnet investors haven't quite gotten their confidence back about the prospects for the provider of financial-firm compliance and back-office administrative tools. Let's take an early look at what investors should expect from Envestnet and whether the market rebound will produce better results down the road.
Stats on Envestnet
| | |
| --- | --- |
| Expected EPS Growth | (27%) |
| Expected Revenue Growth | 37% |
| Forward Earnings Multiple | 22 |
| Expected 5-Year Annualized Growth Rate | 25% |
Data source: Yahoo! Finance.
Can Envestnet earnings bounce back? In recent months, analysts have grown even more concerned about Envestnet's earnings prospects. They've cut their views for the first quarter by a dime to $0.16 per share, and they've reduced their full-year 2016 and 2017 projections by roughly 15%. However, the stock has bounced back sharply, rising 35% since late January.
Envestnet's fourth-quarter results didn't do much to help the stock, although it did show that the company can be resilient even in the face of market difficulties. The company posted adjusted revenue growth of 23%, and adjusted net income climbed more than 30% as Envestnet topped expectations and satisfied investors who were braced for flat earnings performance. Assets under management climbed despite the market downturn, and the acquisition of Yodlee helped to add some growth to the company's organic efforts.
The bullish case for Envestnet relies on the fact that it offers services that its financial-industry clients would have trouble duplicating either in-house or from other providers. Increasingly, financial institutions have looked for ways to pull in more of their customers' assets under their umbrella by trying to offer a combination of wealth-management services, including banking, investing, estate planning, and business services. By providing the support that those financial institutions need in order to offer those additional services, Envestnet effectively partners with the most successful firms in the financial industry. As they grow, those clients demand new services from Envestnet, and by making good on those demands, Envestnet builds up its competitive moat and differentiates itself from its competitors.
Indeed, Envestnet's breadth of service has attracted some strong clients. In late March, Envestnet announced that it had entered into a strategic partnership with mutual fund giant Vanguard Group to offer Vanguard investors access to the company's Personal Finance Management Platform and its FastLink tool for accessing external account balances. The goal for the partnership is to give premium Vanguard clients the ability to aggregate all of their financial accounts in order to come up with a complete picture of their financial situation and make recommendations that are appropriate in that light. Given the size of Vanguard's business, the deal is a major win for Envestnet and could drive even more business from the fund industry in the future.
The recent decision from the Department of Labor to release new conflict-of-interest regulations will also provide an opportunity for Envestnet. The company announced a partnership with two other entities to build a streamlined fiduciary, recordkeeping, and compliance services platform that will help clients meet the requirements of the new regulations. By giving financial advisors the ability to outsource their compliance functions with respect to retirement plans, Envestnet hopes that the new platform will open up new avenues for future growth.
In the Envestnet earnings report, investors need to look for signs of how the market rebound has accelerated the company's growth. If earnings do indeed fall from year-ago levels, then shareholders will need a clear explanation in order to avoid losing even more confidence about Envestnet's long-term prospects.
The article Can Envestnet Make Up for Lost Time? originally appeared on Fool.com.
Dan Caplinger has no position in any stocks mentioned. The Motley Fool recommends Envestnet. Try any of our Foolish newsletter services free for 30 days. We Fools may not all hold the same opinions, but we all believe that considering a diverse range of insights makes us better investors. The Motley Fool has a disclosure policy.
Copyright 1995 - 2016 The Motley Fool, LLC. All rights reserved. The Motley Fool has a disclosure policy.