Can DC Movies Push Time Warner Stock to New Highs?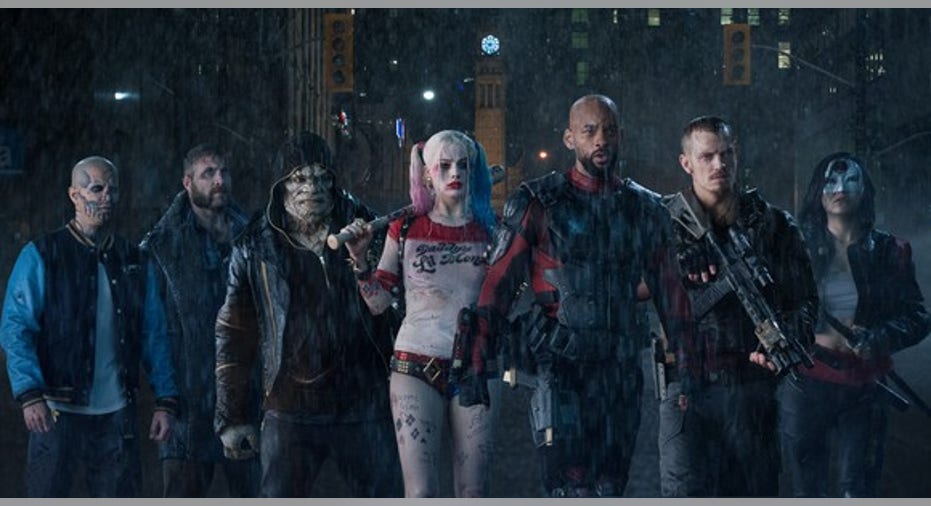 Suicide Squad has generated over $500 million in worldwide grosses since its Aug. 5 debut. Credit: Warner Bros.
For all the talk about box office failures for Time Warner, Inc. (NYSE: TWX), you'd think the stock would be sinking like a stone. Instead, it's soaring like an eagle. Shares of the DC Comics parent are up nearly 25% year to date on positive trends in the business -- though you wouldn't know it to look at the second-quarter results.
Revenue and adjusted operating income declined 5% each while per-share earnings improved 3% thanks to $1.6 billion in stock buybacks. Since Jan. 1, management has repurchased and retired 23 million shares at an estimated average price of $69.56 a share. Another $3.4 billion in capital remains available for buybacks under the current share repurchase program, Warner said in a press release. Funding should come from a combination of cash on hand (about $2.5 billion currently) and cash from operations (roughly $4 billion annually).
Three places to search for kryptonite
Will the buybacks and business momentum lead to greater returns from here? A lot depends on how Warner's varying business units perform. Let's break them down one by one.
The Last Ship cast speaks to fans at San Diego Comic-Con. Credit: TNT.
Turner
Warner's broadcast operations are among the biggest in the business. From TBS to Turner Classic Movies to TNT and CNN to Cartoon Network and Adult Swim to a 50-50 partnership with CBS (NYSE: CBS) for The CW, Time Warner's collection of channels and original programming were responsible for $10.596 billion in revenue and $4.087 billion in operating profit last year, S&P Capital IQ reports.
Those are big numbers, to be sure. In the case of operating profit, that $4-plus billion also represents over half of what the entire company produces in a given year. You'd think that would be a risk given the general state of broadcast TV in the Netflix era, but that doesn't seem to be the case. Instead, TBS and TNT finished Q2 as "the two highest rated ad-supported cable networks in primetime among adults 18-49," Warner said in a press release. As a result, Turner saw revenue and operating profit improve to $10.975 billion and $4.218 billion, respectively, over the trailing 12 months ended June 30, Capital IQ reports.
HBO
No longer just a home for movie reruns, HBO continues to have one of the industry's hottest and most successful lineups of original programming. Game of Thrones still leads the pack, with 8.9 million live plus same-day viewers for its July finale. Yet there are other successes.
From Emmy contenders Veep and Silicon Valley to lesser-knowns such as Ballers and Togetherness, HBO has been producing hit after hit. Single-season busts such as Vinyl are a rarity for the network, which, according to S&P Capital IQ, has generated $5.75 billion in revenue and $1.87 billion in operating profit over the trailing 12 months.
While both figures are good, they represent mixed growth: HBO finished last year with $5.615 billion in revenue and $1.878 billion in operating profit. As investors, we'd rather see the reverse. Or better yet, accelerating growth in both revenue and operating profit.
A separate cut of Batman v Superman: Dawn of Justice promises to give fans an even darker look at the DCU. Credit: Warner Bros.
Warner Bros.
Despite terrible reviews and mixed fan reaction, DC movies such as Batman v Superman: Dawn of Justice and Suicide Squad are helping to boost profits. Operating margin in the division improved from 9.5% in 2010 to 10.9% last year, and 12.1% over the trailing 12 months.
There's also the small screen to consider. Warner Bros. Television is responsible for producing a wide range of popular programs, including 2 Broke Girls and The Big Bang Theory for CBS and Blindspot for NBC. Fees for these and other hits should help to offset any losses in the movie group. Yet it's the latter that matters most.
Investors betting on Time Warner stock are betting on Warner Bros. making good on its big-screen franchise bets, something that Turner chief executive John Martin spoke about during Warner's most recent conference call.Martin said, according to transcribed comments provided by S&P Capital IQ:
The Verdict ...
If Warner Bros is executing and Turner is still growing, is it enough to warrant a purchase of Time Warner stock at current prices -- even if HBO is growing slowly? I think so. Today's investors are getting a well-positioned business and one of the biggest names in Hollywood for less than half the market cap of either Disney or Comcast Corp., Warner's two closest peers. Don't expect that gulf to last forever.
Netflix is up over 5,000% since The Motley Fool recommended investors buy it in 2004 -- and now they believe a similar opportunity is brewing. The team just published a report of their findings, outlining the most important trends in media moving forward, and the companies best positioned to dominate this next era of entertainment.
The report --"Profiting in Media 2.0: An Investor's Guide" --is currently available for free (you can grab it here), and is a must-read for investors who aim to get in on the ground level of major market shifts. If it's easier for you, you can just enter your email below and they should send it to you right away, while it's still available.
And while you're making your way through -- just remember what the world's greatest investor had to say when asked about his success:
"I just sit in my office... and read all day." -- Warren Buffett
Tim Beyers owns shares of Netflix, Time Warner, and Walt Disney andhas the following options: long January 2017 $85 calls on Walt Disney. The Motley Fool owns shares of and recommends Netflix, Time Warner, and Walt Disney. Try any of our Foolish newsletter services free for 30 days. We Fools may not all hold the same opinions, but we all believe that considering a diverse range of insights makes us better investors. The Motley Fool has a disclosure policy.