Can Crystal Pepsi Save SodaStream?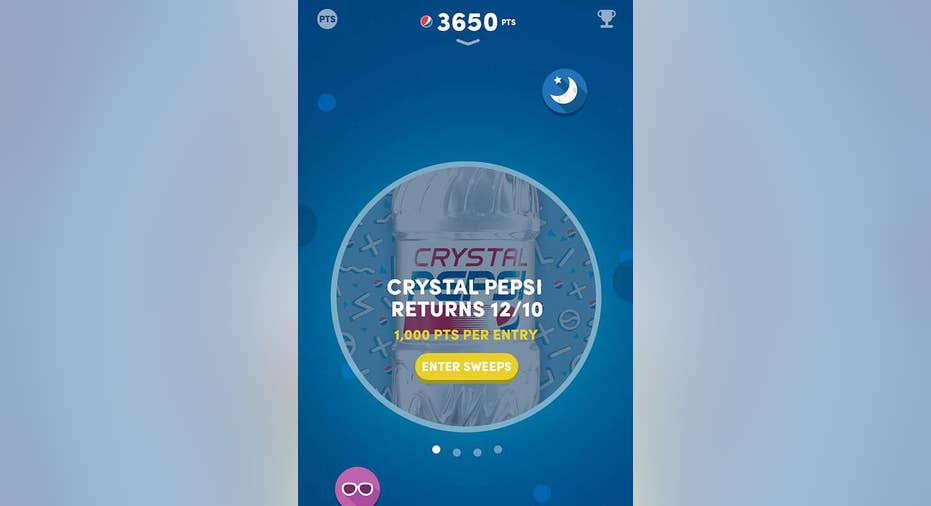 Source: PepsiCo.
There's another throwback soda coming back from the dead for a limited time. PepsiCo announced last week that Crystal Pepsi is coming back. The soda, which PepsiCo billed as a "clear alternative" to colas, was available only from 1992 to 1993, but it has built up a cult following over the years.
A campaign by YouTube star L.A. Beast to bring back Crystal Pepsiearlier this year worked, but it won't last long. PepsiCo is merely using Crystal Pepsi as a tool to promote its Pepsi Pass app, giving away 13,000 six-packs of the colorless pop later this month. That will be the end of the Crystal Pepsi revival -- or is it?
PepsiCo's largest rival revived Surge last year, prompting me to wonder if Crystal Pepsi was coming next. It's easier than it's ever been to bring back a soft drink from the dead. There's social media to generate buzz, and new outlets for distribution that don't involve securing shelf space at traditional retailers. Surge was sold directly to soda sippers exclusively through the country's leading online retailer, and now Crystal Pepsi's renaissance is coming in the form of a massive giveaway.
It doesn't have to end there. PepsiCo is already working with SodaStream to get some of its brands into homes. PepsiCo started making a few of its flavors -- Pepsi, Sierra Mist, and Wild Cherry -- available as syrup pods for SodaStream's namesake sparkling beverage maker last year. However, PepsiCo has marketed them under the new HomeMade label, probably a move to appease its bottlers and retail distribution partners.
Isn't this why making Crystal Pepsi the fourth HomeMade flavor after this month's promotion runs its course so logical? It's not available in stores, so it's not as if giving SodaStream owners a chance to make Crystal Pepsi at home will cannibalize PepsiCo's canned or bottled products.
SodaStream can certainly use the boost. Sales have been slumping, and PepsiCo's arrival hasn't helped turn things around. SodaStream has posted double-digit year-over-year declines in sales for five quarters in a row, according toS&PCapitalIQdata. Folks are still using the fizzy-drink makers. SodaStream sold a recorda record 7 million CO2 refills during the third quarter. However, syrup and soda-maker sales have fallen sharply. Having Crystal Pepsi can only help.
PepsiCo can also use the boost. It's coming off four consecutive quarters of year-over-year sales declines. This obviously wouldn't be enough to move the needle the way it would for SodaStream, but having a cult favorite make waves in the home market can open other doors and opportunities.
Crystal Pepsi and SodaStream make sense. It would be a smart way to fizz up two companies going through flat phases.
The article Can Crystal Pepsi Save SodaStream? originally appeared on Fool.com.
Rick Munarriz owns shares of SodaStream. The Motley Fool owns shares of and recommends PepsiCo. The Motley Fool owns shares of SodaStream. Try any of our Foolish newsletter services free for 30 days. We Fools may not all hold the same opinions, but we all believe that considering a diverse range of insights makes us better investors. The Motley Fool has a disclosure policy.
Copyright 1995 - 2015 The Motley Fool, LLC. All rights reserved. The Motley Fool has a disclosure policy.