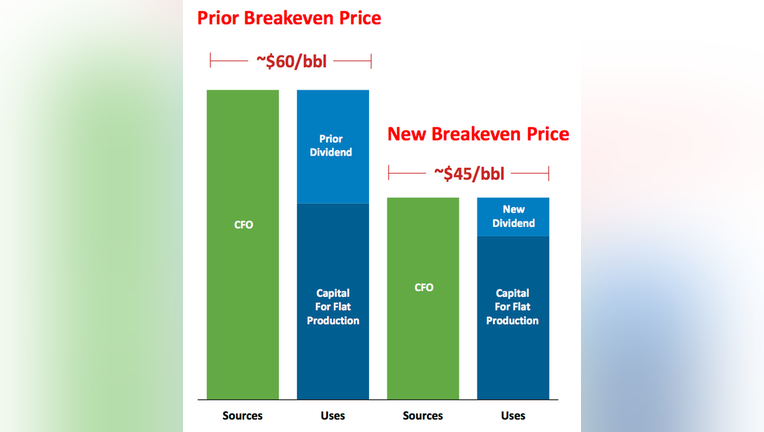 BUILDING A BETTER BUSINESS? IMAGE SOURCE: CONOCOPHILLIPS CORPORATE WEBSITE
ConocoPhillips recently surprised investors by resetting its breakeven oil price to just $45 a barrel, down from roughly $60 just a quarter ago.To achieve this goal, the company has been cutting discretionary spending programs, ramping up major projects, and reducing operating costs. Still, the feasibility of such a big reduction has to be questioned, especially considering the company's profitfluctuates$100 million to $120 million for every $1 change in Brent oil prices.
CanConocoPhillips really achieve a $45 breakeven production price?
IMAGE SOURCE: CONOCOPHILLIPS INVESTOR PRESENTATION.
Cost controls will be keyWith credit downgrades and shrinking debt capacities becoming the industry norm, dropping the breakeven price from $60 a barrel to $45 is a big deal. Reducing costs will have just as big of an impact on breaking even as mitigating the decline in operating cash flows.
The biggest contributor is a lower dividend obligation after the companytrimmed its quarterly payout to $0.25 a share from $0.74. That represented its first dividend cut since 1991. The move should easily free up $4.4 billion in cash flow. In response to the cut, CEO Ryan Lance said he thought it was "prudent to plan for lower prices for a longer period of time."
Falling capital expenditures will also factor into becoming cash flow-neutral, but at what cost? In 2015, the company spent $10.1 billion on capital expenditures, guiding for only $7.7 billion in 2016. To meet its new $45 breakeven level, however, management has dropped this year's spending to just $6.4 billion. This level of reduction is far deeper thanChevron (NYSE: CVX)or ExxonMobil (NYSE: XOM)which have plenty of profitable projects to reinvest money into (more on that next) . With its spending declines, 2016 production should drop to 1,500-1,540 mboe a day from 2015 levels of1,589 mboe a day. Achieving its breakeven price target will necessitate sacrificing short-term output gains.
| Company | 2015 (in Billions) | 2016 Estimate (in Billions) | % Change |
| --- | --- | --- | --- |
| ConocoPhillips | $10.1 | $6.4 | (36.6%) |
| ExxonMobil | $31.1 | $23.2 | (25.4%) |
| Chevron | $35.0 | $26.6 | (24%) |
Eventually, the production declines should flatten out even with lower spending given the company's commitment to exit high-cost projects. Last year management vowed to exitdeepwater exploration by 2017. Instead, it would focus on low-cost production, specifically in North American shale and oil sand plays. This strategy is already bearing fruit, with production in itsEagle Ford and Bakken Shale projects growing at double-digits over last year. While this will be a welcome long-term shift, the company's financing hurdles are much more pressing.
What's at stake?At its new breakeven price level, management doesn't see it necessary to add any more debt this year. With $8 billion in liquidity and no significant near-term debt maturities, this would put ConocoPhillips in an enviable financial position if oil prices average above $40 a barrel.
When investing in ConocoPhillips, investors need to keep one thing in mind: The companyhas a larger direct exposure to oil prices than other large-cap producers.A few years ago, thecompany spun off its refining assets into an independent entity which now operates asPhillips 66. Because refining margins typically expand during periods of falling oil prices, competitors such as ExxonMobilandRoyal Dutch Shell(which have big refining arms) haven't felt as much pain as pure oil producers like ConocoPhillips.Additionally, the company has virtually no hedging program, so wherever oil prices go, so do profits.
For every $1 change in Brent oil prices,the company's profitfluctuates$100 million to $120 million. If the company can only reduce its breakeven by $5 a barrel, that could easily create a funding shortfall of over $1 billion. That won't happen in a vacuum, either, for if oil prices fall, it's likely that other commodities will, too. For example, for every $0.25 change in the Henry Hub natural gas price, ConocoPhillips profit would swing by $75 million to $85 million.
Looking forward, ConocoPhillips has two options. First, reach its breakeven price target, gutting future production gains to do so. Second, miss its target and face hundreds of millions, if not billions, in funding shortfalls. If you're looking to invest in the energy space, there are surely better options out there than a company facing a lose-lose situation.
The article Can ConocoPhillips Really Break Even at $45 Oil? originally appeared on Fool.com.
Ryan Vanzo has no position in any stocks mentioned. The Motley Fool owns shares of and recommends ExxonMobil. The Motley Fool recommends Chevron. Try any of our Foolish newsletter services free for 30 days. We Fools may not all hold the same opinions, but we all believe that considering a diverse range of insights makes us better investors. The Motley Fool has a disclosure policy.
Copyright 1995 - 2016 The Motley Fool, LLC. All rights reserved. The Motley Fool has a disclosure policy.