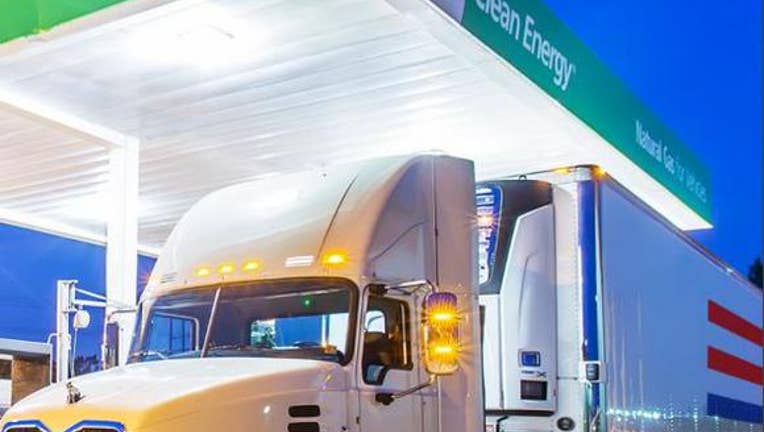 As if being the first to distribute and marketcompressed natural gas as a fuel on a nationwide basis wasn't enough, CNG innovator Clean Energy Fuels Corp. is now offering Redeem, a methane-based fuel. This renewable natural-gas product is 90% cleaner than comparable conventional fuels. It's produced on a mass scale through a process that includes collecting methane gas (CH4) from farms and landfills (sounds like fun, no?), purifying the gas of impurities, and then distributing it via pipeline.
The latest results show Redeem volumes growing astronomically, which suggests that Clean Energy Fuels might just be on to something. Can it be that Clean Energy management has struck gold with not only a much cleaner diesel-fuel alternative, but one that's also renewable? (As long as we keep making garbage, anyway.)
Environmental benefitsNatural gas products, such as compressed natural gas (CNG) and liquefied natural gas (LNG), contain less carbon than any other fossil fuel out there. In a world where we're increasingly worried about the effects of burning such fuels, this alone makes what Clean Energy is doing a worthy endeavor. As noted in the company's latest 10-K annual report: "[A] study from Argonne National Laboratory, a research laboratory operated by the University of Chicago for the U.S. Department of Energy, indicates that natural gas vehicles produce at least 13% to 21% fewer GHG [greenhouse gas] emissions than comparable gasoline and diesel fueled vehicles."
Clean Energy Fuels boasts a customer base of 9,000 refuse trucks, 8,000 city transit vehicles, and dozens of truck fleets owned by major corporations. Image source: Clean Energy investor presentation.
For Redeem,it gets even better:
Not only is such a product no doubt attractive to customers for these reasons, but Clean Energy is also benefiting from selling Redeem in a way other than simple sales: carbon tax credits. Various states, including California and Oregon, grant credits to Clean Energy, and those credits can be resold to third parties who need them to comply with federal and state requirements. The company notes that in fiscal 2014 it generated a total of $5.6 million from the sale of carbon credits, and a whopping $18.4 million last year. Apparently, there's money to be found in landfills after all.
Financial benefitsBesides the obvious environmental benefits ofRedeem, Clean Energy has begun truly reaping the benefits of commercializing this innovation. As CEO Andrew Littlefair noted on the latest conference call:
That's right, Fools. Not only have sales of Redeem doubled year over year, but it now makes up 16.2% of total fuel volumes based on fiscal 2015 sales of 308.5 million gallons of fuel. Unfortunately for our purposes, Clean Energy doesn't break out the exact results for its Redeem product. While it's frustrating, this practice is not uncommon in corporate America. At the very least, we can say, anecdotally, that Redeem is proving to be a success for Clean Energy, especially when you couple Redeem's sales growth figures with the fact that the company is now operationally profitable, as of the fourth quarter of 2015.
Good and getting even betterIt's been a long road for Clean Energy to build the infrastructure necessary for natural gas to be a viable alternative to diesel. Not only does natural gas need to be extracted, but it also needs to be purchased, transported, and either liquefied or compressed. On top of that, customers need to be counted on to invest in the engines that are capable of burning such a fuel.
In spite of the obvious difficulties of this endeavor, Clean Energy has succeeded in yet another, in creating a renewable fuel out of the waste product of our landfills and industrial farms. The proof is in the sales growth of Redeem.The product works, and, in all likelihood, it will continue to be a boon for Clean Energy Fuels and its shareholders for years to come.
The article Can Clean Energy Fuels' Environmentally Friendly Fuel Offering Be a Boon for Investors? originally appeared on Fool.com.
Sean O'Reilly has no position in any stocks mentioned. The Motley Fool owns shares of and recommends Cummins. The Motley Fool recommends Clean Energy Fuels, Republic Services, and United Parcel Service. Try any of our Foolish newsletter services free for 30 days. We Fools may not all hold the same opinions, but we all believe that considering a diverse range of insights makes us better investors. The Motley Fool has a disclosure policy.
Copyright 1995 - 2016 The Motley Fool, LLC. All rights reserved. The Motley Fool has a disclosure policy.