Can Chipotle Bounce Back From Last Week's 10% Drop?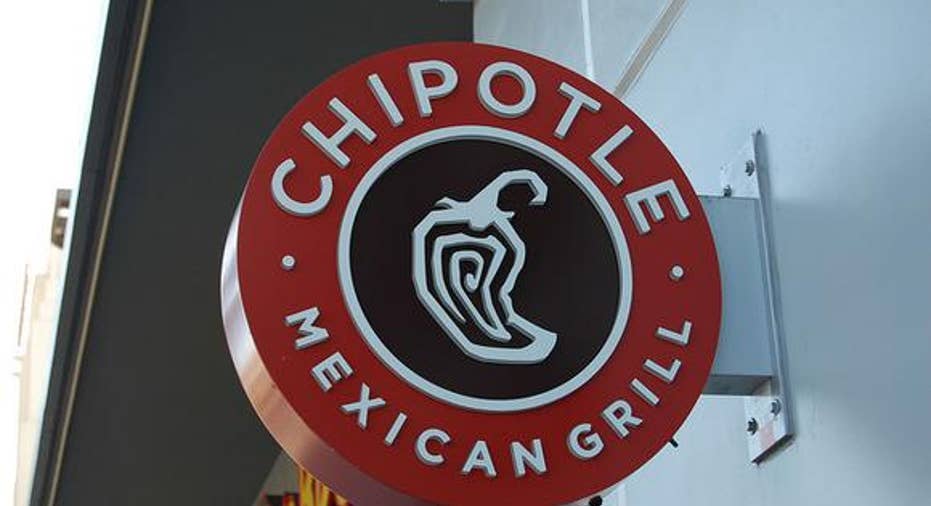 We knew that the current quarter was going to be the worst inChipotle Mexican Grill'stenure as a publicly traded company. We found out on Tuesday that it's going to be uglier than what even many of the worrywarts were expecting.
Chipotle stock posted a double-digit percentage decline on the news, suffering a a 10.3% slide for the week.
Yes, it's pretty bad. The former market darling warned that comps fell 26.1% in February since the prior year, and it would have been an even more horrific 28.7% if there wasn't an extra day in the month this year. This follows a 16% slide in November comps that bled into a 30% drop in December and 36% slide in January.
March isn't off to a great start, either. Chipotle saw its comparable-restaurant sales fall 21.5% during the first week of the month, only to widen to a 27.3% shortfall during the second week of March.
Chipotle has come full circle. The same fast-casual rock star that wowed investors by posting five consecutive quarters of double-digit percentage gains in comps through early last year is now wrapping up its fifth consecutive month of double-digit percentage declines.
There will be many ugly distinctions to the current quarter by the time that the numbers become official. Chipotle sees a loss of $1.00 a share for the period, making it the chain's first quarterly loss as a public company. It will probably be the chain's lowest sales tally in more than two years.
The silver lining -- for now -- is that analysts see the current quarter as the last time that sales dip below $1 billion. That will obviously change if Chipotle's performance doesn't improve, and it's easy to be skeptical since most of the chain's financial updates over the past few months have gotten progressively worse.
Another encouraging sign is that the last time that a restaurant chain had a more notorious E. coli outbreak -- Jack in the Box's infected beef patties in 1993 that sickened hundreds and resulted in a couple of fatalities -- the initial 22% decline in comps following the news was followed by a short-lived run in negative territorybefore turning positive. Comps at Jack at the Box smoothed out to just a loss of 7% in the year following the incident, pushing into modestly positive results during the second year.
It won't necessarily play out that way this time. We live in an era of social media awareness that Jack in the Box didn't have to deal with 23 years ago. Jack in the Box also didn't have a "food with integrity" mantra that has become woefully ironic for Chipotle these days. Jack in the Box also didn't have ridiculously positive comps a year before the disaster, making it difficult to post comps growth even under a normal scenario. Chipotle's plight also spanned over a couple of months, making sure that the negativity would linger.
A pair of analysts also downgraded Chipotle last week, adding insult to self-injury. That's not very encouraging, but Chipotle has plenty of time to woo back its customers. It has taken aggressive moves to curb safety risks, and it's been equally as active in offering promotional discounts to appease diners. These are moves that will sting in the short-run but should prove rewarding over time. Chipotle will bounce back, but the chain will have to stop offering up bad news for the healing process for investors to truly begin.
The article Can Chipotle Bounce Back From Last Week's 10% Drop? originally appeared on Fool.com.
Rick Munarriz has no position in any stocks mentioned. The Motley Fool owns shares of and recommends Chipotle Mexican Grill. Try any of our Foolish newsletter services free for 30 days. We Fools may not all hold the same opinions, but we all believe that considering a diverse range of insights makes us better investors. The Motley Fool has a disclosure policy.
Copyright 1995 - 2016 The Motley Fool, LLC. All rights reserved. The Motley Fool has a disclosure policy.