Can Caterpillar's Dividend Even Survive?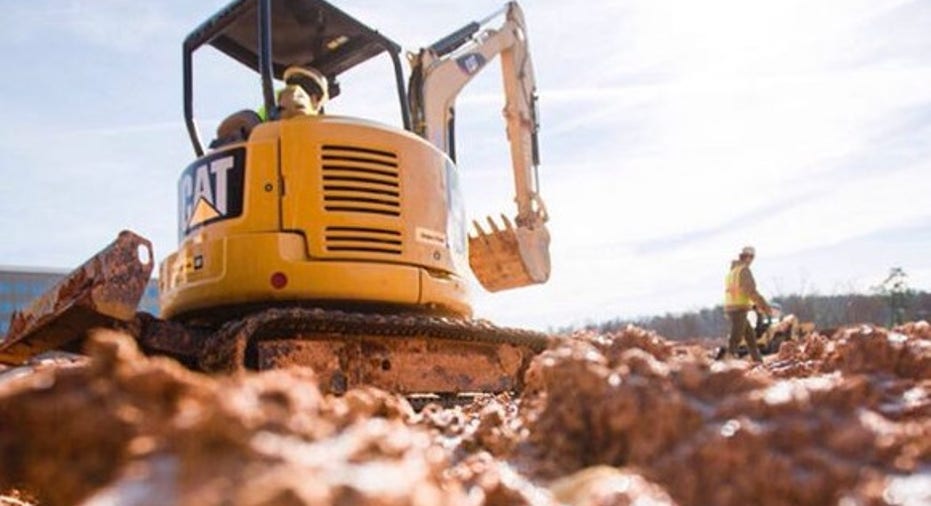 Image source: Caterpillar.
Caterpillar Inc. shares yield around 4%, which is pretty compelling. But the business that supports that dividend is struggling, which means investors looking for income should be asking whether Caterpillar's dividend can survive. Let's take a look at the company's financial performance and try to gaze into the crystal ball to see if the company truly can keep its current payout alive.
A tough spell
It would be hard to call the last few years anything less than difficult, at the very least, for Caterpillar. For example, in 2012 the construction and mining equipment maker's sales peaked at around $65.9 billion but fell for the next three years, hitting just $47 billion in 2015. That's a nearly 30% drop on the top line. Earnings fell even further from nearly $8.50 a share in 2012 to just $3.50 a share in 2015. The word "Ouch!" comes to mind.
Dividends, meanwhile, went from $2.02 a share in 2012 to $3.01 in 2015, rising each and every year. That's an increase of nearly 50%! CAT's dividend streak is now up to 22 years of annual hikes. But can the company maintain the dividend it has, let alone keep up the increases, in the face of declines on these ghastly declines in profitability?
Image source: Caterpillar.
Warnings signs
After over 20 years of dividend hikes, some investors will just assume that annual increases will continue. But you can't always count on that. Just take a look at one of Caterpillar's closest competitors, Joy Global (NYSE: JOY).Joy Global eviscerated its dividend at the end of 2015, taking it from $0.20 a quarter per share to a token $0.01 a share. The reason? The company was struggling through the same difficult market that's hitting Caterpillar.
And if you look at the payout ratio for Caterpillar, the dividend is starting to look increasingly precarious. In 2012 the dividend amounted to just 24% or so of earnings. In 2015 that number had ballooned to around 85%. Worse, in the first quarter, the company earned just $0.46 a share while it continues to pay a quarterly dividend of $0.77 a share, meaning GAAP earnings didn't cover dividends.
Image source: Caterpillar.
It's a cash flow thing
To be fair to Caterpillar, it's been working hard to right-size its business to deal with the current environment, including cutting costs and shuttering operations. There's a financial impact to that in the near term that should, with any luck, not be recurring over the long term. For example, pull out restructuring costs and the company's earnings would jump to $0.67 a share in the first quarter, a nearly 46% increase and a lot closer to covering the dividend.
But here's the thing: Dividends don't come from earnings. Dividends are paid out of cash flow. Here's some back-of-the-envelope math. Caterpillar's cash flow from operations was $489 million in the first quarter with capital expenditures of $357 million, leaving free cash flow of just $130 million or so to cover the quarterly dividend expense of $450 million... That's kind of worrisome and helps explain why the company had to dip into its roughly $6 billion in cash last quarter. But, in recent years, the company has been taking relatively large one-time restructuring charges in the first quarter which distorts the picture a little. For example, if you look at all of 2015, there was a lot more breathing room, with free cash flow of roughly $5.3 billion to cover dividend costs of $1.8 billion. That's a much more comfortable number to look at and means you should be watching closely to see that second quarter cash flows are stronger.
So, the company has historically generated more than enough free cash flow to cover the dividend. And, although it didn't do so in the first quarter, it has a cash hoard it's willing to use to support the dividend payment. That said, the company has a history of increasing its dividend in June, but it didn't do that this year. So there's clearly something to be concerned about on the dividend front, particularly if the company can't start generating more cash than it did in the first quarter.
However, assuming that the construction and mining markets don't get any worse (commodity prices have started to pick up a bit this year, suggesting the worst may be behind Caterpillar), the company appears to have the cash on its balance sheet to support the dividend for a little longer. And because of the timing of its mid-year dividend increases in the past, 2016 will count as a full-year dividend increase (number 23), giving the company until the end of 2017 to increase again to keep the annual streak alive. For income investors willing to take on a little risk, it looks like Caterpillar can afford its dividends for now--but keep an eye on the cash flow statement, just in case.
The article Can Caterpillar's Dividend Even Survive? originally appeared on Fool.com.
Reuben Brewer has no position in any stocks mentioned. The Motley Fool owns shares of and recommends Chevron. Try any of our Foolish newsletter services free for 30 days. We Fools may not all hold the same opinions, but we all believe that considering a diverse range of insights makes us better investors. The Motley Fool has a disclosure policy.
Copyright 1995 - 2016 The Motley Fool, LLC. All rights reserved. The Motley Fool has a disclosure policy.