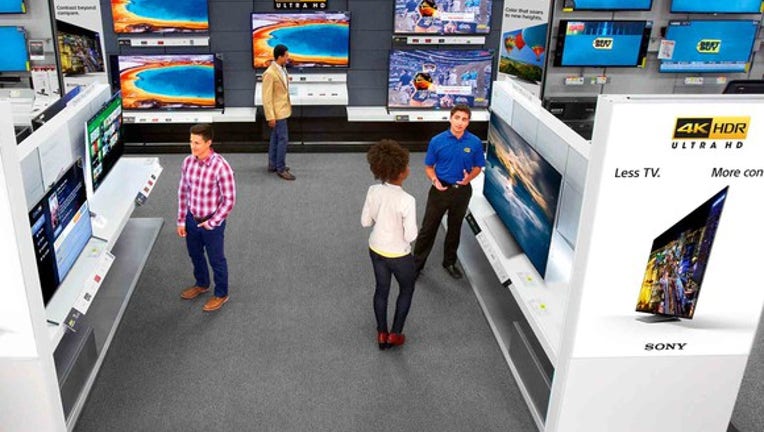 Best Buy(NYSE: BBY)just keeps going. Shares of the consumer electronics retailer began last week trading within a few ticks of hitting its highest level in nearly a decade. Best Buy stock closed out the week establishing new all-time highs.
Shares of the superstore operator surged after posting better-than-expected financials results. Best Buy's enterprise revenue rose 1% to $8.53 billion in its fiscal first quarter, fueled entirely by a 1.6% spike in comps. The growth may seem marginal, but analysts were actually holding out for a 2% decline. Best Buy credits sales growth in gaming and mobile and a general uptick in buying activity following the arrival of delayed federal tax refund checks for its surprising growth. A 22.5% surge in online sales also didn't hurt.
Image source: Best Buy.
Putting the super back in superstore
The news gets better on the bottom line, where Best Buy's margins expanded, allowing adjusted earnings from continuing operations to soar from $0.43 a share a year earlier to $0.60 a share. Once again, Wall Street was settling for a slight dip.
The bottom beat isn't really a surprise. It's the fifth quarter in a row that Best Buy's profit landed ahead of market expectations by a double-digit percentage.
| Quarter | Estimate | Earnings Per Share | Difference |
| --- | --- | --- | --- |
| Q1 2017 | $0.35 | $0.44 | 26% |
| Q2 2017 | $0.43 | $0.57 | 33% |
| Q3 2017 | $0.47 | $0.62 | 32% |
| Q4 2017 | $1.67 | $1.95 | 17% |
| Q1 2018 | $0.40 | $0.60 | 50% |
Date source: Yahoo! Finance.
"Wall Street doesn't seem to have a firm grasp on Best Buy's earnings power," I argued last week ahead of the report. "Another double-digit-percentage beat -- a notion that doesn't seem ludicrous given recent momentum -- and suddenly profits aren't declining at all."
Analysts who undershot Best Buy's potential naturally jumped to boost their forecasts after the fiscal first-quarter results. Anthony Chukumba at Loop Capital raised his price target from $58 to $64 after the strong report. He feels that Best Buy is holding up well against the e-tail challenge, seeing room for an expanded valuation.David Magee at SunTrust jacked up his price goal from $53 to $70, pointing out that the retreat of many of its bricks-and-mortar peers is benefiting Best Buy as full-service competition wanes at a time when shopper appetite for gadgetry is growing.
At least one Wall Street pro doesn't see it that way. Michael Pachter at Wedbush doesn't feel as if the recent positive sales growth will continue, labeling it transitory as it temporarily benefits from reeling competitors. Pachter sees growth decelerating during the second half of the fiscal year. He's sticking to his underperform rating and a $29 price target that is roughly half of where Best Buy stock is at right now.
Best Buy doesn't mind having a bear around. It's been climbing the same wall of worry for a couple of years now, and investors may want to wait until it starts falling short of Wall Street targets before cashing out of the resilient gizmo retailer.
10 stocks we like better than Best BuyWhen investing geniuses David and Tom Gardner have a stock tip, it can pay to listen. After all, the newsletter they have run for over a decade, Motley Fool Stock Advisor, has tripled the market.*
David and Tom just revealed what they believe are the 10 best stocks for investors to buy right now... and Best Buy wasn't one of them! That's right -- they think these 10 stocks are even better buys.
Click here to learn about these picks!
*Stock Advisor returns as of May 1, 2017
Rick Munarriz has no position in any stocks mentioned. The Motley Fool has no position in any of the stocks mentioned. The Motley Fool has a disclosure policy.