Can Baidu Develop a Driverless Car By 2018?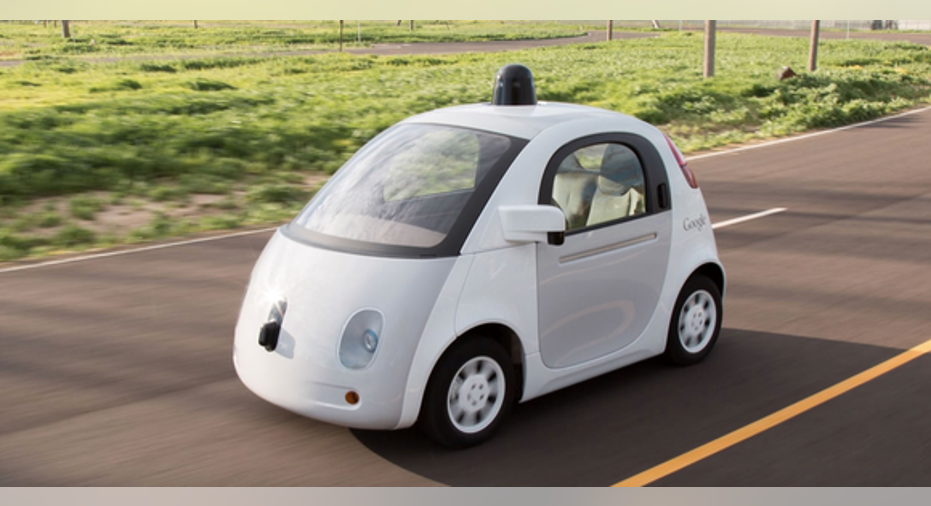 Image source: Google.
In case you hadn't noticed, there's something of an arms race currently under way in the automotive industry.
The ongoing battle for the very future of how people and goods move from place to place will fundamentally rewrite the automotive industry, and technology companies like Apple , Alphabet , Tesla, and more see a potential hundred-billion-dollar windfall for the company that wins this once-in-a-lifetime business opportunity.
Recently, Chinese search giant Baidu detailed its own autonomous automobile plans, which are possibly even more ambitious than Apple's or Alphabet's.
A new self-driving leader?According to a flurry ofrecent reports, Baidu has accelerated plans to begin testing its own autonomous vehicles in the United States. What's more, the company hopes to begin selling its internally developed self-driving cars as early as 2018.
For casual observers, Baidu's goal, as it is currently understood, is exceptionally ambitious, even among technology companies that have been mocked by the auto industry for their product development naivete. Apple received similar derision when word leaked that the company hopes to bring its much-discussed Project Titan to market by 2019. For context, product development cycles in the automotive industry can take as much as a decade to reach market.
Either way, the company's decided interest in this space has certainly received plenty of notice from both the tech and automotive communities. Though the company has reportedly applied to test its autonomous vehicle products stateside, that might simply reflect the current location of its product development staff, rather than its long-term commercial ambitions.
The company made waves in 2014 when it hired away Andrew Ng from Alphabet. A pioneer in robotic automation, Ng and his growing staff of some 160 Baidu employees remain located in Sunnyvale, Calif., which has allowed Ng to tap into top engineering talent and also maintain his place as an assistant professor at Stanford University.In fact, a recent interview with Ng suggests that Baidu plans to eventually deploy its autonomous vehicles in well-defined areas of China by 2018. Either way, the specter of one of tech's most formidable companies taking aim at this increasingly crowded market is certainly worth noting.
A threat to Apple and Alphabet? The most surprising aspect of this storyline isn't that Baidu plans to launch an electric car, but that it plans to do so on such an accelerated timetable. On the surface, this raises the risk that Baidu could have as much as a one-year first-mover advantage over the likes of Apple, Alphabet, BMW, and every other company working on an autonomous driving vehicle. However, that might not be the case.
Image source: Baidu.
The key in sizing up the extent of Baidu's potential threat to Apple and Alphabet is properly understanding the scope of its ambitions. According to reports from The Wall Street Journal, Baidu plans to initially unveil its self-driving cars in relatively controlled settings, such as an airport shuttle running in fixed loops around a pre-defined area. This should help insulate the company's autonomous driving software from some of the nagging concerns facing the industry. At present, many companies' self-driving software is proficient enough to handle most routine traffic scenarios.
However, unexpected or abnormal scenarios can still create issues for autonomous vehicles; the national coverage of the recent crash between an Alphabet-owned self-driving SUV and a city bus is proof of this.As such, Baidu's plan to launch its self-driving cars in fixed scenarios could, and I would maintain should, be interpreted as the company planning to launch its self-driving vehicles before they are fully street-ready.
Seen through this lens, then, Baidu's aggressive product launch time frame doesn't appear to be the same threat to Apple and Alphabet as if the company planned to launch a fully capable self-driving car. Of course, plenty will likely change between then and now. Still, the Apple and Alphabet investors monitoring this story can breathe at least a bit easier.
The article Can Baidu Develop a Driverless Car By 2018? originally appeared on Fool.com.
Suzanne Frey, an executive at Alphabet, is a member of The Motley Fool's board of directors. Andrew Tonner owns shares of Apple and Baidu. The Motley Fool owns shares of and recommends Alphabet (A and C shares), Apple, Baidu, and Tesla Motors. The Motley Fool recommends BMW. Try any of our Foolish newsletter services free for 30 days. We Fools may not all hold the same opinions, but we all believe that considering a diverse range of insights makes us better investors. The Motley Fool has a disclosure policy.
Copyright 1995 - 2016 The Motley Fool, LLC. All rights reserved. The Motley Fool has a disclosure policy.