Can Anything Stop Duluth Holdings?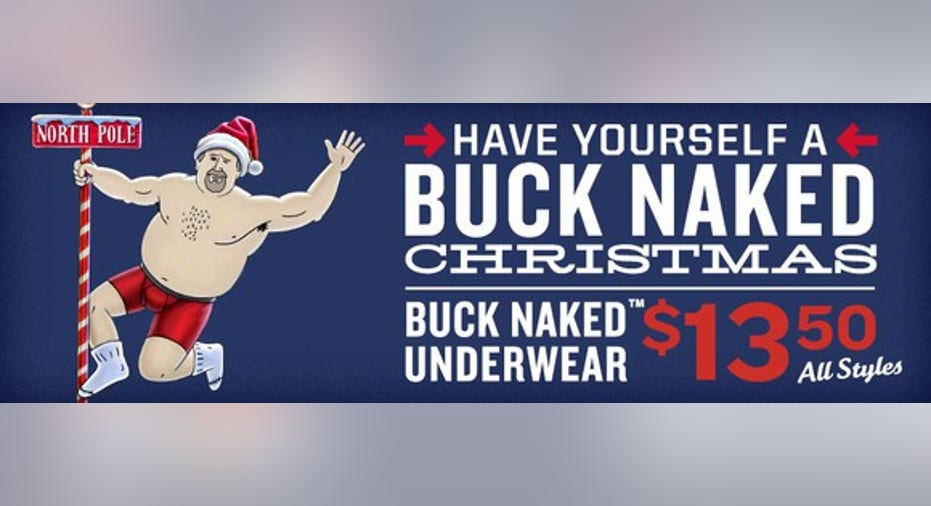 Duluth Holdings' (NASDAQ: DLTH) rugged work wear brand has been gaining fast traction with consumers while attracting some serious attention from investors -- and for good reason. From 2009 to 2015, the company posted compounded annual sales growth of 29% and -- even more incredibly -- compounded annual net income growth of 47%. The good news for investors is that this growth party is far from over. In its most recent earnings report, Duluth posted its 26th consecutive quarter of increasing net sales, with total revenue up 27.4% and retail sales up 43.8%.
Image source: Duluth Holdings
Solution-based clothing and hilarious marketing: a winning combination
Duluth Trading Co. brand apparel and gear appeals to the company's core tradesperson target (and beyond) with products that address real-world problems. Like longtail shirts that promise to "unplumber your butt." Or Armachillo cooling underwear. While these names -- and the cheeky advertising that has become Duluth's trademark -- may induce chuckles, the products solve genuine issues for people, inspiring fierce loyalty and generating valuable buzz. To wit: On Duluth's website, there are currently more than 16,000 five-star reviews for its Buck Naked underwear.
According to IRI data, Duluth has higher overall customer satisfaction scores than Carhartt, Columbia Sportswear, or Cabela's, to name just a few. But while Duluth Trading already enjoys 67% brand awareness among consumers, only 31% of consumers have purchased its products, according to the IRI data. And therein lies Duluth's multibillion-dollar opportunity.
Image source: Duluth Holdings.
The key to Duluth's growth: expanding retail operations
Duluth -- a former catalog-and-online-only retailer -- is still in the early stages of building out its store base to expand its geographical footprint. How early? The Wisconsin-headquartered company started 2016 with a mere seven locations and will end the year with 16. For 2017, the company plans to open an additional seven to eight stores, which will be the beginning of an aggressive eastern expansion.
Management has stated that they see the eastern U.S. as an even larger dollar opportunity than its current base in the Midwest. And while the company initially found success in small- and medium-size cities like Omaha and Sioux Falls, you'll find its newest stores in the suburbs of much larger markets like Chicago, Philadelphia, and Washington, D.C. Recently, company CEO Stephanie Pugliese noted that the majority of Duluth's customers are actually in California, Texas, and New York and that it will eventually make sense to have presences there as well. Clearly, the company sees a very long runway for retail growth ahead that should provide years of top-line expansion.
Importantly, in markets where Duluth's stores have been open more than a year, the direct side of the business continues to grow at the same rate as the rest of the country. In other words, Duluth's retail sales don't cannibalize the company's direct and online sales; they're incremental. And even better, according to Duluth, each new store pays for itself in less than 24 months.
Long-term expectations are sky-high, but Duluth is delivering
Duluth's management team hasn't been shy about announcing some pretty lofty ambitions. The company is targeting long-term future sales growth of 20% and net income growth of 25%. The company also appears confident in its ability to meet those goals in the short term, guiding for full-year 2016 revenue of $370 million to $380 million and full-year EPS of $0.66 to $0.70. At the midpoint, these ranges reflect 23.3% and 26.8% growth, respectively, over last year.
What else could an investor want?
Duluth also has several other desirable qualities that it can check off. A tiny $1.1 billion market cap and plenty of room to run? Check. Heavy insider ownership that aligns management with shareholders? Check. An under-the-radar women's business that's growing even faster than the core men's business? Check. A strong balance sheet with $23 million in cash and just $5 million in debt? Check. The ability to fund all its new store openings with free cash flow for the foreseeable future? Check.
As the saying goes, you pay a high price for a cheery consensus
Duluth is a company firing on all cylinders right now. Unfortunately, the market is pricing it like one, too. Trading at a P/E ratio of around 40 as of this writing, shares appear pretty steep at around $33.50. For a little context, fellow lifestyle brands Lululemon and Columbia Sportswear currently trade at P/E ratios of 29 and 24.2, respectively. That said, if Duluth keeps delivering on its growth targets, the current price may end up looking like a relative bargain 12 months from now.
The company is slated to report earnings after the market closes Dec. 8. Make sure to check out the report for a rundown on how things are going.
Andy Gould owns shares of Duluth Holdings and Lululemon Athletica. Andy Gould has the following options: short February 2017 $30 puts on Duluth Holdings. The Motley Fool owns shares of and recommends Lululemon Athletica. The Motley Fool recommends Duluth Holdings. Try any of our Foolish newsletter services free for 30 days. We Fools may not all hold the same opinions, but we all believe that considering a diverse range of insights makes us better investors. The Motley Fool has a disclosure policy.