Can Ambarella Bounce Back From Last Week's 14% Drop?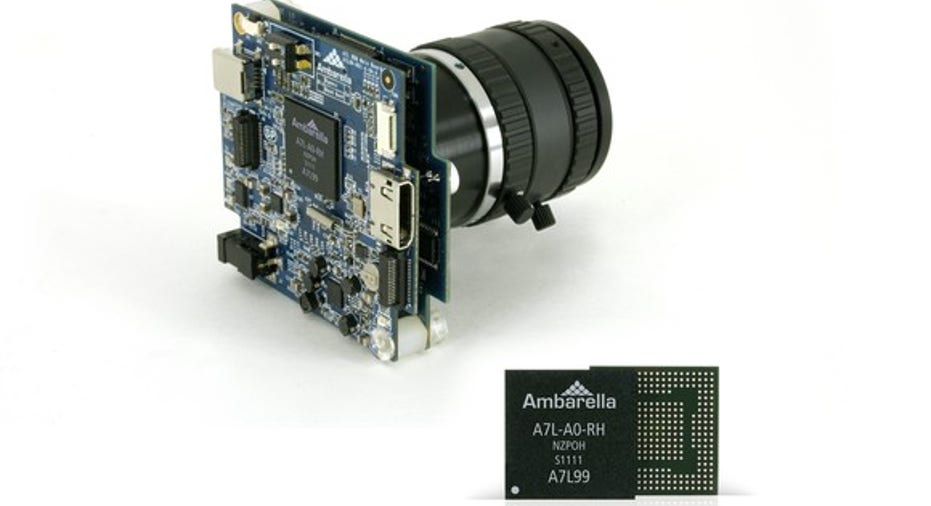 Image source: Ambarella.
Ambarella (NASDAQ: AMBA)makes a living out of making video look good, but investors didn't like what they saw last week. Shares of theprovider of video compression and image processing semiconductors took a 13.96% hit on the week, after posting fresh financial results. Ambarella's third-quarter results were solid, but its guidance for the new quarter left a lot to be desired. At least one analyst slashed his price target on the stock following the report.
Ambarella's quarter was decent. Revenue climbed 8% to $100.5 million. That may not seem like scorching growth, but it's actually Ambarella's strongest top-line gain in more than a year. It's also a return to growth after back-to-back quarters of double-digit percentage declines, as sales to GoPro (NASDAQ: GPRO) weighed on results earlier this year -- Ambarella's the lone supplier of the video chips in GoPro's Hero wearable cameras. Analysts were holding out for only $97.3 million in revenue.
Adjusted earnings clocked in at $1.11 a share, just ahead of the $1.08 it posted a year earlier. Wall Street pros were expecting adjusted net income of $0.94, but that's not much of a surprise. Ambarella has historically beaten analyst profit targets with ease, even during the otherwise weak first two fiscal quarters of this year.
Don't look now
Guidance is where Ambarella's otherwise reasonable quarter begins to fall apart. Ambarella's outlook calls for between $84 million and $87 million in revenue during the fourth quarter. That may be a big step up from the $68 million it reported a year earlier, but analysts were forecasting revenue to top $90 million.
Ambarella's CFO hinted during the earnings call at some visibility concerns. GoPro's success during the holiday quarter with its wearable sports cameras and drone rollout will go a long way to dictating Ambarella's return to growth for the upcoming fiscal year.
Ambarella's products can be found in dashboard cams, surveillance gear, virtual-reality gear, and drones, but it's still relying heavily on the success of GoPro. The top dog in wearable cameras accounted for 30% of Ambarella's revenue during the third quarter.
Roth Capital analyst Suji Desilva didn't like what he heard in Ambarella's call and lowered his price target on the stock from $80 to $70. As strong as the third quarter may have been in exceeding market expectations and Ambarella's own guidance, the fourth quarter may prove problematic.
The silver lining here is that Desilva is sticking to his "buy" rating. The stock's hit last week implies that there's 29% of upside to get to $70. Right now the stock is trading essentially where it was when the year began. A rally may have to wait until we get through what could be a challenging fiscal fourth quarter, but Ambarella's prospects outside wearable cameras continue to make it a safer wager on the turnaround efforts at GoPro.
10 stocks we like better than Ambarella When investing geniuses David and Tom Gardner have a stock tip, it can pay to listen. After all, the newsletter they have run for over a decade, Motley Fool Stock Advisor, has tripled the market.*
David and Tom just revealed what they believe are the 10 best stocks for investors to buy right now... and Ambarella wasn't one of them! That's right -- they think these 10 stocks are even better buys.
Click here to learn about these picks!
*Stock Advisor returns as of Nov. 7, 2016
Rick Munarriz owns shares of Ambarella. The Motley Fool owns shares of and recommends Ambarella and GoPro. The Motley Fool has the following options: short January 2019 $12 calls on GoPro and long January 2019 $12 puts on GoPro. Try any of our Foolish newsletter services free for 30 days. We Fools may not all hold the same opinions, but we all believe that considering a diverse range of insights makes us better investors. The Motley Fool has a disclosure policy.