Can Amazon Stock Really Reach $1,000 Within a Year?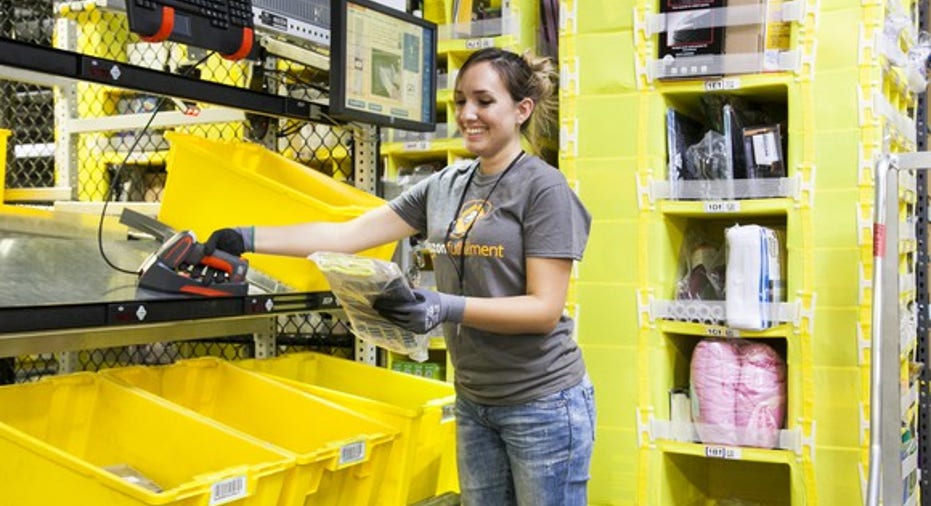 Image source: Amazon.
Shares of Amazon reached an all-time high after Sanford Bernstein's Carlos Kirjner published a note to investors with a $1,000 price target for the next 12 months. That represents a 47% premium to where Amazon stock traded before Bernstein's comments, and it's more than 9% higher than any other price target on Wall Street.
The crux of Kirjner's argument is that Amazon is poised for significant gross margin expansion in the near future (something Amazon bulls have been saying for years). There are a number of reasons Amazon investors can expect gross margin expansion, and Kirjner lists quite a few, but expectations that these catalysts will cause a near-50% increase in stock value within a year may be overstating things.
Growth of AWS will naturally increase overall margins
The biggest near-term catalyst at Amazon is the rapid growth of Amazon Web Services. Amazon's cloud-computing business brought in $2.6 billion in revenue last quarter, a 64% increase year over year. That revenue had an operating margin of 28% on a non-GAAP basis, well above the company's consolidated operating margin of less than 6% last quarter. That also represents a significant expansion from the 17% operating margin the segment posted a year ago.
Year over year AWS grew from 7% of revenue to 9% of revenue in the first quarter. As AWS becomes a bigger piece of revenue, its higher margins will generate better consolidated earnings results.
While secular growth in the cloud-computing market will fuel AWS revenue higher, fierce competition from, the Alphabetsubsidiary, Google, and Microsoft could put pressure on its ability to expand margins. Both have made significant price cuts in the past couple of years, with Google planning to make future price cuts. While investors should expect AWS margins to remain higher than the rest of Amazon's business, it's not clear whether they should expect AWS margins to continue expanding as revenue grows.
Two major shifts in its retail segment
Kirjner also points to two important trends in Amazon's retail segment that will improve its gross margin: Amazon is focusing on selling more higher-margin products like apparel and consumables, and third-party marketplace revenue is becoming a larger share of overall retail sales.
Amazon recently launched its own clothing line as apparel shopping grows more popular on the website. Additionally, it offers several options to shop for consumables including Amazon Fresh, Prime Pantry, Prime Now, and it's reportedly launching a recipe-delivery service in the near future. Not only do these products typically carry higher margins than more mature categories like electronics, but they produce more repeat business.
As Amazon focuses on higher margin first-party sales, third-party sales are becoming a much larger part of its business. During the company's first-quarter earnings call, CFO Brian Olavsky told analysts, "Third-party units are now up to 48% of paid units, and that's up 400 basis points year over year." Krijner estimates third-party sales have an overall gross margin of 75% when you factor in shipping costs.
While third-party sales have a positive impact on gross margin, they negatively impact fulfillment costs and some other metrics. Krijner sees those declining as well as more of Amazon's robot-filled fulfillment centers come online. Krijner expects 40% of Amazon's fulfillment capacity to include its new eighth-generation fulfillment centers. That will provide a significant reduction to fulfillment costs leading to higher gross margin.
Decelerating Prime Video investment
Finally, Krijner cites a deceleration of growth in content costs for Prime Instant Video. He still expects Amazon to invest huge sums of money to attract more users to Prime, estimating $2.9 billion in content costs in 2016 and $3.8 billion in 2017. For reference, Netflix plans to spend $6 billion on content next year.
Even with that huge growth (still 31% in 2017), Krijner sees gross profit at Amazon growing faster than content costs, leading to meaningful expansion in gross margin. Ultimately, he believes Amazon's gross margin will expand 6 percentage points over the next two years to 39%.
While Krijner makes a lot of excellent arguments that will help Amazon improve its gross margin, his estimates on how quickly they'll all impact Amazon's bottom line are very aggressive. It's very likely Amazon stock will hit $1,000 eventually, but I have my doubts it will be within the next year. As a shareholder, however, I will happily be wrong on this one.
The article Can Amazon Stock Really Reach $1,000 Within a Year? originally appeared on Fool.com.
Suzanne Frey, an executive at Alphabet, is a member of The Motley Fools board of directors. Adam Levy owns shares of Amazon.com. The Motley Fool owns shares of and recommends Alphabet (A shares), Alphabet (C shares), Amazon.com, and Netflix. The Motley Fool owns shares of Microsoft. Try any of our Foolish newsletter services free for 30 days. We Fools may not all hold the same opinions, but we all believe that considering a diverse range of insights makes us better investors. The Motley Fool has a disclosure policy.
Copyright 1995 - 2016 The Motley Fool, LLC. All rights reserved. The Motley Fool has a disclosure policy.