Can AES Succeed Where NRG Energy Failed?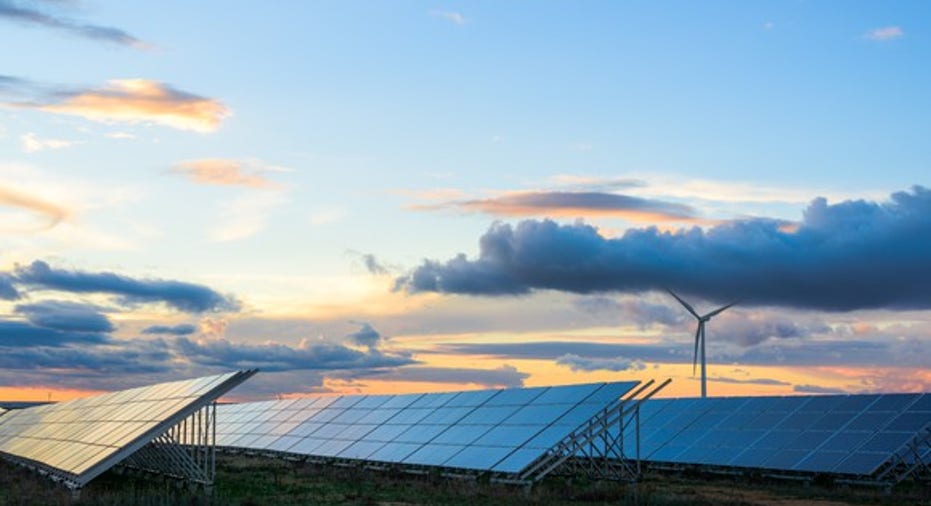 Making the transition from a fossil fuel-based utility or independent power producer to a next-generation renewable energy-driven company is tough to do. And most companies that have tried have struggled.
NRG Energy (NYSE: NRG) made perhaps the biggest attempt to build a next-generation energy company, buying a residential solar installer and a solar product company and launching its own yieldco, among other efforts. But the strategy was flawed and the market never quite understood how NRG's renewable business would make money and why it would abandon the cash-rich fossil fuel business. Now, AES Corporation (NYSE: AES) is trying a similar transition, buying a solar developer and leading the charge into batteries. But AES' strategy may not fail where NRG's did and it may create a template for other utilities to follow in the future.
Image source: Getty Images.
Where NRG Energy went wrong
NRG Energy certainly had the right idea that renewable energy was going to be the future. But the way it went about moving into renewables was flawed at best. In 2014, it bought the eighth biggest residential solar installer Roof Diagnostics and also bought portable solar product company Goal Zero. In 2015, it doubled down, buying Verengo Solar's team in the northeastern U.S., eventually becoming the fifth biggest residential solar installer in the country. Part of the idea with a concept called "NRG Home" was to build a customer relationship with any of these products and then expand upon them with other energy services.
But NRG's idea that a utility could sell solar products to consumers and somehow get them to bundle more products on top of it wasn't built on strengths the company had in its control. Consumers went solar to get away from the utility, not build a long-term relationship. As residential solar growth slowed, consumers preference also switched from loan to lease and local and regional installers started taking market share, the model fell apart. Earlier this year, NRG exited the home solar installation business and abandoned most of its "NRG Home" aspirations.
NRG has had slightly more success in large-scale renewable energy, most of which resides in NRG Yield (NYSE: NYLD), one of the first yieldcos on the market. But it spent so much money and time being distracted by the home market that investors didn't put much value in this utility side of the business.
What NRG got wrong was thinking that it was a consumer-focused company. It thought having millions of electricity customers through its utility meant people would see it as a trusted partner and give NRG a chance in rooftop solar and solar products. But utilities are necessary, not discretionary, purchases for consumers, and NRG never really had a chance to fight against companies like SolarCity, Vivint Solar, or even SunPower, which are consumer-focused enterprises.
How AES is learning from NRG's mistakes
AES is arguably making an even bigger bet on renewable energy, but it's a very different bet from NRG. The company paid $853 million for sPower, a leading utility-scale solar system developer. And with just 200 MW of solar in the portfolio, out of 35,000 total MW operating, prior to the acquisition, this was a huge strategic change.
It has also been a leader in energy storage for utility-scale applications. AES built the world's largest lithium-ion battery energy storage facility (for now) for San Diego Gas & Electric at 30 MW and 120 MWh. That's enough to serve 20,000 customers for four hours in a single installation, and the company leads the market with nearly a dozen energy storage systems around the world.
You may notice that AES is building a renewable energy business where other utilities and the grid are the customer, not consumers directly. That's not by accident: Utilities have an inherently hard time selling goods to consumers because it's not in their core competency. But they generally have low costs of capital and are experts at building large energy-related facilities, so utility-scale wind, solar, and energy storage are a logical expansion of their business.
What NRG's failures mean to AES
There may still be changes to AES' renewable energy business over the long term, but it's making logical bets on renewable energy, where it may have a sustainable competitive advantage. Learning that installing rooftop solar or selling consumer goods isn't the right strategy is a good move. Out of all the utilities trying to make the transition to renewables, AES is as well positioned as anybody.
10 stocks we like better than The AES CorporationWhen investing geniuses David and Tom Gardner have a stock tip, it can pay to listen. After all, the newsletter they have run for over a decade, Motley Fool Stock Advisor, has tripled the market.*
David and Tom just revealed what they believe are the 10 best stocks for investors to buy right now... and The AES Corporation wasn't one of them! That's right -- they think these 10 stocks are even better buys.
Click here to learn about these picks!
*Stock Advisor returns as of April 3, 2017
Travis Hoium owns shares of SunPower. The Motley Fool owns shares of and recommends Tesla. The Motley Fool owns shares of NRG Energy. The Motley Fool has a disclosure policy.