Can AbbVie's New Cancer Drugs Offset Humira Losses?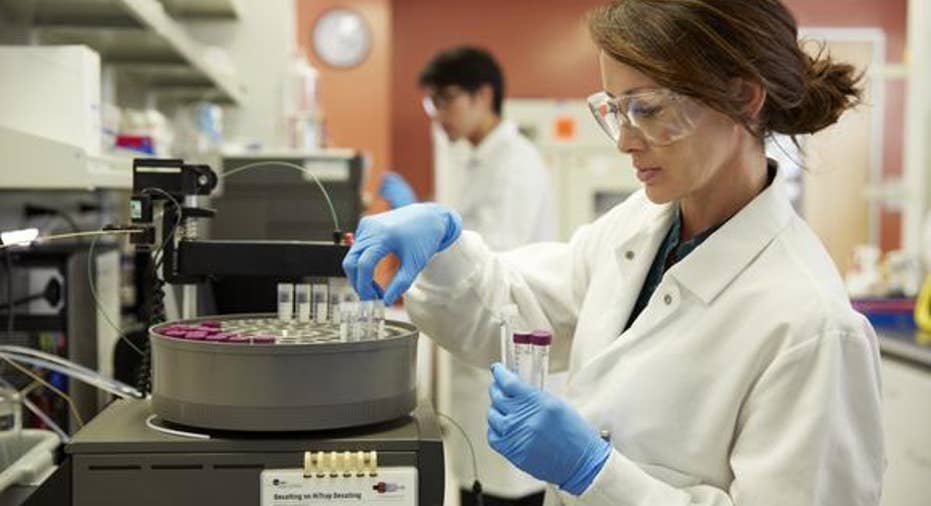 Image source: Johnson & Johnson.
Since splitting from Abbott Laboratories to begin 2013,AbbVie has provided its investors with solid returns well in excess of the benchmarkS&P 500.However, past performance is little consolation going forward. AbbVie's most important drug, Humira, is responsible for more than 61% of the company's total revenue -- and it's about to get crushed by biosimilar competition. Humira may be the world's best-selling drug for now, but investors would love to see the company become less dependent on its most successful asset before it's too late.
A big part of AbbVie's strategy for reducing dependence on its flagship anti-inflammatory drug is building a world-class oncology portfolio. Its stable of cancer therapies took a giant step forward this spring, when the company purchased Pharmacyclics along with its rising-star therapy, Imbruvica, for $20.8 billion in cash and equity.
Since completing the acquisition of Pharmacyclics in May, the company has just one full quarter of sales info for Imbruvica, which is partnered with Johnson & Johnson. What a quarter it was. With $304 million in net revenue, it is now the company's third biggest seller behind Viekira Pak, with $469 million in quarterly sales, and Humira, with $3.65 billion.
At a recent scientific conference, AbbVie laid out reasons to believe Imbruvica and experimental therapy venetoclax could eventually command a leading share of the $24 billion market for beta-cell malignancies. Let's look at the latest data to see if the company's invigorated oncology pipeline can offset impending Humira losses.
Expanding ImbruvicaBy AbbVie's calculations, Imbruvica could deliver $7 billion to the company's top line at its peak. The drug is already approved as a second line of attack for chronic lymphocytic leukemia patients who have progressed after their first therapy.
Sales of therapies for this relatively common form of leukemia reached $1.7 billion last year,and being first in line for newly diagnosed patients would help Imbruvica command a larger share. To support an application for an expansion to first-line CLL, the company has compared it with chlorambucil -- a standard chemotherapy used in the first-line setting -- in newly diagnosed patients over 65 who hadn't been treated with anything yet.
Image source: AbbVie
Imbruvica wiped the floor with chlorambucil. It reduced the risk of disease progression or death by at least 84% compared with the old standard of care. In fact, it may have reduced that risk even further, but a median hadn't been reached at the time of the presentation.
Further cementing Imbruvica pills' advantage over the old standard, adverse events leading to discontinuations were 155% more frequent in the chlorambucil arm.
An application to expand Imbruvica's label has already been submitted to the FDA. If approved, use of Imbruvica in the first-line setting could provide a sales boost in the first half of next year.
Something differentVenetoclax, which is being developed in partnership with Roche, is a promising inhibitor of B-cell lymphoma-2,a protein that prevents beta-cells from dying off when they're supposed to. Surprisingly, it is the only drug that acts on this pathway in serious developmental stages.
Don't let the lack of interest in this target put you off. It is surprisingly effective in a genetic subset of CLL patients known to have poor prognoses, those with a 17p deletion.The biomarker is present in just 3% to 10% of initial CLL diagnoses, but the subset represents 30% to 50% of advanced CLL patients.
It seems venetoclax could be a new option for this large but difficult-to-treat population. In a phase 2 study with 107 patients who had failed a median of two prior therapies, a surprising 85 showed a response. At 12 months, the disease of 72% of patients' on venetoclax hadn't progressed, and more than 20% of responders lacked leukemic cells in their bloodstream.
Maybe too goodThese exciting results from the phase 2 venetoclax trial are supporting a new drug application currently in the hands of FDA regulators. If anything can derail this exciting new therapy, it could be its tendency to be a little too effective.
Tumor lysis syndrome is a common issue in a variety of cancers. It occurs when too many cells -- hopefully those of a recently destroyed tumor -- burst, releasing their contents into the bloodstream. Although no clinical tumor lysis syndrome events occurred, laboratory tumor lysis syndrome (the less serious of the two) was reported in five of the patients.
Although it looks like Imbruvica and venetoclax have a great deal of potential in CLL, fully dominating this $1.7 billion market won't be enough to offset potential losses to Humira competition in the years ahead. Luckily, Imbruvica is a part of 13 phase 3 studies in a wide range of indications, and venetoclax isn't far behind.
Last year, the industry recorded combined lymphoma and multiple myeloma therapy sales of about $13.2 billion. During the next several quarters, investors will want to look for data that supports further expansion into this territory. Given how well AbbVie's new cancer therapies are performing in leukemia, I expect the good news to keep rolling in.
The article Can AbbVie's New Cancer Drugs Offset Humira Losses? originally appeared on Fool.com.
Try any of our Foolish newsletter services free for 30 days. We Fools may not all hold the same opinions, but we all believe that considering a diverse range of insights makes us better investors. The Motley Fool has a disclosure policy.
Copyright 1995 - 2015 The Motley Fool, LLC. All rights reserved. The Motley Fool has a disclosure policy.