Can A.O. Smith Become a Dividend Stock?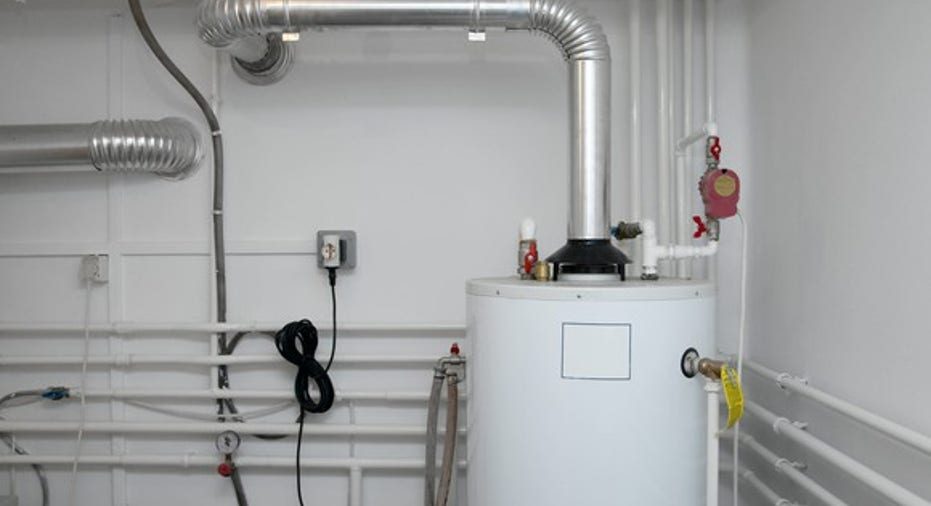 Despite handily beating the total returns of some of the market's favorite growth stocks since 2011 -- including Amazon.com, Apple, and Chipotle Mexican Grill, to name a few -- A.O. Smith Corp. (NYSE: AOS) has gone mostly unnoticed by investors. It doesn't take much guesswork to figure out the reason: The bulk of the company's revenue and profit come from selling water heaters to residential and commercial customers. It's easy to overlook a boring company.
Of course, boring stocks can still deliver above-average gains. What are the two best ways to provide market-beating returns for the long haul? Growth and dividends -- and world's leading water-heater brand has both. That said, the annual payout yields a paltry 1%. Can A.O. Smith ever become a powerhouse dividend stock?
Image source: Getty Images.
The case for increasing the dividend
In the past two decades, and especially since the company sold the electric-motor business in April 2011, management has beautifully executed the long-term strategic focus on becoming a leading water-technology specialist. The company's success to date has been built on leading market positions in North America and China. The former represented 64% of revenue and 75% of profits in 2016. And although revenue is growing more slowly in the established market, energy efficiency trends present a respectable growth opportunity.
Meanwhile, heavy investments in growing the A.O. Smith brand in the Chinese market have paid off tremendously. Last year, the country accounted for one-third of total revenue, or $887.9 million, compared with just $50 million in 2003. Management expects continued sales growth and margin expansion in the region to help diversify profit distribution in 2017, with 35% to 40% being derived outside North America, compared with just 25% last year.
Growth at A. O. Smith shows no signs of slowing. Take a look at management's full-year 2017 guidance:
Data source: A.O. Smith.
Even more encouraging is that management expects India to represent a similar long-term growth opportunity as China does today. In 2016, India generated just $18.2 million in revenue.
So what does all of this have to do with increasing dividend payouts? Well, if dividends are built on strong cash flow, then A.O. Smith is a slumbering giant. In 2013, the company achieved nearly $280 million in operating cash flow and paid out roughly $43 million in dividends. Last year, those numbers grew to $447 million and $84 million, respectively.
Data source: Google Finance.
Simply put, A.O. Smith has been a cash cow in recent years. This point certainly isn't lost on management, which has been steadily increasing dividend payouts at the fastest pace in the company's history since 2013. It has also initiated a modest share-repurchase program that will gobble up roughly 2.8 million shares this year, although that represents just 1.5% of the total diluted share count. But the steady trend of increasing cash flow and cash balances, coupled with high-single-digit year-over-year growth, clearly shows that there's a lot of potential to increase the dividend over time.
Long story short
Could A.O. Smith become a powerhouse dividend stock? The potential is definitely there thanks to strong growth, a healthy balance sheet, and enviable operating cash flow. Consider that, barring acquisitions, the company could afford to double its dividend overnight and only suffer by failing to grow its cash position in subsequent years. That's unlikely to occur -- management is still wisely investing in and tapping into long-term growth opportunities -- but it shows that long-term investors aren't likely to be disappointed.
10 stocks we like better than A. O. SmithWhen investing geniuses David and Tom Gardner have a stock tip, it can pay to listen. After all, the newsletter they have run for over a decade, Motley Fool Stock Advisor, has tripled the market.*
David and Tom just revealed what they believe are the 10 best stocks for investors to buy right now... and A. O. Smith wasn't one of them! That's right -- they think these 10 stocks are even better buys.
Click here to learn about these picks!
*Stock Advisor returns as of May 1, 2017
Maxx Chatsko has no position in any stocks mentioned. The Motley Fool owns shares of and recommends Amazon, Apple, and Chipotle Mexican Grill. The Motley Fool has a disclosure policy.