Camping World Stock Just Keeps on Rolling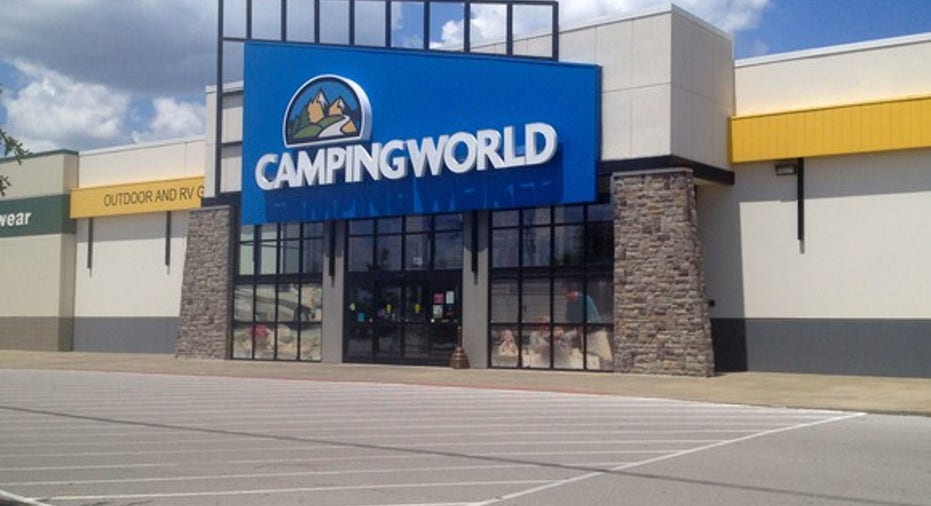 We may be paying less for new recreational vehicles, but we're buying more of them.Camping World Holdings(NYSE: CWH)posted mixed financial results after Wednesday's market close. Revenue climbed 4% to $670 million for the seasonally sleepy fourth quarter, short of the $678.7 million that analysts were targeting.
Camping World showrooms sold 7,986 RVs during the quarter, 25% more than it did during the prior year's holiday quarter. RVs aren't cheap. The average selling price during the quarter was $41,731, but that's 9% lower than a year earlier.
We're not going through a price war in the RV space. There's just heady growth stemming from first-time buyers, and they're flocking to cheaper towable models. The Marcus Lemonis-led chain also experienced a 19% slide in the number used vehicles, but that's largely the case of a shortage of supply of used vehicles as first-time buyers are coming in without older RVs to trade in.
The good news for Camping World shareholders is that the cheaper towable units actually command higher margins than the full-featured RVs. Camping World was able to turn its modest top-line gain into a 40% surge in operating profit. Adjusted earnings more than doubled to $11.8 million or $0.14 a share. Analysts were forecasting a profit of just $0.09 a share.
Image source: Camping World.
Camping trip
Camping World's growth decelerated as 2016 played out. We saw year-over-year revenue growth of 14%, 8%, 5%, and 3% through the year's four fiscal quarters, respectively.
There was optimism heading into the report.Stephens analyst Rick Nelson raised his price target for the stock on Tuesday, going from $35 to $40. He was clearly hoping for a strong report. You don't boost a stock's price target the day before a report unless you're banking on a strong showing. Nelson -- who has an overweight rating on the shares -- is encouraged by its leadership position in a fragmented industry, where it has been able to acquire smaller chains to break into new territories. Nelson also feels that Camping World's Good Sam membership club is an asset that could be leveraged in the future.
Not every Wall Street pro was bullish heading into the Wednesday's report.Scott Hamann at KeyBanc had downgraded the stock last week, taking his rating on the RV retailer from overweight to sector weight. It was largely a valuation call as the stock has surged since going public at $22 just five months ago.
In the end, both analysts had it right. Camping World was able to impress on the bottom line, but sluggish revenue growth is something that investors in hot IPOs have a difficult time accepting. Camping World is still at the right place at the right time, and the trends for the RV industry suggest that Camping World's gains are just getting started.
10 stocks we like better than Camping World HoldingsWhen investing geniuses David and Tom Gardner have a stock tip, it can pay to listen. After all, the newsletter they have run for over a decade, Motley Fool Stock Advisor, has tripled the market.*
David and Tom just revealed what they believe are the 10 best stocks for investors to buy right now... and Camping World Holdings wasn't one of them! That's right -- they think these 10 stocks are even better buys.
Click here to learn about these picks!
*Stock Advisor returns as of February 6, 2017
Rick Munarriz owns shares of Camping World Holdings. The Motley Fool recommends Camping World Holdings. The Motley Fool has a disclosure policy.