Cable Should Be Scared of DirecTV Now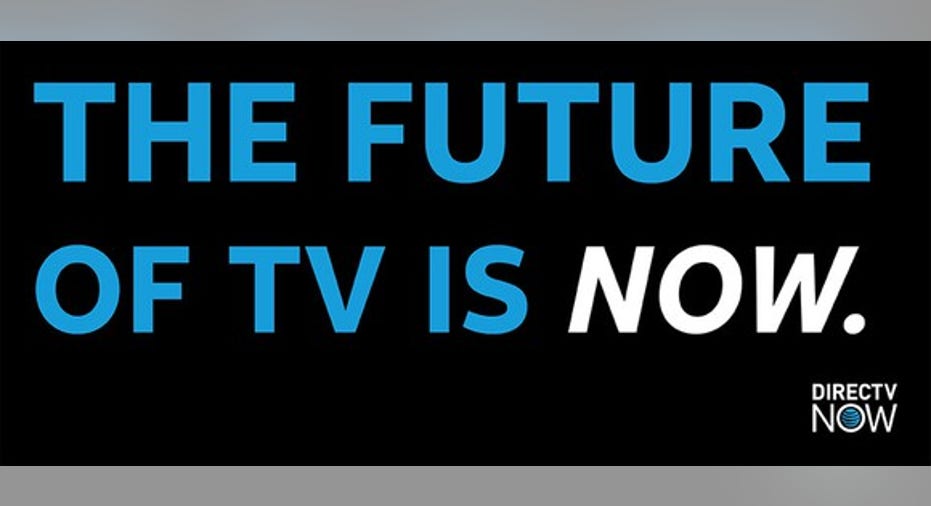 Image Source: AT&T
At AT&T's (NYSE: T) recent press conference announcing its DirecTV Now streaming service, management talked about the 20 million households that aren't in the pay-TV ecosystem. DirecTV Now is targeted toward those that don't have a high enough credit score to sign up for traditional services, those that don't stay put in an apartment long enough to sign a long-term contract, and those that live in buildings where installing a satellite dish is impossible.
But AT&T might get more than it bargained for.
DirecTV Now allows only two concurrent streams, and for the majority of U.S. households, two streams ought to be enough. That makes the service more likely to cannibalize AT&T's existing customer base as well as the customer bases of traditional cable providers like Comcast (NASDAQ: CMCSA) and Charter (NASDAQ: CHTR).
What does the typical cable household look like?
The average cable household has only 2.35 set-top boxes. That would imply two concurrent streams is enough for most households.
What's more, U.S. Census data show that the majority of the 117 million households are just one or two people. These households tend to be the younger consumers AT&T is targeting with DirecTV Now. There's undoubtedly significant overlap between single and two-person households and the pay-TV subscriber base.
The average expanded basic cable subscriber paid $69.03 per month in 2014, according to the most recent data from the FCC. That doesn't include the additional fees cable companies charge for things like set-top boxes. DirecTV Now offers three tiers of bundles below that price and doesn't require any company-owned equipment or charge any additional fees.
DirecTV Now's limited limitations
AT&T's new service might fit the bill for even more households if it didn't have some additional limitations. First, local broadcast networks will only be available in markets where the local station is owned and operated by the network. That means most subscribers won't be able to stream live content from those channels, but they'll be able to view it on-demand.
Second, DirecTV Now doesn't currently have DVR functionality. Management says the feature is in the works, but for now subscribers will not be able to pause live TV or record whatever they want. DirecTV Now's on-demand library should support typical catch-up viewing (even from local channels), and some channels will have a 72-hour catch up window to watch anything that aired in the last three days.
These limitations are fairly small and easily overcome, but for some consumers they could be a deal breaker. That still leaves a sizable market of cable viewers for DirecTV Now to snatch up, though.
Bribing subscribers to join
AT&T is being extremely aggressive in its efforts to acquire subscribers for DirecTV Now. It's offering early adopters a bundle of channels that it plans to charge $60 per month for for just $35 per month indefinitely. It's also offering free hardware to customers that sign up for a month or three months. And AT&T customers will be able to stream DirecTV Now on their mobile devices without it counting against their data caps.
AT&T is going to scale DirecTV Now as fast as possible even if it loses money. That should scare typical cable providers.
Charter and Comcast are AT&T's biggest rivals in pay-TV and both benefit from territorial boundaries that kept many competitors out. When AT&T started building out its U-Verse service in Charter's and Comcast's territories, both quickly saw their subscribers switch to the competitor offering attractive sign-up terms. DirecTV Now is another national competitor with attractive sign-up terms, and it's available nationwide.
DirecTV may be made for consumers that are typically locked out of the traditional pay-TV ecosystem, but it has the potential to be much bigger. AT&T is putting a lot of money behind the launch to help it reach that potential.
10 stocks we like better than AT&T When investing geniuses David and Tom Gardner have a stock tip, it can pay to listen. After all, the newsletter they have run for over a decade, Motley Fool Stock Advisor, has tripled the market.*
David and Tom just revealed what they believe are the 10 best stocks for investors to buy right now... and AT&T wasn't one of them! That's right -- they think these 10 stocks are even better buys.
Click here to learn about these picks!
*Stock Advisor returns as of November 7, 2016
Adam Levy has no position in any stocks mentioned. The Motley Fool has no position in any of the stocks mentioned. Try any of our Foolish newsletter services free for 30 days. We Fools may not all hold the same opinions, but we all believe that considering a diverse range of insights makes us better investors. The Motley Fool has a disclosure policy.