Cabela's Merger Shouldn't Suffer the Same Fate as Staples-Office Depot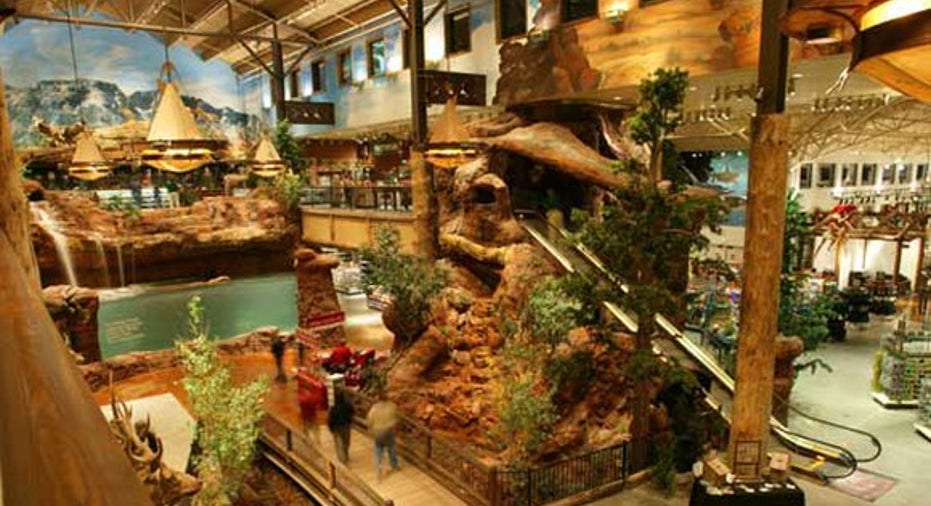 Federal regulators made the wrong call in denying Staples' (NASDAQ: SPLS) bid to merge with Office Depot (NASDAQ: ODP), but they can't afford to make another mistake with Bass Pro Shops' attempt to acquire Cabela's (NYSE: CAB).
There have been a string of bankruptcies in the industry over the past year or so, and peer Gander Mountain just announced it was seeking Chapter 11 protection. These conditions would typically make antitrust regulators wary of signing off on a deal because of the concentration in competition, however it's precisely because so many companies are going under that the feds need to allow this deal to go through.
Image source: Cabela's.
The ever-present threat
When Staples sought to take over its office supplies rival, it was in the midst of changes in the marketplace that had upended their business in the wake of the financial market's collapse. Although many companies had cut back on purchases, the rise of Amazon.com and e-commerce, as well as mass market retailers such as Wal-Mart and Costcoentering the space, had taken large swaths of business away from the specialty retailers. They were now "over-stored," and though each was closing hundreds of locations, their businesses were substantially weakened. Only together could they effectively take on the competitive forces arrayed against them.
The feds didn't see it that way, preferring instead to look at Staples and Office Depot's commercial contract business and the possibility that Staples and Office Depot could leverage their position to raise prices. But Staples noted 99% of its customers would not see prices rise and the combination would allow them to streamline their operations and save money.
There were arguments to be made against joining the two and the government ultimately killed the deal.Now Staples and Office Depot continue to reel from the denial.Staples said sales fell almost 3% in the fourth quarter as comparable sales fell nearly 1%. Its retail operations were in free fall, with net sales tumbling 7% for the year on a 5% drop in comps, leading it to record operating losses of $264 million compared to the $716 million operating profit it earned the year before. It closed 48 stores in North America last year and expects to close another 70 this year.
It wasn't any better for Office Depot, which reported a 6% decline in revenue in 2016, while its business solutions revenue was down 6% year over year. It closed 123 stores last year and anticipates closing another 75 in 2017. Office Depot also ended up selling its European operations, too.
Image source: Bass Pro Shops.
Sporting goods is no better
In the outdoor sporting goods market, an argument could be made that conditions are as dire as they are in office supplies -- if not worse. Beyond Gander Mountain's just-declared bankruptcy, the industry has also lost Eastern Mountain Sports, Sports Chalet, City Sports, and of course Sports Authority. Last month MC Sports went under, while niche players Golfsmith and Total Hockey have failed, too.
That has created opportunities for some other retailers, including Dick's Sporting Goods (NYSE: DKS), which acquired dozens of stores from its defunct rivals. It also makes it easy to draw parallels to the electronics store space, where Best Buy is the last man standing after Circuit City, hhgregg, and RadioShack went bankrupt (twice, in RadioShack's case). Bed Bath & Beyond is also left the leader in home goods after the demise of Linens n Things.
Yet those that remain still face a difficult retail environment as e-commerce and discount retailers siphon off customers. Cabela's has been particularly hard hit as not only did total revenues fall 5% in its fiscal fourth quarter on a 6.4% drop in comps, but even its internet and catalog sales fell, tumbling more than 12% for the period. Where many retailers are finding a silver lining in their online sales even if their in-store sales are poor, Cabela's isn't even enjoying that benefit.
A mistake to let it weaken further
For antitrust regulators to leave such a sickly company in the marketplace doesn't improve competition, but rather wastes resources. Bass Pro Shops may come to regret purchasing its rival, but that's a business decision it's making and there's still the possibility it could turn Cabela's business around while its own operations more financially sound.
While the deal seems to have the wheels coming off it on its own -- as seen in the potential failure of Cabela's to unload its banking business -- it would be a mistake for regulators to not approve the deal. They did so with the Staples-Office Depot merger, and those companies are suffering as a result. They should avoid repeating their error with Cabela's and Bass Pro Shops.
10 stocks we like better than Cabela'sWhen investing geniuses David and Tom Gardner have a stock tip, it can pay to listen. After all, the newsletter they have run for over a decade, Motley Fool Stock Advisor, has tripled the market.*
David and Tom just revealed what they believe are the 10 best stocks for investors to buy right now... and Cabela's wasn't one of them! That's right -- they think these 10 stocks are even better buys.
Click here to learn about these picks!
*Stock Advisor returns as of February 6, 2017
Rich Duprey has no position in any stocks mentioned. The Motley Fool owns shares of and recommends Amazon and Costco Wholesale. The Motley Fool recommends Bed Bath and Beyond. The Motley Fool has a disclosure policy.