Buybacks Masking Major Slowdown at 3M Co.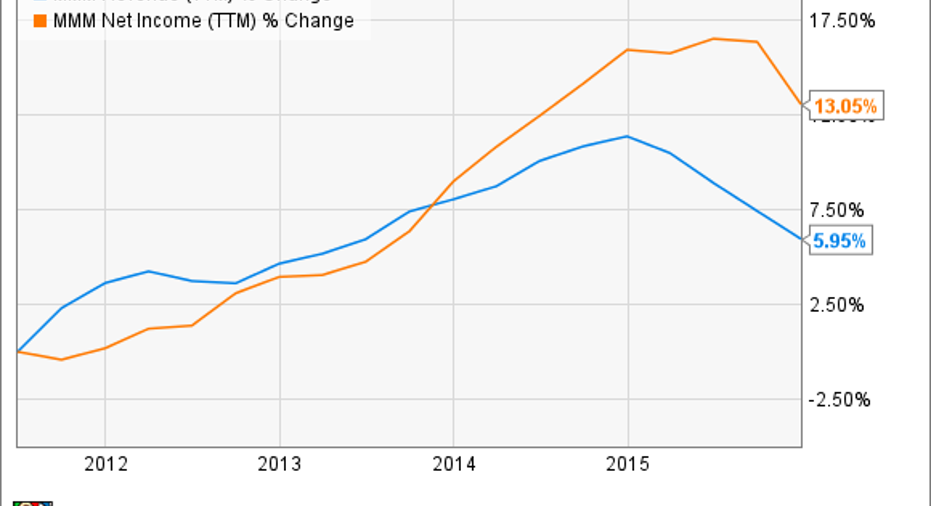 Growth has been hard to come by for 3M Co. lately. Over the past five years, the company has grown revenue just 1.2% annually (before the first quarter of 2016) and net income had grown just 2.5% annually.Weak economic growth and a strong dollar have hurt results, but the fact of the matter is that the company has lost some of the magic that made it the industrial giant we know today.
Still, earnings per share are growing as share buybacks kick in and dividend payments mask the struggling results. After another weak quarter, however, those shareholder returns may not be the positive news investors usually think they are.
MMM Revenue (TTM) data by YCharts.
3M continues to struggle The first-quarter 2016 results released on Tuesday showed a 2.2% decline in sales to $7.4 billion and an organic sales decline of 0.8%. The strong dollar has hurt results recently, but a drop in organic sales is a sign that even currency changes aren't to blame for weak results. 3M itself has set a target of 2%-5% organic local currency growth, so this quarter was well behind that target.
A reduction in operating expenses helped deflect the decline in revenue for now. Net income increased 6.2% to $1.28 billion, or $2.05 per share.
But here's where 3M's current actions and future goals start to collide: Management cut R&D spending by 3% to $450 million in the quarter, despite missing its own growth targets.If 3M is going to get out of its growth funk, it will be driven by R&D, so the cuts are notable.
It's a rock and a hard place for 3M. Growth is slowing, putting pressure on management to cut expenses. But if the company doesn't invest more in R&D for the future, it won't ever return to growth in a significant way. That might be fine if 3M saw itself as just a cash flow machine with little growth ahead, but that's not how it sees itself.
And the prioritization of short-term shareholder returns may already be starting to show some troubling signs.
Cash is starting to become a problem 3M continued to generate a solid amount of cash flow from its business in the first quarter, driven by those cuts in expenses I mentioned above. Free cash flow generation rose 20% to $946 million -- but that's where the good news ends.
Dividends paid in the quarter were $672 million, and share repurchases were $1.90 billion. So 3M returned $953 million to shareholders that it didn't have. And it's buying back shares to boost earnings per share, masking growth problems in the core business.
This continues a long-term trend, with 3M increasing dividends and buybacks at a faster rate than it generates cash. The only solution to offset that problem has been an increase in debt of $4.57 billion over the past year. These trends simply can't continue forever, which is why the organic growth decline is so troubling.
If you could argue that shares were undervalued and the stock had nowhere to go but up, the buybacks with debt would be understandable. But revenue is falling and shares trade at 20 times earnings, hardly a discount to the Dow Industrial's P/E ratio of 18.2.
3M has been around for a long time, and has been paying a dividend for over 99 years, so it might be understandable if the company went into cash-harvest mode and cut back expenses where it could and just generated cash to return to shareholders. But that's not the plan management has laid out, and it's not the culture of 3M as a company.
Given the cuts in R&D, the slowing growth, and the increasing leverage because of buybacks, I don't see much value in this stock right now. 3M may have to decide if it's a cash generator that will just keep pumping cash into shareholders' pockets or a growth company. Because it's trying to be both right now, and that doesn't leave me impressed as an investor.
The article Buybacks Masking Major Slowdown at 3M Co. originally appeared on Fool.com.
Travis Hoium owns shares of 3M. The Motley Fool has no position in any of the stocks mentioned. Try any of our Foolish newsletter services free for 30 days. We Fools may not all hold the same opinions, but we all believe that considering a diverse range of insights makes us better investors. The Motley Fool has a disclosure policy.
Copyright 1995 - 2016 The Motley Fool, LLC. All rights reserved. The Motley Fool has a disclosure policy.