Buy Schlumberger Stock as Oil Passes $40? Here Are 3 Things You Need to Know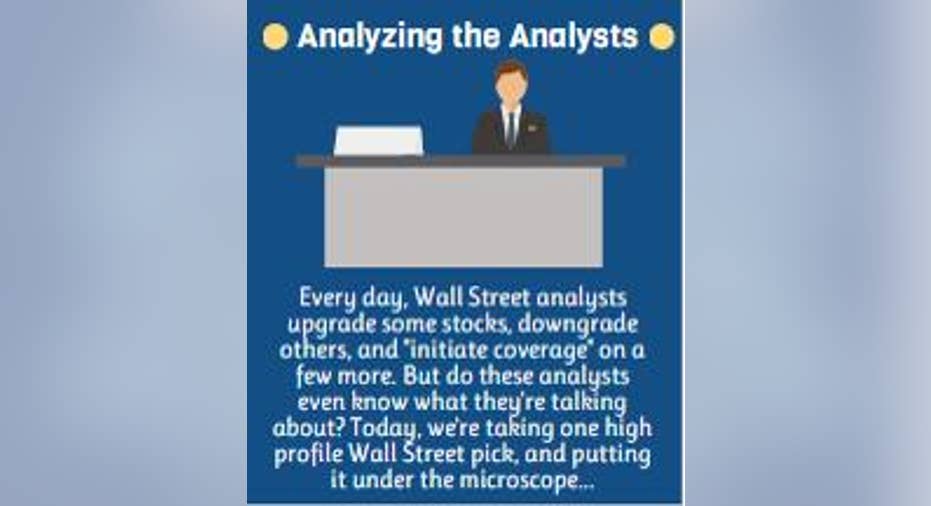 With oil prices once again above the magic $40 line (but falling), investors around the world are wondering: Are there any oil companies at all worth buying?
Wall Street would love to know the answer to that one, and this morning, multiple analysts took a good hard look at the oil patch, and produced a handful of stock picks for us.
The newsTake Barclays Bank, for example. Early Wednesday morning, Barclays announced it is upgrading Schlumberger stock from equal weight to overweight, and adding $10 to its price target -- now $93 a share. At the same time, Barclays cut its rating on rival oil services firm National Oilwell Varco , dropping that one to equal weight, while maintaining its $33 price target.
But is this just another investment banker playing a game of eenie-meenie-minie-moe? Cycling through minute changes in stock price, buying and selling, and trying to time the market on individual oil stocks? Or are there more substantive reasons to prefer Schlumberger stock over National Oilwell Varco?
Image source: Schlumberger.
Here are three things we've gleaned from the Wall Street reports today, to help you decide.
Thing No. 1: Simply the best?Barclays has one single, overarching reason for preferring Schlumberger stock over shares of National Oilwell Varco. As quoted on TheFly.com this morning, Barclays asserts that "No company has improved itself more during the downturn than Schlumberger."
But if you haven't noticed this yourself, it's easy to see why. In fact, according to data from S&P Global Market Intelligence, Schlumberger's revenue -- and its gross and operating margins on that revenue -- has shrunk steadily, falling sequentially in every quarter over the past year.
Thing No. 2: All things are relative That said, the same is true of National Oilwell Varco. And when all's said and done, Schlumberger's long slide still leaves the company earning 15.7% operating profit margins over the past 12 months, while National Oilwell Varco's operating margin is a less impressive 8.8%.
Say what you will about Schlumberger's own success -- but the company clearly is doing better relative to its competitors.
Thing No. 3: But is it a buy?Even admitting Schlumberger's relatively better performance, though, this doesn't necessarily mean that Barclays is right about Schlumberger being a buy. After all, based on trailing-12-month profits, the stock currently costs more than 50 times earnings. And according to the analysts who follow Schlumberger, those earnings are only projected to grow at about 4% annually over the next five years.
Meanwhile, from the perspective of free cash flow, Schlumberger stock looks a bit less expensive than that -- but still pricey. Over the past 12 months, during which time Schlumberger reported earning only $2.1 billion GAAP profit, the company generated $5.2 billionin free cash flow. That still works out to a price-to-free cash flow ratio of 21.8 however, which on 4% long-term growth, seems something less than a bargain price.
Indeed, from this perspective, you could almost argue that "unprofitable" National Oilwell Varco, with $879 millionin positive free cash flow last year, is a better bargain at 12.2 times free cash flow -- but for the fact that the same analysts who worry about minimal growth at Schlumberger see no prospects for growth whatsoever at National Oilwell Varco, and in fact predict that earnings will continue to decline.
On final thingWhen I look at both these stocks from a valuation perspective, I have to admit that neither one really appeals to me much. That said, there's one more wild card to consider: The buyout scenario.
At the same time as Barclays was talking down National Oilwell Varco stock, you see, JPMorgan has been talking it up. This morning, JP went out on a limb to suggest that in the event Halliburton's bid for Baker Hughes falls through, there's a case to be made for Baker Hughes turning around and combining with National Oilwell Varco through a "merger of equals."
Such a move, says JP, would offer "the best route to value creation over the next cycle" for both Baker Hughes and National Oilwell Varco The analyst isn't sufficiently certain that such a scenario is likely to actually recommend buying National Oilwell today, mind you. But if Halliburton's bid for Baker really does fall through, that could change in a hurry.
Stay alert. Things in the turbulent oil market are still a-churning.
The article Buy Schlumberger Stock as Oil Passes $40? Here Are 3 Things You Need to Know originally appeared on Fool.com.
Fool contributorRich Smithdoes not own shares of, nor is he short, any company named above. You can find him onMotley Fool CAPS, publicly pontificating under the handleTMFDitty, where he's currently ranked No. 315 out of more than 75,000 rated members.The Motley Fool owns shares of and recommends Halliburton and National Oilwell Varco. Try any of our Foolish newsletter services free for 30 days. We Fools may not all hold the same opinions, but we all believe that considering a diverse range of insights makes us better investors. The Motley Fool has a disclosure policy.
Copyright 1995 - 2016 The Motley Fool, LLC. All rights reserved. The Motley Fool has a disclosure policy.