Buy InvenSense After a 30% Drop? 3 Things You Need to Know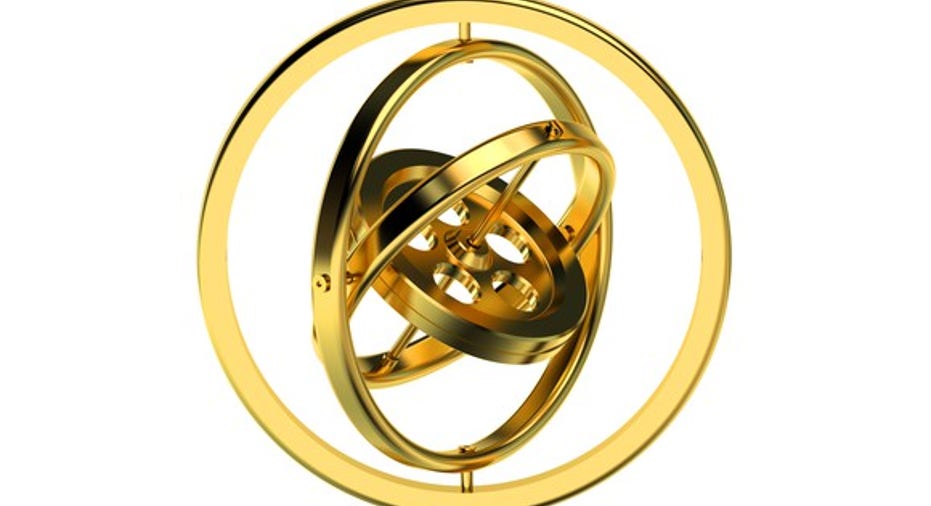 InvenSense(NYSE: INVN), maker of motion sensors for smartphones, reported its fiscal Q1 2017 earnings results late last month, and the news was not good: Revenue down 43%. A loss of $0.22 per share. A continued reliance on what some of our analysts are characterizing as a "sluggish mobile market."
But could it be time for a turnaround at InvenSense?
According to one analyst, Oregon-basedPacific Crest, that is exactly what we're looking at in InvenSense today -- an opportunity to buy into a long-term trend. And with InvenSense shares down more than 30% so far this year (and down 34% over the past year), it's even possible that this is a chance to buy into this trend at a discount.
Here are three things you need to know.
InvenSense specializes in tiny motion-sensing chips that function as electronic gyroscopes for smartphones. Image source: Getty Images.
1. Upgrading InvenSense
This morning,StreetInsider.comreported that Pacific Crest has upgraded InvenSense shares from sector weight (i.e., neutral) to overweight (i.e., buy!). According to the analyst, InvenSense will enjoy "incremental tailwinds ... in 2H16" as it gains market share for its motion-sensing chips in Samsung Note 7 mobile devices, and gains sales from "a strong holiday ramp associated with drones, where the company's content continues to grow and OEMs are expected to introduce drones at price points down to $199."
The opportunities, says Pacific Crest, are so bright as to convince the analyst that InvenSense shares, currently priced below $7 a share, could rise as high as $9, reversing investors' previous losses and generating a 32% profit for new buyers.
2. Pokemon Go
And that's not even the best news. According to Pacific Crest, InvenSense is a play on one of the hottest trends of 2016:Pokemon Go.
According to Pacific Crest, "the popularity of Pokemon Go [will] create a significant growth opportunity for 6-axis gyros, particularly in midrange smartphones," which often lack such chips today. The reason, says the analyst, is that "without a gyro in a smartphone, users are unable to effectively play Pokemon Go today because of limited navigation capabilities." In short, if you want to play Pokemon, you pretty much need a motion-sensing chip in your phone to do that.
3. How big of a deal is this for InvenSense?
All of this adds up, in Pacific Crest's estimation, to an "addressable market" of 500 million units of smartphones and drones for InvenSense to sell to. And, as the analyst further estimates, every 10% share of the market that InvenSense captures (key competitors includeSony,Panasonic, and Bosch) will add as much as $0.11 per share to InvenSense's annual income.
The most important thing: Valuation
Even assuming all of the above is correct, however, it doesn't necessarily make InvenSense stock a buy. (And I say this as someone who's already invested in InvenSense).
Here's why: According to data fromS&P Global Market Intelligence, InvenSense is currentlylosingabout $0.39 per share annually. So even if Pacific Crest is right about the market opportunity, and right as well about the $0.11-per-10% share calculation, InvenSense would have to capture more than 35% of the global market for chip-based motion sensors just to get its business back to breakeven. And if you assume that Pacific Crest is right about the size of this market, then you have to also assume that rivals Sony, Panasonic, and Bosch will not let that market share go to InvenSense without a fight.
Getting to 35% market share, therefore, could be tough.
On the other hand, there's also an argument in favor of buying InvenSense stock right now, and it goes like this: Whatever InvenSense's current losses, as calculated under GAAP, and whatever progress it might make in reducing those losses by grabbing more share in smartphones and drones, when you look at the stock from one perspective, InvenSense is already profitabletoday.
Specifically, S&P Global data confirm that while currently GAAP-unprofitable, InvenSense is nonetheless generating cash profit (free cash flow) at the rate of $36 million per year. Weighed against the stock's $637 million market cap, that works out to a price-to-free-cash-flow ratio of only 17.5.
So what's the long and short of all this? 17.5 times FCF isn't a particularly high price to pay for a stock like InvenSense, which most analysts agreeis likely to grow profits at about 20% annually over the next five years. If Pacific Crest is right, and the market opportunity is even greater than that, then the stock, down 30% already this year, could finally be due for a rise.
A secret billion-dollar stock opportunity The world's biggest tech company forgot to show you something, but a few Wall Street analysts and the Fool didn't miss a beat: There's a small company that's powering their brand-new gadgets and the coming revolution in technology. And we think its stock price has nearly unlimited room to run for early in-the-know investors! To be one of them, just click here.
Rich Smith owns shares of InvenSense.You can find him on Motley Fool CAPS, publicly pontificating under the handle TMFDitty, where he currently ranks No. 308 out of more than 75,000 rated members.
The Motley Fool owns shares of and recommends InvenSense. Try any of our Foolish newsletter services free for 30 days. We Fools may not all hold the same opinions, but we all believe that considering a diverse range of insights makes us better investors. The Motley Fool has a disclosure policy.