Buy CVR Partners Stock After a 74% Price Surge? 3 Things You Need to Know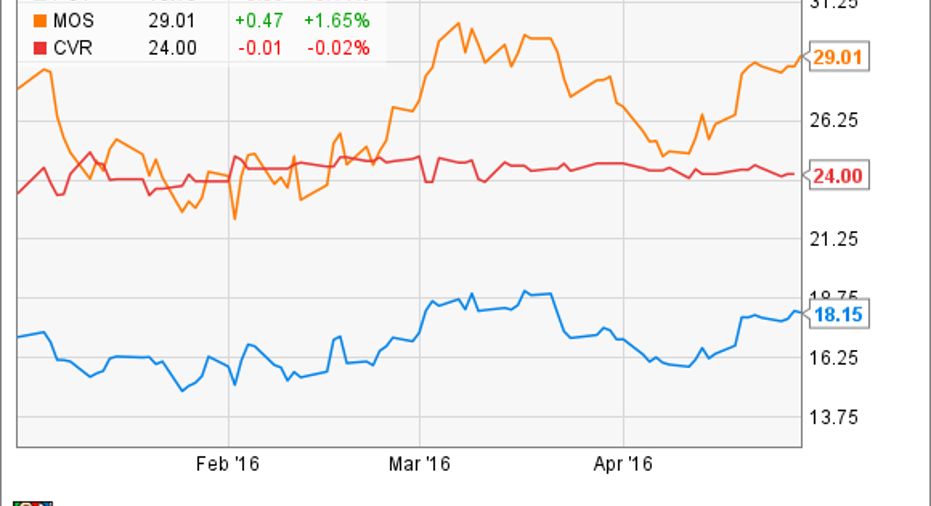 Up 74% from its January lows, CVR Partners is one of the hottest ag stocks on the market today -- but can it continue its winning streak?
Late yesterday, just hours before earnings came out, one analyst made a brave bet that CVR Partners stock will continue winning. This morning, it's starting to look like they were right. Here are three things you need to know about the stock -- and the analyst that's recommended it.
Thing No. 1: Feltl loves fertilizerThe analyst in question, Feltl & Co., isn't necessarily the best-known name on Wall Street -- but perhaps it should be. While we don't have a lot of data collected on this analyst yet, Feltl already ranks in the top 5% of investors we track on Motley Fool CAPS, and has historically gotten more of its picks right than wrong.
Yesterday, Feltl picked up coverage of CVR Partners and assigned the fertilizer producer a strong buyrating, with a prediction the stock will hit $9.60 per share within a year (CVR currently costs closer to $8.40).
CVR Partners sees a bright future for fertilizer. Image source: CVR Partners.
Thing No. 2: A contrarian callThat was a strange call to make, given that elsewhere on Wall Street, analysts have been busy downgrading shares of CVR rivals Potash Corporation and Mosaic Corp , and warning of "low costs and aggressive marketing"putting "pressure" on prices (and profits) throughout the fertilizer industry.
At the same time, recent reports in the media have noted a 19% decline in the price of nitrogen fertilizers -- which are CVR's stock in trade.
Thing No. 3: A right call nonethelessAnd yet, Feltl appears to have been right to make the call. Going into earnings, analysts had worried that CVR would report no more than $62.5 million in sales, and earnings of just $0.23 per share. This morning, CVR Partners instead announced that it had sold $73.1 million worth of ammonia and urea ammonium nitrate (get it? Urea ammonium nitrate? Stock ticker "UAN"?) fertilizers -- and earned $0.25 per share profit.
Both numbers simply blew Wall Street away, and this morning UAN shares are soaring -- up 7% at last report.
POT, MOS, and UAN data by YCharts.Analyst predictions notwithstanding, the stock prices of fertilizer producers Potash, Mosaic, and yes -- CVR Partners -- are holding up pretty well this year.
And one more thing...And yet, while we applaud Feltl's courage in defying the conventional wisdom to tell investors what it really thinks about CVR Partners, a few caveats still bear mentioning here:
First and foremost, while CVR Partners undeniably exceeded expectations this morning, this does not mean that it had a good quarter: $73.1 million in sales, while laudable, was still $20 million less revenue than CVR collected in Q1 of 2015. And the $0.25 profit that CVR booked on the quarter was 39% less profit than it earned one year ago.
In short, the other analysts were right that business is bad at CVR. It's just a bit less bad than other folks had feared. So what does this mean for investors today?
Valuing CVR Partners stockCVR Partners stock currently sells for $918 million. The company's balance sheet shows $52 million in cash and equivalents and $125 million "total debt" netted against the market cap. This gives CVR an enterprise value -- a debt-adjusted market cap -- of $991 million.
Against this, the company's trailing 12 month earnings come to $50 million, and its free cash flow appears to be roughly $60 million for the same period. That works out to a debt-adjusted P/E ratio of about 20 on the stock, and an enterprise value-to-free-cash-flow ratio of 16.5.
Is that a fair price to pay? Well, CVR Partners distributions (i.e., dividends) currently amount to 12.5% per year, and analysts are predicting a long-term earnings growth rate of 8% (assuming earnings do ever begin to grow again). Combined, that makes for about a 20.5% total return on a stock that costs just 16.5 times FCF -- not a half-bad deal if you ask me.
Long story short then, I think Feltl & Co. is right to be long this stock. And no, even after a 74% surge in stock price, I definitely wouldn't short it.
The article Buy CVR Partners Stock After a 74% Price Surge? 3 Things You Need to Know originally appeared on Fool.com.
Fool contributorRich Smithdoes not own shares of, nor is he short, any company named above. You can find him onMotley Fool CAPS, publicly pontificating under the handleTMFDitty, where he's currently ranked No. 290 out of more than 75,000 rated members.The Motley Fool has no position in any of the stocks mentioned. Try any of our Foolish newsletter services free for 30 days. We Fools may not all hold the same opinions, but we all believe that considering a diverse range of insights makes us better investors. The Motley Fool has a disclosure policy.
Copyright 1995 - 2016 The Motley Fool, LLC. All rights reserved. The Motley Fool has a disclosure policy.