Buy Alcoa Stock, Profit 50%? 3 Things to Know About Alcoa's New Buy Rating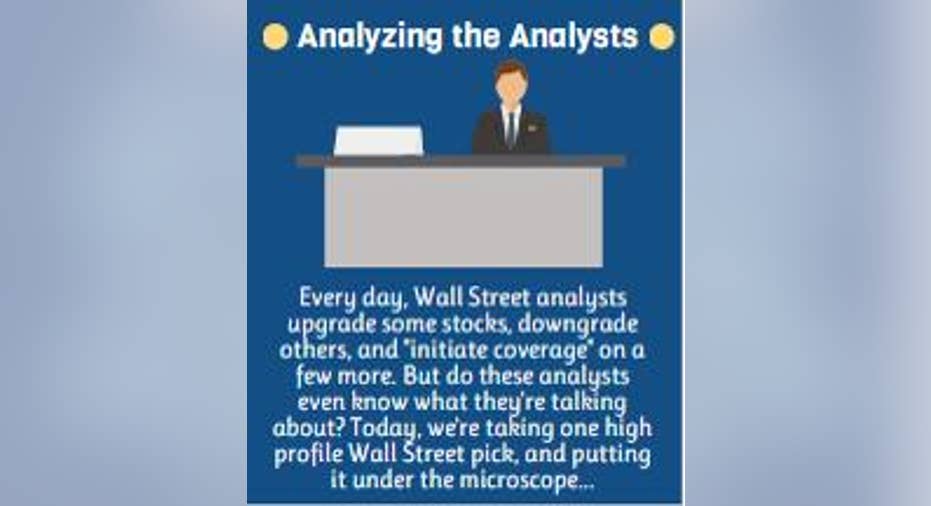 Alcoa shares have lost 25% of their value over the past year, and are down 42%from their November 2014 high. But fear not, intrepid investor, for today, the metals maker has a shiny new upgrade -- and the potential to soar 50%.
The newsThis, at least, is the opinion of one Wall Street banker. Early this morning, analysts at NYC-based Rosenblatt Securities announced they are initiating coverage of Alcoa with a buy rating and a $15 price target. According to a write-up on StreetInsider.com today, Rosenblatt sees "$10 as a good entry point" on the stock. And indeed, if they're right, it would make for a tidy 50% profit if Alcoa shares hit $15 within a year. (51.1% including the dividend).
But is Rosenblatt right? Here are three things you need to know to decide.
Buy one, get one free? Alcoa is about to split in two, and Rosenblatt says that's an opportunity. Image source: Alcoa.
Thing No. 1: Price hikesData from the London Metal Exchange show strong improvement in aluminum prices since their recent bottom in late March. Beginning the year at a price of roughly $1,450 per ton, aluminum prices soared past $1,600 in February, dropped back below $1,500 in March, and are now re-approaching a recent high close to $1,650.
This is obviously a positive development for an aluminum company like Alcoa, and Rosenblatt cites the "slowly improving aluminum price environment" as key to its buy thesis. "Stronger data points from our latest aerospace supplier survey," say the analysts, suggest the trend may have legs. Accordingly, Rosenblatt is predicting stronger profits in the second half of the year at the company's primary metals and engineered products and solutions divisions.
Thing No. 2: Cost cuts A separate factor, although one with somewhat less basis to it, is Rosenblatt's contention that Alcoa has an "aggressive cost reduction program" in place that will help to boost profitability. A "program" Alcoa may have -- but results it does not.
According to data from S&P Global Market Intelligence, selling, general, and administrative costs at Alcoa have averaged $983 million annually over the past five years. They're at $958 million for the past 12 months. Yes, that's a modest 2.5% decrease in costs -- but revenue at the company has declined more than 13% over the past five years.
The phrase, "too little, too late" comes to mind.
Thing No. 3: The big thingOf course, all the above pales in comparison to the real catalyst on the horizon, and the one I suspect that Rosenblatt is really placing its bet on: An impending split of Alcoa into two separate companies.
Sometime in the second half of this year, Alcoa plans to split itself in two. When that happens, the company's upstream alumina and primary metals businesses -- accounting for $12.9 billion of the company's current $22.5 billion in annual revenue -- will retain the Alcoa name. The company's value-added global rolled products, engineered products and solutions, and transportation and construction solutions businesses, however, will be spun off into a new company to be known as Arconic.
Rosenblatt sees this as a "value creation" move, presumably expecting investors to reward Arconic with a higher valuation multiple for the value it adds to basic metals, and perhaps value Alcoa proper more highly based on the rising tonnage price of aluminum.
Valuation: The thing that really mattersHow likely is that to happen? It's hard to say. Examining the firm's five businesses separately, post-split, the two divisions that will make up the new and improved Alcoa appear to be earning only 7% operating profit margins today. Arconic's three businesses earn a combined 7.4%.
But together, according to S&P Global data, operating as an integrated business, the whole of Alcoa is currently earning operating profit margins of 8.4%. This suggests there are some serious cost synergies derived from operating Alcoa as a unified whole -- synergies that may be lost if the company is split in two.
Don't get me wrong; at a valuation of 19 times earnings, 13% projected earnings growth, and only a 1.1% dividend yield, I'm not saying Alcoa is a buy in its current form. But breaking up the company, I fear, may make the two resulting companies an even less attractive investment than the unified Alcoa we already have today.
The article Buy Alcoa Stock, Profit 50%? 3 Things to Know About Alcoa's New Buy Rating originally appeared on Fool.com.
Fool contributorRich Smithdoes not own shares of, nor is he short, any company named above. You can find him onMotley Fool CAPS, publicly pontificating under the handleTMFDitty, where he's currently ranked No. 297 out of more than 75,000 rated members.The Motley Fool has no position in any of the stocks mentioned. Try any of our Foolish newsletter services free for 30 days. We Fools may not all hold the same opinions, but we all believe that considering a diverse range of insights makes us better investors. The Motley Fool has a disclosure policy.
Copyright 1995 - 2016 The Motley Fool, LLC. All rights reserved. The Motley Fool has a disclosure policy.